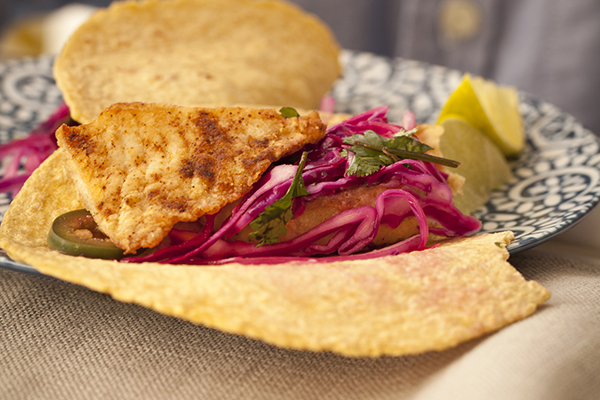 Celebrate Cinco de Mayo with tilapia tacos from Food Network chef and local mom Melissa d'Arabian. She shares some of her favorite Mexican recipes, including two from her best-selling cookbook "Ten Dollar Dinners" (Tilapia Tacos and Black Bean Nacho Burgers).
I grew up in Tucson and probably ate my first fish taco before I could even talk! Serving fish tacos is a superb tactic for taking a relatively small portion of fish and making it seem abundant. Red cabbage quick-pickled with some white vinegar turns the most breathtaking shade of fuchsia and is a cheap and tasty thrill. If kids are joining you at the dinner table, consider omitting the jalapeños or removing the seeds for a less heat. The slaw keeps up to three days, during which time it will continue to be spicier and taste more pickled.
Serves: 4
Preparation time: 20 minutes
Cooking time: 15 minutes

Ingredients
for the slaw
½ small red cabbage, halved and sliced crosswise into thin strips (about 3 cups sliced cabbage)
¼ red onion, thinly sliced lengthwise
1 small jalapeño pepper, thinly sliced crosswise
2 tablespoons roughly chopped fresh cilantro
1 lime
½ cup white vinegar
1 teaspoon sugar
1½ teaspoons kosher salt

for the tacos
2 6-ounce tilapia fillets
1 teaspoon kosher salt
1 teaspoon ground coriander
1 teaspoon ground cumin
¼ teaspoon sweet paprika
2 tablespoons all-purpose flour
2 tablespoons vegetable oil
8 6-inch fresh corn tortillas

To make the slaw: Place the cabbage, onion, jalapeño, and cilantro in a medium bowl. Slice the lime in half lengthwise and then cut one half into 4 wedges; set aside for serving. Juice the remaining lime half into a small bowl. Add the vinegar, sugar, and salt and whisk to dissolve, then pour the vinegar mixture over the cabbage mixture. Toss and squeeze with your hand to combine and set aside. Stir and squeeze the slaw every 5 to 10 minutes while you prepare the fish.
To make the tacos: Divide each tilapia fillet in half along its center seam (so you have 4 long pieces) and then halve crosswise so you have 8 pieces. Set the tilapia on a plate and blot dry with paper towels. Sprinkle both sides of the 8 pieces with the salt. Mix the coriander, cumin, and paprika together in a small bowl and sprinkle the spices over both sides of the fish, patting them on gently. Place the flour on a plate and lightly coat both sides of the fish in flour.
Heat the oil in a large skillet over medium-high heat. Add the fish and cook until golden and crisp on both sides, 4 to 6 minutes total. Use a spatula to transfer the fish to a plate and set aside.
Heat a medium skillet over medium-high heat and place a tortilla in the pan. Cook the tortilla until it's warmed through and pliable, 30 seconds to 1 minute, turning it over midway through. Place the tortilla on a kitchen towel–lined plate and wrap loosely, folding the edges of the towel over the tortilla to keep it warm. Repeat with the remaining tortillas, stacking and covering them as you go. Place 1 piece of fish inside each tortilla, top with cabbage slaw, and serve with a lime wedge.

Reprinted from the book Ten Dollar Dinners. Copyright © 2012 by Melissa d'Arabian. Published by Clarkson Potter, a division of Random House, Inc.
Also see these great recipes:
Arroz Con Pollo
Grilled Chicken Fajitas Platter
Grilled Tomato Salsa
Flour Tortillas
Chiles Rellenos
Smashed Black Beans
Black Bean "Nacho" Burgers and more!
---------------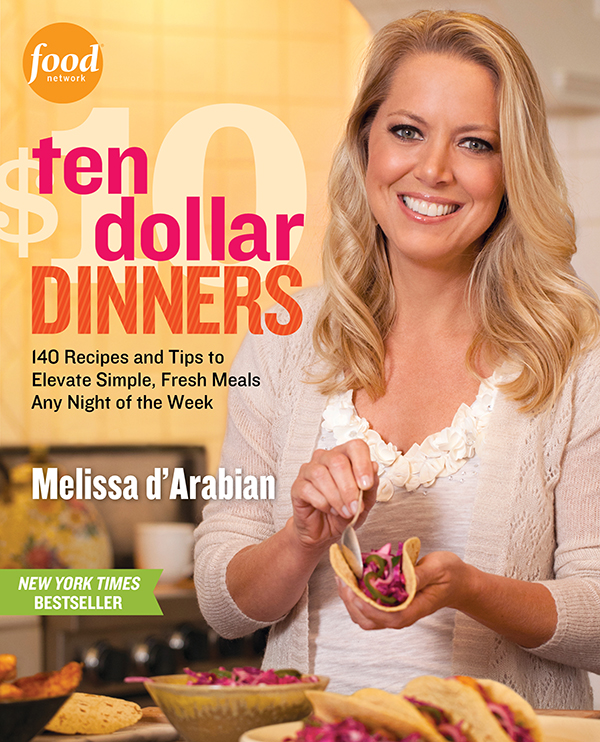 Celebrity chef, television host, author, and mom expert Melissa d'Arabian earned her MBA and worked in corporate finance and strategy before becoming a stay-at-home mom to four daughters. After winning The Next Food Network Star in 2009, Melissa launched Ten Dollar Dinners—a popular Food Network television show followed by a New York Times best-selling cookbook. Her newest projects include a FoodNetwork.com web series, "The Picky Eaters Project: Melissa's Mealtime Redesign" and serving as a regular judge on Food Network competition series, Guy's Grocery Games. Melissa lives in Coronado with her family. Stay in touch with her on Facebook, Twitter, and Instagram.