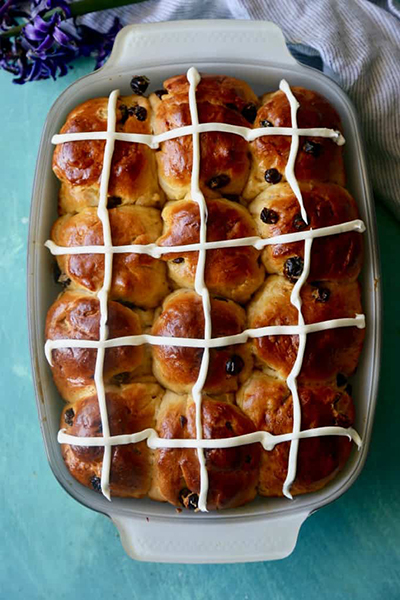 Hot Cross Buns are delicious sweet rolls decorated with a cross made of dough or icing. They are a traditional Easter treat (often eaten on Good Friday). San Diego food blogger, The Seaside Baker, shares her recipe.
INGREDIENTS
Buns
1/4 cup rum (optional: substitute water)
1 cup raisins
1 ¼ cups milk, warm but not hot
2 teaspoons instant yeast
1/4 cup granulated sugar
1 large egg, plus 1 egg yolk (save white for later)
1 ½ teaspoons ground cinnamon
1 ¾ teaspoons salt
1 Tablespoon baking powder
4 Tablespoons butter, room temperature
5 cups bread flour
Topping
1 large egg white
1 Tablespoon milk
Icing
1 ¼ cup powdered sugar
1/2 teaspoon vanilla
Pinch of salt
4 teaspoons milk
DIRECTIONS
In a small microwave safe bowl, add rum and raisins. Microwave for 45 seconds, then set aside.


In a large bowl combine warm milk and yeast. Allow yeast to bloom (foam), about 5 minutes.


Once yeast has bloomed, add all remaining ingredients (in the "Buns" list), including raisins and rum.


Knead dough until the dough is soft and no longer sticking to the sides of the bowl or your hands.


Cover and place in a warm dry place to rise for one hour.


Once dough has doubled in size, punch dough down on floured surface; cover and let rest 10 minutes.


Shape into 12 balls and place in a greased 9x12 pan. Cover and let rise in a warm place till double, about 35-40 minutes.


Whisk together egg white and milk, then brush onto balls.


Bake at 375 degrees for 20-25 minutes.


To make the crosses: mix together icing ingredients.


Place glaze in a piping bag or a sandwich bag (with corner snipped off); pipe a cross onto each roll.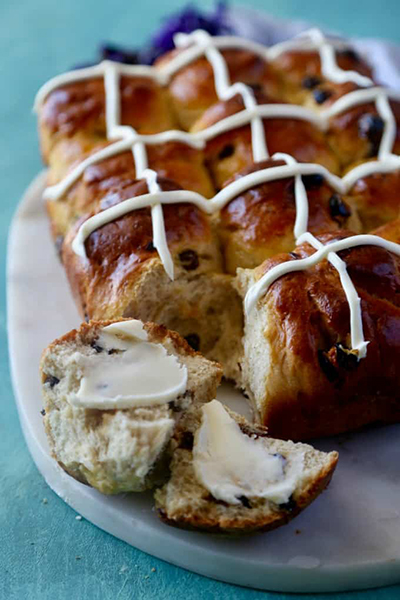 Find more fabulous recipes from local blogger, Jackie Bruchez, at www.seasidebaker.com.
_______________