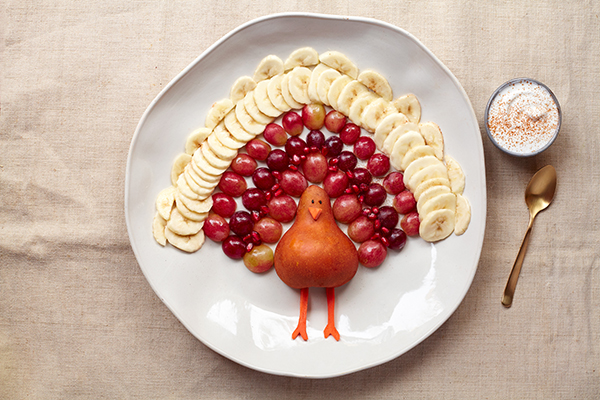 With all the indulgent eating during Thanksgiving and surrounding holidays, it's nice to have healthy options. This festive turkey "fruit salad" with cinnamon yogurt dip is sure to do the trick! Assembling the turkey snack is half the fun – so let the kids help.
Makes two snack servings (two turkeys).
Ingredients
1 pear, cored and halved lengthwise
40 grapes, halved
2 bananas, sliced
¼ cup pomegranate arils (seeds)
1 small carrot, cut into 4 legs and 2 beaks
4 black sesame seeds
1 cup flavored Greek yogurt (lemon, vanilla or honey)
1 dash cinnamon
Directions
Make turkey body: Place each pear half, sliced side down, on a large plate.


Make feathers: Arrange the grape halves, sliced side down, in three rows (upward from pear body) in a half moon shape. See photo for reference. Put a row of pomegranate arils between grapes. Fan banana slices above rows of grapes to create the look of turkey feathers.


Make eyes and beak: Place two black sesame seeds on each pear body for eyes and place a small triangle carrot piece below eyes for beak.


Make the feet: Place two carrot pieces under each pear body for stick legs and feet.


Serve with your favorite Greek yogurt and a dash of cinnamon on the side for dipping.


Enjoy immediately or store in the refrigerator for an hour before serving.
–––––––––
Patricia Bannan, MS, RDN, is a nationally recognized registered dietitian nutritionist and healthy cooking expert who has partnered with Smart & Final to inspire people to eat and live well. As the author of Eat Right When Time Is Tight, she enjoys developing recipes and teaching people how to make healthful changes in their lives. Learn more at www.patriciabannan.com. Photo courtesy of Smart & Final.
–––––––––