With the plethora of candy and sugary snacks that Halloween brings, why not balance holiday snacking with a few healthy, low sugar treats? Thank you to Deborah at www.SuperMoms360.com for sharing her ideas with us.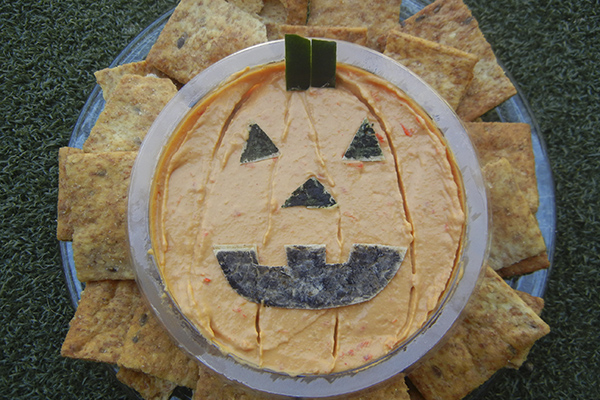 Halloween Hummus
Jack-o-Lantern Hummus is a healthy (and super easy) Halloween dip for classroom parties or to enjoy at home!

Ingredients
Prepared roasted red pepper hummus in round container
Pita chips, carrot sticks, tortilla chips or other items to dip
Black edible pen (available at craft store)
1 flour tortilla
1 slice cucumber

Directions
Open hummus container and create lines in the hummus with a knife to look like a pumpkin (see photo).
Use an edible pen to draw a jack-o-lantern face on the tortilla and cut out the features with kitchen scissors.
Place face features on hummus.
Add cucumber slice at the top for a pumpkin stem.
Place container on a plate and surround with pita chips.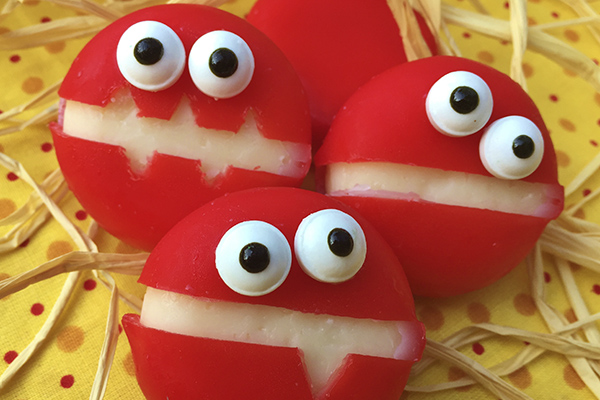 Cheesy Monsters
These little calcium-packed snacks are so much fun to eat, the kids won't notice you tricked them into eating a healthy treat!

Makes 12

Ingredients
12 Mini Babybel cheeses (regular or light)
24 Small candy eyes (we used Wilton candy eyes)
Cream cheese (a small amount to secure the eyes)
Toothpick or exacto knife

Directions
Remove plastic wrap from each cheese, but keep red wax intact.
Find the pull tab on the wax and pull to create a "mouth" strip on one side of each Babybel.
Using a toothpick (safer) or exacto knife (only with adult supervision), cut out small triangles for teeth. Make each one different so they have their own personality.
Using a bit of cream cheese, attach two candy eyes to the wax above the mouth of each piece of cheese.
Have fun using different sized eyes and varying placements. The crazier the better!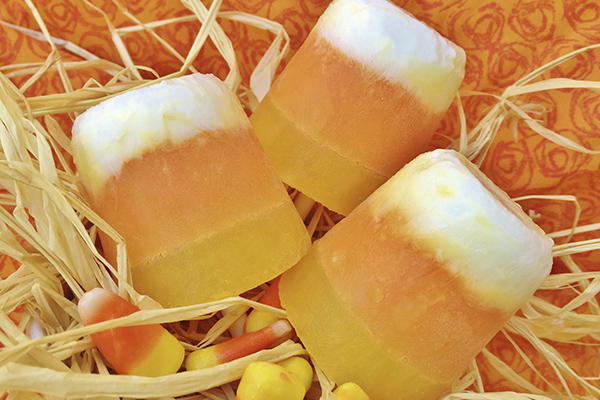 Candy Corn Cupsicles
Layer on the fall fun with these frozen cupsicles that look like candy corn, but without the added sugar. Made with nonfat Greek yogurt that fuels kids with extra protein and only natural and non-GMO ingredients.

Makes 12

Ingredients
12 mini (3 oz.) plastic cups
12 popsicle sticks or cookie pop sticks
1 (32 oz.) container vanilla Greek yogurt
1 (59 oz.) container orange juice
1 (59 oz.) container pineapple juice or lemonade

Directions
Using a small spoon, fill the bottom third of each cup with yogurt. Wipe excess with a damp paper towel.
Place in freezer for 15-20 minutes to start freezing; then insert a popsicle stick into each so it is standing straight up. Freeze for at least 1 hour.
After yogurt is completely frozen, pour orange juice into second third of the cup and freeze for at least one hour or until frozen.
Add final layer of pineapple juice or lemonade almost to the top (leave a small space as the liquid expands while freezing) and place in the freezer until completely frozen.
When ready to serve, heat a mug of water for 30 seconds in the microwave and dip each cupsicle into the warm water for 10-15 seconds to loosen; then twist to remove from the cup and enjoy!
---
Find more festive recipes from Deborah Stallings Stumm at www.SuperMoms360.com.