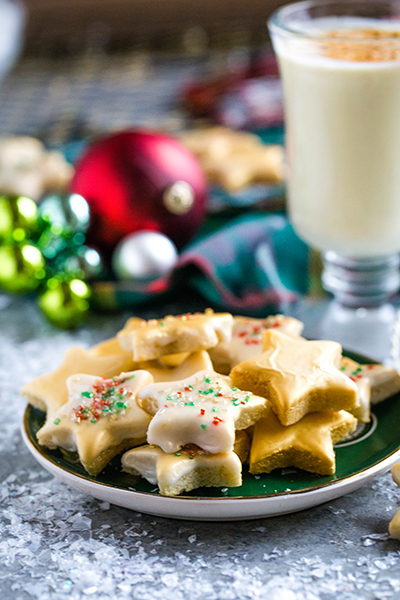 These gluten-free, dairy-free lemon star cookies are delightfully dense and chewy — delicious for any occasion! And with only six ingredients, you can have yummy homemade cookies in less than 30 minutes (no need to chill the dough before rolling). Thank you to Jackie Bruchez, local mom, cookbook author and food blogger at www.TheSeasideBaker.com for sharing her recipe.
Makes 50 cookies
Ingredients
Cookies
4 cups almond flour
1 cup granulated sugar, plus more for rolling if needed
2 egg whites
Zest from two lemons
Glaze
2 cups powdered sugar
2 Tbs. lemon juice
Optional ingredients
Colorful sprinkles
Edible gold
Directions
Preheat oven to 325 degrees. Line two baking sheets with parchment paper.
In the bowl of your mixer (with paddle attachment), combine almond flour and sugar.
Add egg whites and lemon zest and mix until dough begins to form a ball. Dough may be sticky.
Place dough between to pieces of wax paper (or parchment) and roll to a 3/4-in thickness. If needed, lightly sprinkle surface or roller with sugar before rolling, if not using wax paper.
Dip small star cookie cutter into sugar and cut out dough.
Place cookies one-inch apart on baking sheet.
Bake cookies for 8 minutes.
While cookies are baking, prepare the glaze: Whisk together powdered sugar and lemon juice until smooth.
When cookies are done, let cool for 3–5 minutes, then dip tops into glaze and place on a cooling rack to dry.
Optional: If decorating with sprinkles, add them now.
Let the glaze dry and set for 1–2 hours.
Optional: Once dry, spray or brush with edible gold.
Store in airtight container for up to two weeks.
Tips
Decorate a batch of cookies with edible gold, stash them in the fridge and serve for New Year's Eve.
Since this recipe only calls for egg whites, store remaining yolks in an airtight container for up to three days in the fridge.
Keep up to two weeks in an airtight container.
Find more fabulous recipes from Jackie Bruchez at www.theseasidebaker.com.
_________