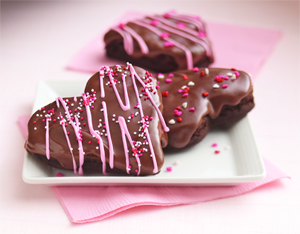 Glazed Brownie Hearts
Prep Time: 30 minutes
Total Time: 2 hours 25 minutes
Makes: 14 brownie hearts
What you need:
1 Box Betty Crocker Original Supreme brownie mix (with chocolate syrup pouch) or Betty Crocker fudge brownie mix, water, vegetable oil and eggs called for on brownie mix box
1 Container (1 pound) Betty Crocker Rich & Creamy chocolate frosting, multicolored candy sprinkles or colored sugar
---

How to make it:
Heat oven to 350 degrees F. Line bottom and sides of 13x9-inch pan with foil. Grease foil on bottom only of pan with shortening or cooking spray. Make brownie mix as directed on box, using water, oil and eggs. Bake as directed for 13x9-inch pan. Cool completely, about 1 hour.




---
Using foil to lift, remove brownie from pan; remove foil. With deep 2 1/2-inch heart-shaped cookie cutter, cut 14 brownies. Place brownie hearts on a cooling rack or waxed paper.


---
In a microwavable bowl, microwave frosting uncovered on High 10 to 30 seconds. Stir; frosting will be thick and spoonable. DO NOT BOIL. Carefully spoon melted frosting over brownies to glaze, allowing excess to drip down sides. Sprinkle with candy sprinkles before frosting sets.



---

For added color and texture, mix 1/4 cup Betty Crocker Rich & Creamy vanilla frosting and enough red food color to make pink frosting in a microwavable bowl. Microwave on High 10 seconds. Drizzle over chocolate-glazed hearts.
For additional ideas, visit BettyCrocker.com.