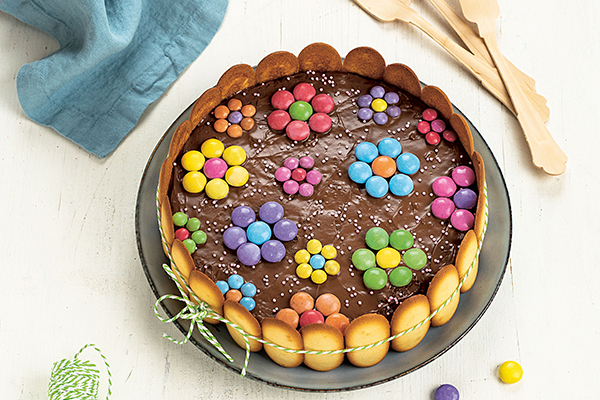 Kids will love surprising mom (or grandma) with this adorable flower cake for Mother's Day or a birthday! Kids will need help with baking, but let them get creative when it comes to decorating. This recipe (by Juliette Lalbaltry) is featured in the book Cakes for Kids: 40 East Recipes that Will Wow!
Prep time: 45 mins.
Baking time: 35 mins.
Ingredients
For cake
7 oz. dark chocolate
1/2 cup unsalted butter + more for the pan
4 eggs
2/3 cup granulated sugar
3/4 cup all-purpose flour + more for the pan
1 ½ tsp. baking powder
Pinch of salt
For decoration
1½ cups chocolate-hazelnut spread (such as Nutella)
20 oval cookies (such as Pepperidge Farm Milano cookies or Vienna Fingers)
1 bag M&M's
1 bag M&M's Minis
Round sprinkles
Preheat the oven to 350°F.
Directions
Break chocolate into pieces and cut butter into cubes. Put both ingredients in a large measuring cup and melt in the microwave.
Separate egg yolks and egg whites into two separate bowls.
Add the sugar to the egg yolks and beat until the mixture is light in color.
Add the melted chocolate mixture and mix well to incorporate.
Sift flour and baking powder together then whisk into the wet ingredients.
Add the salt to the bowl with the egg whites and whisk until stiff peaks form.
Gently fold the egg whites into the cake batter.
Butter and flour an 8-inch round cake pan and pour the cake batter into the pan.
Bake for 35 minutes. Keep baking for a few minutes if the cake isn't done.
Let the cake cool to room temperature before removing it from the pan.
Spread the whole cake with chocolate-hazelnut spread, smoothing the surface with a rubber spatula.
Place oval cookies vertically all around the cake (the cookies will stick to the chocolate-hazelnut spread) then tie a pretty string around the cake.
Make several flowers of various sizes and colors using mini and regular M&M's.
Decorate the cake with sprinkles.
Recipe excerpt from "Cakes for Kids" by Juliette Lalbaltry. Photography by Delphine Constantini. Reprinted by permission of Gibbs Smith.
___________