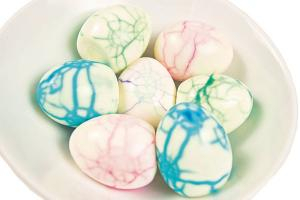 Whether you're planning a dinosaur-themed party or looking for a unique way to decorate Easter eggs, these reptilian-looking hard-boiled eggs are sure to be a hit with the kids! Blogger Arena Blake shares many more edible crafts in her book Awesome Edible Kids Crafts.
Ingredients
6 hard-boiled eggs
Water
6 tsp. vinegar
Food coloring: red, green, blue, purple, orange and pink
Directions
Crack the outer shell of the eggs. Fill six cups halfway with water. Add 1 teaspoon of vinegar and 4 drops of one food coloring to each cup. Stir well and add an egg to each cup.
Refrigerate overnight.
Remove the eggs from the cups and peel. Check out the colorful crack lines around the outside of the boiled eggs. So cool!
Did You Know?
Komodo dragons are the world's largest lizards.
Reprinted with permission from Awesome Edible Kids Crafts by Arena Blake, Page Street Publishing Co. 2019. Photo credit: Arena Blake.
________
Published April 2019
________