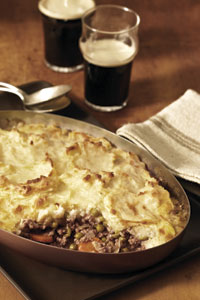 Dubliner Shepherd's Pie
••••••••••••••••••••••••••••••••••••••••••••••••••••••••••••
Potato Topping:
1 1/4 pounds russet potatoes, peeled and cubed
2 tablespoons Kerrygold Irish Butter
1/3 cup milk
1 cup shredded Kerrygold Dubliner Cheese
1/2 teaspoon salt
Filling:
1 pound lean ground beef
2 tablespoons Kerrygold Irish Butter
1 medium onion, chopped
4 small carrots, peeled and sliced 1/4-inch thick
2 tablespoons flour
3/4 cup Guinness Stout
3/4 cup beef stock
1 teaspoon dried thyme
1/2 teaspoon salt
1/2 cup frozen peas, thawed
••••••••••••••••••••••••••••••••••••••••••••••••••••••••••••
PREHEAT oven to 375 Degrees F and lightly butter an 11- x 7-inch baking dish.
COOK potatoes in boiling water for 15 minutes or until very tender; drain well. Mash with butter and milk until smooth, then stir in cheese and salt and set aside.
CRUMBLE beef into a medium skillet and cook until no longer pink; remove from skillet and set aside. In same skillet, melt butter. Add onion and carrots; cook for 10 minutes over medium heat to soften, stirring occasionally. Stir in flour and cook for 1 minute more.
ADD Guinness, stock, thyme and salt; cook and stir until mixture is slightly thickened then stir in peas and cooked beef. Spoon into prepared baking dish then spread potato mixture over the top. Bake for 20 to 25 minutes or until top is lightly browned.