Try these delicious cinnamon roll pancakes for a Saturday morning treat! Recipe courtesy of Breakfast Republic in North Park.
Ingredients for Cinnamon Roll Pancakes
Serves 4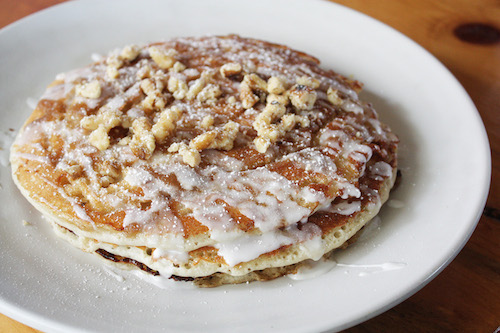 Pancake Mix
4 c. Flour
1½ c. whole milk
2 eggs
½ c. sugar
1 Tbs. vanilla extract
1 tsp. baking powder
Cinnamon Frosting Filling
¼ c. butter, melted
¼ c. brown sugar
1 tsp. cinnamon
1 c. whole milk
1 c. powdered sugar
2 Tbs. vanilla extract
Cream Cheese Frosting
1 c. cream cheese
2 Tbs. powdered sugar
1 tsp. vanilla extract
Topping
2 c. walnuts, chopped
Directions
1. Put pancake mix ingredients in a mixing bowl and stir together until well combined. Repeat this step in separate bowls for the cinnamon frosting filling and cream cheese frosting.
2. Using a 4 oz. ladle, pour the pancake mix on a low heat griddle.
3. Add a dollop of cinnamon frosting filling before flipping the pancake.
4. Cook for approximately 4 minutes.
5. Top with cream cheese frosting and walnuts and serve immediately.
Visit Breakfast Republic at 2730 University Ave., San Diego. www.breakfastrepublicca.com