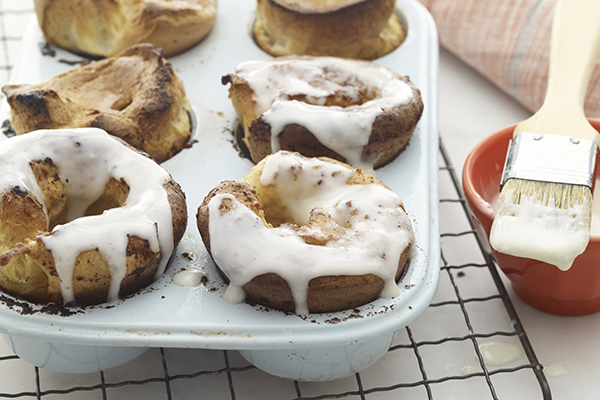 Melissa d'Arabian's Cinnamon Popovers with Cream Cheese Glaze

Making treats from scratch is one of Melissa d'Arabian's tricks to monitoring what her daughters eat. She created this easy recipe because her girls love all things related to cinnamon rolls. There is just enough cinnamon sweetness to satisfy a cinnamon roll craving for kids and adults.

Makes 12 Popovers
Preparation time: 20 minutes
Cooking time: 40 minutes

2 large eggs
2 tablespoons granulated sugar
1 cup 2% milk, warmed, plus 2 tablespoons
1 cup all-purpose flour
1 teaspoon ground cinnamon
½ teaspoon kosher salt
2 tablespoons unsalted butter, melted
¼ cup reduced-fat cream cheese (Neufchâtel), at room temperature
¼ cup confectioners' sugar

1. Place a 12-cup muffin tin on the middle rack in the oven and preheat the oven to 400°F.

2. Add the eggs and granulated sugar to a blender jar and mix on medium speed until light yellow. Add the 1 cup warmed milk and blend. Add the flour, cinnamon and salt; blend until smooth.

3. Use a pastry brush to grease the hot muffin tin generously with the melted butter. Add any remaining butter to the batter and pulse to blend. Pour the batter into the warmed muffin tin, filling the muffin cups about three-quarters full. Bake until the popovers are golden, about 20 minutes. (Do NOT open the oven door!) Turn off the oven, keep the oven door closed, and continue to bake the popovers until golden brown, 10-15 minutes.

4. Meanwhile, in a small bowl, whisk the cream cheese with the confectioners' sugar and the remaining 2 tablespoons milk until smooth. Remove the popovers from the oven. Use the tip of a paring knife to poke a tiny slit at the top of each popover (this will allow steam to escape, and will keep your popovers from getting soggy). Brush the popovers with the glaze and serve warm.

Per serving (one popover): Calories 96 / Protein 3g / Dietary Fiber 0g / Sugars 6g / Total Fat 3g

----------
Reprinted from Supermarket Healthy: Recipes and Know-How for Eating Well Without Spending a Lot. Copyright © 2014 by Melissa d'Arabian. Photographs © 2014 by Tina Rupp. Published by Clarkson Potter, an imprint of Random House LLC.

Celebrity chef, TV host, best-selling author and San Diego mom Melissa d'Arabian is an expert on affordable and healthy home cooking. Melissa is well-known for her "Ten Dollar Dinners" show and cookbook, and as a judge on Food Network's "Guy's Grocery Games." Her cookbook "Supermarket Healthy" is available at www.melissadarabian.net/books/supermarket-healthy.