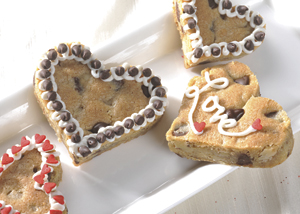 Chocolate Chip Cookie Hearts

2 1/4 cups all-purpose flour
1 teaspoon baking soda
1 teaspoon salt
1 cup (2 sticks) butter, softened
3/4 cup granulated sugar
3/4 cup packed brown sugar
1 teaspoon vanilla extract
2 large eggs
2 cups (12-ounce package) Nestle Toll House Semi-Sweet Chocolate Morsels
1 cup chopped nuts
Metal or heat-safe heart cookie cutter(s) of desired size(s), 1 inch in height
Various icings, sprinkles, Nestle Toll House Semi-Sweet Chocolate Mini Morsels


PREHEAT oven to 375 degrees F. Line 15 x 10-inch jelly-roll pan with foil; lightly grease.

COMBINE flour, baking soda and salt in small bowl. Beat butter, granulated sugar, brown sugar and vanilla extract in large mixer bowl until creamy. Add eggs, one at a time, beating well after each addition. Gradually beat in flour mixture. Stir in morsels and nuts. Spread dough into prepared pan.

BAKE for 18 to 22 minutes or until golden brown. Cool completely in pan on wire rack. Lift from pan with foil handles to cutting board. Cut out hearts with cookie cutter(s). Remove hearts while peeling away foil.

DECORATE as desired.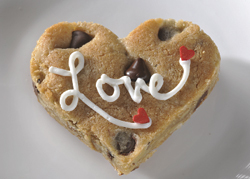 Jenny Harper is Consumer Test Kitchen Project Manager for the Nestle Test Kitchens and VeryBestBaking.com. For more Valentine recipes you can share, visit www.verybestbaking.com.
Photo courtesy of Nestle