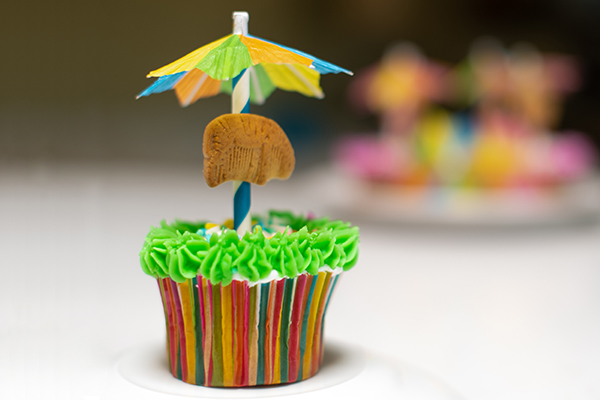 Whether you're celebrating National Carousel Day in July, having a backyard carnival, or hosting a whimsical birthday party, our delightful carousel cupcakes are a crowd-pleaser. Fun to make and eat!
Makes 24 cupcakes.
Ingredients
1 box cake mix (+ ingredients on pkg.) or your favorite homemade recipe
1 can of creamy vanilla frosting or your homemade vanilla recipe
Sprinkles
Food coloring (recommended: powdered natural food colors)
1 package animal crackers
Small batch royal icing:
2 Tbs. meringue powder
3 Tbs. water
3 1/3 cups powdered sugar
Supplies
Cupcake pan
24 cupcake liners (coordinate colors/patterns with straws and umbrellas)
12 striped paper straws
24 cocktail umbrellas
Craft glue or hot glue
Scissors
Piping bag with star tip
Directions
Make cupcakes: Place liners in cupcake pan. Prepare and bake cupcakes according to directions. After cooling, frost and add sprinkles.


Cut straws in half. Open cocktail umbrellas and glue so they stay open (hot glue works fastest). Add a small dab of glue to the top of a straw and slide the umbrella into the straw so they stay together. Let dry completely. Be sure there are no glue threads on the umbrella before adding animal crackers.


Make royal icing: Beat meringue powder, water and powdered sugar on high speed with a handheld mixer until stiff peaks form. Add food color to match colors of paperware. (Tip: Powdered natural food color works best, as it will not add moisture and make the icing runny.) Place a cup of royal icing in a piping bag.


Pipe a large star of royal icing 1/3 of the way down each straw and secure an animal cracker to the icing. Carefully press to stick. It takes a few hours for the icing to dry so the cookie is held in place.


Meanwhile, use the remaining royal icing to create a decorative border on each cupcake by piping stars around the edges.


Drive the end of each straw into the center a cupcake. Serve on a decorative cake stand within a few hours. Note: paper products and royal icing do not hold up well in the fridge.
Did you know? Balboa Park is home to a 1910 Herschell-Spillman carousel (near the San Diego Zoo entrance). The historic carousel has been there since 1922. Read more about this San Diego gem in the July 2020 issue of San Diego Family Magazine.
___________
Emily Dolton cannot resist a carousel or a cupcake. Her favorite Balboa Park carousel animal is the sea serpent and she loves to reach for the brass ring.

Be sure to share your carousel creation pics on Instagram, tag us @sandiegofamilymagazine and use #ShareSanDiegoFamily for a chance to be featured on our page.
___________