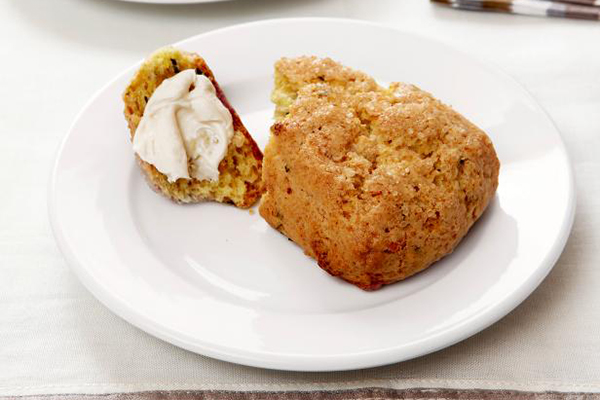 Buttermilk Scones from local mom and Food Network chef, Melissa d'Arabian.

Makes 12.
Ingredients

2 cups all-purpose flour, plus more fordusting
6 tablespoons granulated sugar
2 teaspoons baking powder
1/2 teaspoon baking soda
2 tablespoons dry buttermilk powder (available in the baking aisle)
1/2 teaspoon salt
1 teaspoon minced fresh rosemary (optional)
1/2 cup mini chocolate chips (optional)
2 tablespoons unsalted butter, melted
1 teaspoon vanilla extract
1 cup plus 2 tablespoons heavy cream
2 tablespoons coarse brown sugar

Directions
Preheat the oven to 425 degrees. Line a baking sheet with parchment. Whisk the flour, granulated sugar, baking powder, baking soda, dry buttermilk and salt in a medium bowl. Add the rosemary and/or chocolate chips, if using. In a small bowl, whisk the melted butter, vanilla and 1 cup cream. Stir the wet ingredients into the dry ingredients until just combined. Turn the dough out onto a floured surface and knead until smooth, about 1 minute.

Divide the dough into two balls; roll out each ball into a 1/2-to-3/4-inch-thick disk. Brush the tops of the disks with the remaining 2 tablespoons cream, then sprinkle with the coarse sugar. Cut each disk into 6 wedges. Transfer to the prepared baking sheet and bake until golden brown, 12-16 minutes. Transfer to a rack to cool.
----------
Celebrity chef, TV host, New York Times best-selling author and San Diego mom Melissa d'Arabian is an expert on affordable and healthy home cooking. Well-known for her "Ten Dollar Dinners" show and cookbook, she also serves as a judge on Food Network's "Guy's Grocery Games." Melissa's new "Supermarket Healthy" cookbook is available December 30. Preorder now at www.melissadarabian.net.