Blueberry Compote Cupcakes Yum!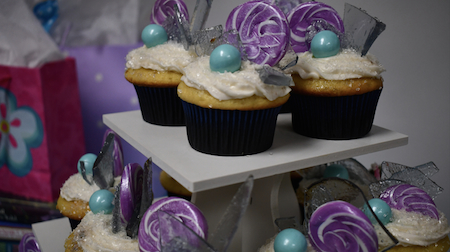 Preheat oven to 375 degrees.
Cupcake
1 box vanilla cake mix
1 box vanilla pudding
½ cup vegetable oil
1 cup water
3 eggs
Combine all ingredients in a bowl and mix until combined. Fill cupcake cups about ¾ full of batter. Put in the 375 degree oven for 15 minutes. Let cool.
Blueberry Compote
2 cups of blueberries
1 tbsp cornstarch
2 tbsp sugar
1 tsp lemon juice
Combine all ingredients in a saucepan and bring to a boil. Let boil on low heat for 10 minutes. Let cool.
Frosting
1 cup salted butter, room temp
5 cups confectioners sugar
¼ cup heavy cream
2 tsp vanilla extract
Combine salt and sugar with an electric beater. Add in cream and vanilla extract and mix until frosting is firm.
Sugar glass
2 cups granulated white sugar
¾ cup water
⅔ cup light corn syrup
Coloring if desired (blue or violet works best)
Combine sugar, syrup, and water in a saucepan. Stir constantly and bring the mixture up to 300 degrees with a candy thermometer. Add in coloring if desired. Pour onto a greased cookie sheet and let sit until hard, about an hour. Place a piece of waxed paper over the candy and crack into shards with a hammer.
After the cupcakes have cooled, scoop out a small inch hole from the center of each cupcake and fill with blueberry compote. Pipe the frosting on top and decorate with candy shards, lollypops, gumballs and granulated decorated sugars.
Adelaide Sorbo, 16, Ramona FFA Vice President