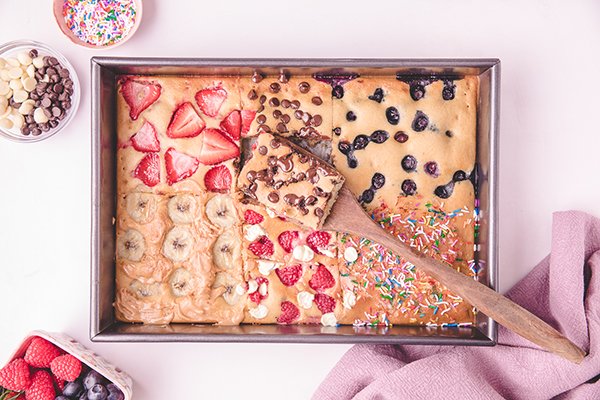 This oversized, baked pancake is perfect for families or breakfast parties because everyone chooses their favorite topping for their portion. Offer add-ins like blueberries, chocolate chips, bananas and nut butter and boom—everyone is happy! Bonus: There's no standing over the stove flipping pancakes for hours on end. This recipe is compliments of local food blogger and mom, The Seaside Baker.
INGREDIENTS
1½ cups all-purpose flour
½ cup granulated sugar
½ teaspoon salt
1 teaspoon baking powder
½ teaspoon baking soda
2 tablespoons vegetable oil
3 large eggs
1 cup whole milk or buttermilk
2 teaspoons vanilla extract
Optional Toppings
Strawberries sliced
2 tablespoon peanut butter
½ banana sliced
Chocolate chips
Raspberries
White chocolate chips
Blueberries
Sprinkles
1/4 cup pancake syrup to serve
INSTRUCTIONS
Preheat oven to 425 F. Line a 9 x 13 baking pan with baking parchment.
Put the flour, sugar, salt, baking powder and baking soda into a large mixing bowl and whisk to combine.
Add eggs, oil, milk and vanilla extract and beat until smooth.
Pour batter into prepared baking pan.
Visually divide the pan into six sections. See photo for reference.
Choose which toppings you want and sprinkle a small handful of each into each section.
If using nut butter, put a dollop into the desired second section and use a knife or toothpick to swirl it into the batter. Add a few banana slices on top if desired.
Put pan into the center of the oven and bake for 15 minutes or until the top is golden. When you remove the pan from the oven, the pancake should look set.
Use a sharp knife to slice the sheet pancake while it's still in the pan. Then, remove slices with a spatula.
Drizzle with pancake syrup and enjoy while warm!
The Seaside Baker's Recipe Notes:
Use as many or as few toppings as you like.
Bake ahead to reheat on busy mornings.
Reheat slices in the microwave for 1 minute or eat cold as a snack.
Store leftovers in an airtight container for three days.
Sheet Pan Pancakes can be frozen for up to three months. Allow frozen pancakes to thaw at room temperature, then reheat in the microwave as stated above.
Published with permission from Jackie Bruchez, The Seaside Baker. Find more of her delicious recipes at www.theseasidebaker.com.
_____________