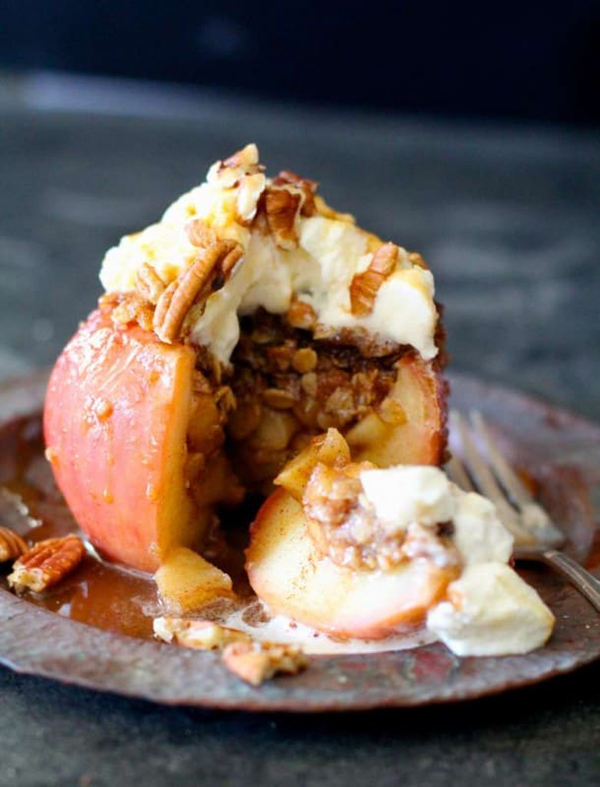 Baked apples have always been one of my favorite fall desserts because the house smells amazing while they cook. Here I've combined them with an American favorite (apple crisp) for a delicious twist on two classic fall desserts.
Ingredients
6 apples
4 tablespoons butter
1/2 cup brown sugar
1/2 tsp. cinnamon
1/4 tsp. nutmeg
Crumble Topping
1/2 cup flour
1/4 cup oats
1/3 cup brown sugar
1/4 cup granulated sugar
1/4 tsp. salt
1/2 tsp. cinnamon
4 tablespoons butter, chilled and cut into cubes
Bourbon Whipped Cream
1 cup cold, heavy whipping cream
2 tablespoons sugar
1 tsp. vanilla extract
1 tablespoon bourbon (optional)
Garnish
Caramel sauce
Chopped pecans
Instructions
Preheat oven to 375 degrees.
Cut the tops off 4 apples and spoon out the flesh. Throw away the seeds and reserve remaining flesh.
Peel and core remaining 2 apples. Dice the two apples, along with the flesh from the 4 apples.
In a medium pan, melt butter.
Add diced apples, brown sugar, cinnamon and nutmeg.
Cook until apples are tender (8–10 mins.). Meanwhile, make the crumble.
In a bowl, combine flour, oats, brown and white sugar, salt and cinnamon.
Cut in cold butter using a pastry cutter or two knifes until pea-size clumps form.
Place hollow apples in a small baking dish and stuff each with cooked apple mixture.
Top apples with a generous spoonful of crumble.
Bake for 20 mins. or until tops are crispy.
To make the whipped cream, beat cold heavy whipping cream, sugar, bourbon (optional), and vanilla on high until stiff peaks form.
Place apples on plates, top with a dollop of whipped cream, drizzle with caramel sauce, and sprinkle with pecans. Enjoy!
Find more fabulous recipes from local food blogger, Jackie Bruchez, at www.seasidebaker.com.
–––––––––––––