Now that it's apple season, why not use those delicious apples to make Homemade Apple Pie in a Jar, featuring sweet cinnamon apples and a caramelized sauce — a perfect gift for neighbors, friends, coworkers and teachers. Be sure to keep some for yourself so you can whip together a warm, homemade dessert during the busy holiday season in no time. Jackie Bruchez, San Diego blogger at The Seaside Baker, shares her delicious apple pie filling recipe – and even provides free, printable holiday gift jar labels. These gifts in a jar are sure to be a hit -- and they're as easy as apple pie!
Makes five quart-size jars of filling.
Shelf life: up to three months
Ingredients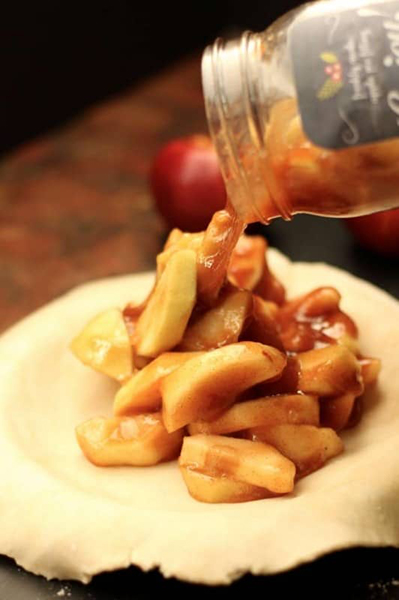 Apple Pie Filling
3 cups granulated sugar
1 cup corn starch
1½ T. cinnamon
1 tsp. ground nutmeg
1 tsp. allspice
1 tsp. ground cloves
1/2 tsp. salt
2½ cups apple juice or cider
1/4 cup lemon juice
30 medium apples (a mix of green and red apples (gala or fuji) works great)
7 quart-sized canning jars
Dry Pie Crust
(Makes two pie crusts. Repeat as needed for more.)
2½ cups flour
½ tsp. salt


Directions
In a large pot, mix sugar, cornstarch and spices.
Add salt and apple juice and mix well.
Bring to a boil and cook until thick and bubbly. Remove from heat and add lemon juice.
Sterilize canning jars, lids and rings by boiling them in a large pot of water.
Meanwhile, peel, core and slice apples into wedges.
Pack the sliced apples into hot canning jars, leaving a 1/2 inch space at the top.
Fill jars with hot syrup, and gently remove air bubbles with a knife.
Put lids on and process in a water bath canner for 25 minutes.
Once filling has cooled down and jars are dried thoroughly, attach labels (below).
Combine flour and salt, divide in half and place in two baggies for pie crust. Recipient will need to add cold butter and ice water. Attach printable pie crust tag (below), which has instructions.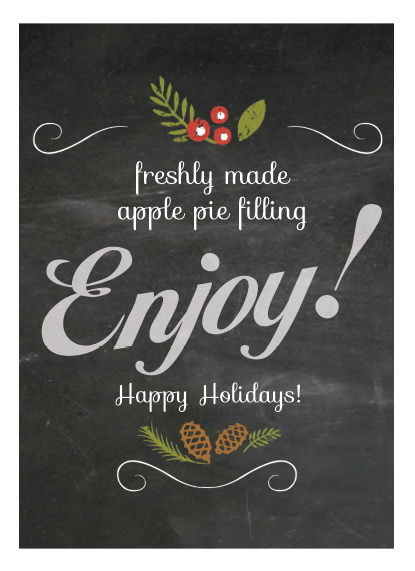 Free printable jar labels!
To download and print adorable apple pie filling jar labels and pie crust tags, go to theseasidebaker.com/applepiefilling.

Find more fabulous recipes from local blogger, Jackie Bruchez, at www.seasidebaker.com.
_________