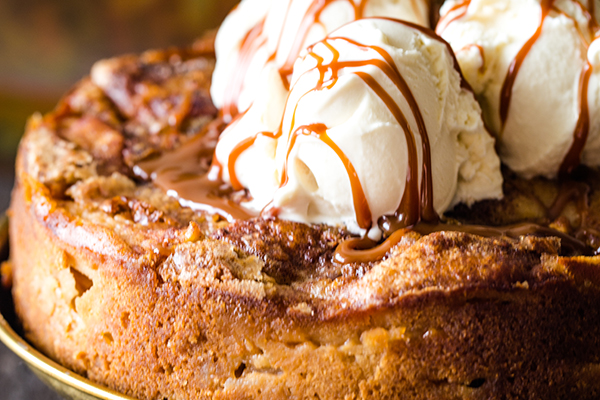 This beautiful Apple Cake is bursting with delicious fall flavors! The recipe calls for applesauce (instead of butter and milk), which keeps it moist and enhances the apple flavor. Serve it warm with a scoop of vanilla ice cream and caramel sauce drizzle. Prefer to keep your dessert dairy-free? Simply dust the top with powdered sugar. Either way, YUM! Enjoy this recipe, compliments of The Seaside Baker.
Ingredients
5 large apples unpeeled, cored and thinly sliced
2 teaspoons ground cinnamon
1 1/3 cups granulated sugar, divided
1 cup light brown sugar
4 large eggs
1 cup vegetable oil
1 cup unsweetened applesauce
2 cups all-purpose flour
1 tablespoon baking powder
1/4 teaspoon salt
Directions
Preheat oven to 350 degrees.
Grease and flour a 9-inch springform pan or tube pan.
Place apple slices into a large bowl and sprinkle with cinnamon and 1/3 cup granulated sugar; toss to combine.
In a bowl, combine remaining white sugar, brown sugar, eggs and oil. Beat until well combined, about 4 mins.
Stir in applesauce.
In a separate bowl, whisk together flour, baking powder and salt.
Slowly add the dry ingredients to the wet ingredients, mixing until only just combined.
Pour 1/3 of the batter into the prepared pan.
Layer with 1/3 of the sliced apples.
Repeat for two more layers, ending with apples on top.
Bake cake for 1½ hours or until a knife is inserted and comes out clean.
Let cake cool for 15-20 mins. then remove from the pan.
Slice and serve.
What are the Best Apples to Use for Baking?
Granny Smith (my favorite) — extra firm, crisp and tart
Braeburn — crisp and juicy
Jonagold — cross between Golden Delicious and Jonathan; sweet and tart
Honeycrisp — crisp and sweet (like the name says)
Find more fabulous recipes from Jackie Bruchez at www.theseasidebaker.com.
____________