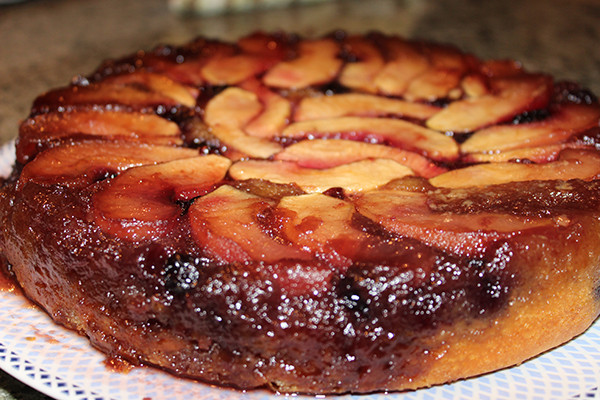 This upside-down apple blackberry cake looks impressive enough for company, but is so easy to make! Substitute frozen cranberries for a twist in color and flavor.
Serves 8
Ingredients
1½ cup flour
1 tsp. baking powder
¾ cup butter, softened (divided)
1 cup granulated sugar
2 eggs, room temperature
½ cup milk
1 tsp. vanilla extract
½ cup brown sugar, firmly packed
¼ cup honey
2 large Gala apples, peeled & cut into ¼" slices
1 cup frozen blackberries (do not thaw)

Directions
Preheat oven to 350. Mix flour and baking powder and set aside. Beat granulated sugar and ½ cup butter until creamy. Add eggs (one at a time) beating until smooth. Add flour mixture, alternating with milk. Mix in vanilla. Set aside.

Swirl ¼ cup melted butter in 9"x 2" round cake pan to cover sides of pan. Sprinkle brown sugar in bottom of pan and drizzle honey over the top. Place apple slices in a circle over brown sugar/honey (overlap as needed) and top with blackberries. Spoon batter over the fruit.

Bake at 350 for 45-50 mins. (until toothpick comes out clean). Cool in pan 10 mins. Run a knife along edges and flip onto a cake plate.
Tips: Frozen fruit holds its shape better than fresh fruit. Substitute frozen cranberries for blackberries for a holiday treat.
----------
Recipe provided by Ramona Warner, a local mom and expert party hostess.