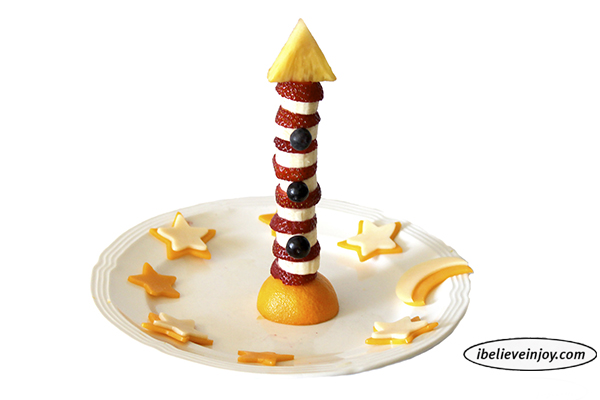 Blast off to healthy snacking with this rocket ship that kids love to make and eat! Teaching my family about whole foods and good nutrition is important to me. We enjoy creating allergy-safe recipes together and making food allergies fun — we call it Snacking with Joy. This recipe contains no nuts, no eggs and no gluten.
Ingredients:
strawberry
banana
blueberry
pineapple
orange
cheese
Directions:
Slice strawberries and bananas.


Use cookie cutters to cut star and moon shapes out of cheese.


Cut one triangle from a fresh slice of pineapple for the rocket top.


Cut a clementine orange in half for the rocket base.


Stack the cut fruit on a skewer from the base upwards, starting with the clementine.


Alternate between bananas and strawberries. Top with the pineapple triangle.


Use toothpicks to attach blueberry windows.


Decorate the plate with moon and star cheese shapes.
Joy Brownlee, the creator behind our former column, Snacking with Joy, enjoys creating allergy-friendly snacks for her three daughters.
____________