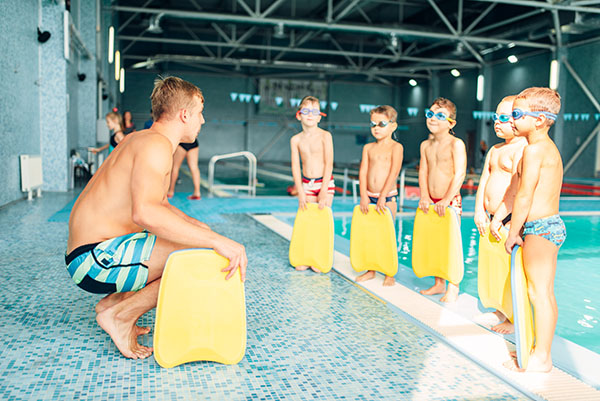 It's time to Fire Up for Camp season! Browse through your San Diego Summer Camps and Programs Guide to find awesome experiences where kids will learn new skills and make lifelong memories. Do you have an artist, scientist or future veterinarian in the family? Now's the time to plan an epic summer camp adventure.
Summer Camps 2022
ACADEMIC FOCUS
Camp Invention
Sabre Springs and Del Sur - 800-968-4332
www.invent.org/local
Grades K-6; Sabre Springs: June 13-17; Del Sur: June 20-24
Give your young innovator an unforgettable adventure. All-new, hands-on activities will launch their imagination and get their confidence soaring as they explore STEM fun from the oceans to outer space. Leader-in-Training (LIT) spots for grades 7-9 may be available. Leaders in Training will gain mentoring and collaboration skills while helping guide campers throughout the week at our in-person locations.
Summer at LePort Montessori
Del Mar - 858-207-6474
www.leport.com/go/summer
Elementary students; June 13-August 12
Ignite your elementary child's interests this summer with day, academic and specialty camps at LePort. New topics and activities each week. Flexible one-week camp sessions, opportunities for students to make new friends and collaborate.
MBMA Summer Camp: Time Travelers!
University City - 858-457-5895
www.mbmacademy.com
K-Grade 6; June 27-August 12
This summer, MBMA's students will discover the beauty and wonder of the world through the passage of time. Stepping back in history, our students will experience geography, animal life, culture, music, art history, new inventions and beyond. Our preschool/primary summer program includes our traditional Montessori morning program focusing on language arts and math with a fun-filled afternoon focused on our theme. Beginning with the prehistoric dinosaur period, all students will move through the time of the Egyptians, Ancient Greece, knights and castles, pirates and more! Additional adventure opportunities include: art, research projects, engineering design, math, proactive reading, gardening, outdoor games/sports and more. All MBMA students will be sure to hone their academic, social and emotional skills while enjoying a trip back in time!

ANIMAL ENCOUNTERS
Birch Aquarium Summer Camps
La Jolla - 858-534-7336
www.aquarium.ucsd.edu/summercamps
Ages 5-13; June 21 -August 26
From the beach to the aquarium, our camps merge scientific exploration with hands-on fun. Registration begins March 8. Visit website for details.
Critter Camp at Helen Woodward
Rancho Santa Fe - 858-756-4117
www.animalcenter.org/programs-services/education/summer-critter-camp
Ages 4-13; June 6-August 26
Children will experience daily animal interactions that will amaze as they get up close and personal with a variety of species including birds, small mammals, reptiles, large mammals, and invertebrates. Our summer camp activities are different each day and include animal-themed games, crafts, songs and more! There's something for everyone at Summer Critter Camp and a great time for all!
Wishing Well Equestrian
North County - 619-770-8765
Ages 5+; June 6-10, July 11-15, August 8-12
www.facebook.com/nancymcnaryequine
Camp Wishing Well is a fun and unique camp for kids ages 5 and up. Campers will have fun learning about horses, creating arts and crafts, working on horsemanship, and the basics of horseback riding. With Nancy being a former classroom teacher of 15 years and a member of the United States Pony Club, her ability to teach to each child's individual learning style is coupled with a safety-first approach.
DRAMA/THEATER/DANCE
North Coast Rep Theatre Camps
Solana Beach - 858-481-1055
www.northcoastreptheatreschool.org
Ages 4-19; June 20-August 5
Join The Theatre School at North Coast Rep for exciting performance-based theater camps that inspire learning and create theatrical fun with new friends. Choose Playful Ensemble Performance Camps for ages 4-8, Fun Skill-Building Performance Camps for ages 8-12, or Exciting Theatrical Training Camps for ages 12-19.
San Diego Junior Theatre
Balboa Park - 619-239-1311
www.juniortheatre.com
Elementary students; June 13-August 26
School may be out but theatre is in! Elementary students are welcome to join us for five fun-filled days rotating through classes in drama, music, dance and a specialty subject. Whether your child is used to the spotlight or new to the stage, our Spring Break camps have something for everyone!
Scripps Performing Arts Academy
Scripps Ranch - 858-586-7834
Carmel Valley - 858-509-2624
www.scrippsballet.com/academy/summer-camps
Ages 4-17; June-August
Join us for a new summer season with weekly dance and musical theater themes. Campers ages 4-17 learn choreography while creating a performance utilizing original scripts inspired by a variety of popular childhood themes, including "Encanto," "Sing II," and more. Campers may also choose from a Summer Dance Program. Each week culminates with a live presentation, creating summer memories to last a lifetime. Use the ad in San Diego Family Magazine's March issue to receive a registration discount. Offer expires March 31.

PAINTING, DRAWING, CERAMICS

Little Fish Comic Art Camps
College Area/ La Mesa - 619-356-1103
www.lilfish.us
Ages 7-17; June 15-August 22
Little Fish Comic Book Studio has been bringing its awesome comic and manga-themed camps to San Diego for the past decade, integrating comic instruction and lessons with creativity and collaboration, building towards kids making their own comic works!

Hot Spot Creative Kids Camp
Liberty Station - 619-223-1339
www.thehotspotstudio.com
6+; June 13-September 2
Kids get creative and have tons of fun at The Hot Spot! Monday: Mosaics, Tuesday: Pottery Painting, Wed: Candle Making, Thursday: Succulent Gardens & Slime, Friday: Guided Canvas. Kids will make crafts, play games, and even get a quick tour of the Navy Barracks to see artist galleries, the public market and more. We provide a snack and bottle of water but encourage you to pack a lunch as well. See the Kids Camp tab on our website for more info. Space is limited. Reserve online at www.thehotspotstudio.com.
SPECIALITY
**Fleet Science Center Spring Adventure Camps
Balboa Park - 619-238-1233
www.fleetscience.org/events/spring-camps
Grades 1-3; March 28-April 1
In the Spring Adventure Camps at the Fleet, kids in grades 1-3 enjoy a variety of fun and educational experiences that explore the world around us. Campers will explore the exhibit galleries, including "Going Places," and engage in hands-on activities.
Model Railroad Summer Camp (SOLD OUT)
Balboa Park and Online - 619-696-0199 x404
www.sdmrm.org/summer-camps
Grades K-8; June-August
Our ever-popular Model Railroad Camp introduces beginner modelers to the basics of creating a mock model railroad. Older campers will create a working model railroad. Campers paint, plaster, lay track and construct a mini-town, complete with buildings, trees, trains, and people. All SDMRM camps are immersive, hands-on, and led by enthusiastic education professionals.
The New Children's Museum
Downtown - 619-233-8792
www.thinkplaycreate.org/summer-camps
Ages 4-9; June 13-August 19
Camps at the Museum combine hands-on art-making activities, creative games and playtime in the park with the opportunity for children to think, play and create in the Museum's galleries. Registration opens March 7.
SPORTS
Poway Gymnastics
Poway - 858-748-1716
www.powaygymnastics.com
Ages 5-12; June 20-August 12
This camp combines gymnastics, games, and group activities that will delight, excite, and motivate your gymnast all summer long! In addition to outstanding basic gymnastics training, participants learn new skills, make new friends, jump on the trampoline, swing on the bars, balance on the beam, and conquer our G2N Ninja obstacle course and GIANT Warp Wall.
US Sports Camps
Multiple Locations - 1-800-645-3226
www.ussportscamps.com
Ages 6-17; June 21-July 29
Whether it's baseball or volleyball, tennis or swimming, lacrosse or basketball, we offer seasonal sports camps & clinics throughout the San Diego area.


TRADITIONAL DAY CAMP EXPERIENCE
Boys & Girls Clubs of Greater San Diego
Multiple Locations - 858-866-0591
www.sdyouth.org
Ages 5-13; Dates vary by location
Summer at The Club is a complete experience for kids ages 5 to 13. Treat your child to fresh air, awesome outdoor activities, and the opportunity to make new friends and memories that will last a lifetime! Schedule your registration appointment today.
Discovery Isle
San Marcos and Oceanside - 877-659-6198
www.discoveryisle.com
Ages 5-12; Dates vary by location
This is your child's time to shine! Our camp offers many options to keep your child excited and engaged this summer. Campers will enjoy field trips, sports and games, exciting STEM projects, arts, crafts, music, dance and drama. They'll grow more independent, develop social skills and continue to learn—all while having fun and making new friends.
Girl Scout Summer Camps
Multiple Locations - 619-298-8391
www.sdgirlscouts.org/camp
Day Camp: Grades K-12; Resident Camp: Grades 2-12; Dates vary
At our summer resident (overnight) camps, girls learn about science and space, the environment, hiking, canoeing, leadership and more. At day camp, girls get a taste of camp, make new friends and work toward badges. Each day camp features a program theme with specialized activities. Financial aid available.
KidzToPros STEM, Arts & Sports Summer Camps
Multiple locations - 877-202-1554
www.kidztopros.com/summer-camps
Ages 4-14; June 13-August 5
KidzToPros is San Diego's premier summer camp provider, bringing the best in STEM, arts and sports camps to kids ages 4-14. At KidzToPros, students can explore fields like robotics, programming, performing arts, sports and more in a safe, hands-on environment led by experienced instructors. Save $50 with code SDF-50!
The Rhoades School
Encinitas - 760-436-1102
www.rhoadesschool.com/student-life/summer-camp/
Incoming K-Grade 8; June 20-August 19
Discover new skills. Make new friends. We've designed the perfect camp for your child, complete with all the fun, enriching activities they love. Our Day Camps, Academic Camps, Specialty and Sports Camps offer one-of-a-kind experiences that will make them shine. Register today and bring out your child's best this summer!
OVERNIGHT CAMPS
YMCA Overnight Camps
Multiple locations - 858-514-4411
www.ymcasd.org/camps
Ages 7-17; June 19-August 19
The overnight camp experience you can count on to give your kids the fun they want and the growing experiences they need. Three fantastic properties in San Diego County, one in the mountains for summer adventures, one exclusively for horseback riding near Julian CA and one on the Pacific Ocean.

________

Updated April 2022
________
Find more local camp programs in our Digital Camp Guide!