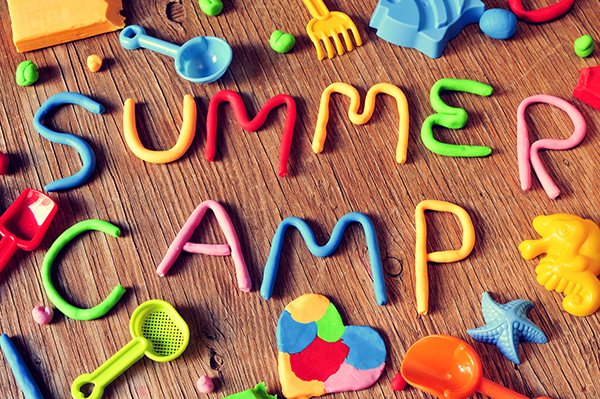 It's time to Fire Up for Camp season! Browse through your San Diego Summer Camps and Programs Guide to find awesome experiences where kids will learn new skills and make lifelong memories. Do you have an artist, scientist or future veterinarian in the family? Now's the time to plan an epic San Diego summer.


ACADEMIC FOCUS

MBMA Summer Camp
University City - 858-457-5895
www.mbmacademy.com
Kindergarten-6th grade; June 29-August 21
Mission Bay Montessori blends academics with fun camp activities. Register at www.mbmacademy.com.

ANIMAL ENCOUNTERS
Summer Critter Camp at Helen Woodward
Rancho Santa Fe - 858-756-4117
www.animalcenter.org/programs-services/education/summer-critter-camp
Kindergarten-6th grade; June 8-August 28
Children will experience hands-on animal interactions and summer camp activities, including animal-themed games, crafts, songs and more! This summer's theme is Surrounded by Superheroes! Each camper who is signed up for a full week of camp will also receive a free Critter Camp T-shirt! Virtual Critter Camp also available. Visit website to learn more.


CREATIVE ARTS & ENRICHMENT

Encore Creative Arts & Enrichment Camp
Kearny Mesa - 858-652-3262
www.encorecreativeartscamp.com
In-person camp offering 20 different full-day and afternoon programs (ages 8-13) at our 40,000 sq. ft. campus. One and two-week programs include: Walking with Dinosaurs, Space Camp, Hip Hop Dance, Musical Theater, Culinary, Mad Scientist, Chess, Martial Arts, DJ, Film, Anime, Magic, Photography, Arts & Crafts, Guitar, and many athletic programs. Drop-in week-to-week or all 11 weeks. Camps start at $165/week.
Wikki Stix Online Summer Camp
www.wikkistix.com/online-summer-camp-sign-up
Fun, FREE activities emailed directly to you every Wednesday for five weeks, beginning June 17. Activities use simple, inexpensive household items. Every Wikki Wednesday offers activities appropriate for ages 4-12. Sign up to receive your free weekly Online Summer Camp Activity program. Don't have Wikki Stix at home? Use promo code CAMP40 to receive 40% off all items on our website (expires July 8, 2020) or visit us on Amazon.
DANCE/MUSIC

City Ballet's Dance Camps
Pacific Beach - 858-274-6058
www.cityballet.org
Ages 4+; June 22-July 24
In-person Dance Camps include classes in ballet technique and special workshops on stage make-up and dance-related crafts and activities. Limited class size.
Maraya Performing Arts Summer Youth Theatre Program
Online - 619-934-2999
www.marayaarts.com/programs-2/
Grades 6-8 and 9-12; July 6-17 and August 3-14
Maraya Performing Arts is thrilled to offer an exciting virtual summer theatre program for young artists. These dynamic courses are led by respected working professional artists whose goal is to demystify the theatre-making process and introduce skills that are essential to building the actor's toolbox. Each student will experience the joy of performing while sharpening the necessary skills to grow as an artist. Come join us for an unforgettable summer of fun and theatre!

San Diego Civic Youth Ballet Camps
Balboa Park - 619-233-3060
www.sdcyb.org/summer-programs
Ages 4-10
San Diego Civic Youth Ballet, celebrating 75 years in 2020, is offering 2-hour ballet summer camp sessions via Zoom. Visit the website for dates and details.


DRAMA/THEATER
CYT Family Camp
Multiple Locations - 619-588-0206
www.cytsandiego.org/camps
Ages 5-10; July 1-
Welcome to CYT Family Camp, Disney Vol. 1! This 5-day adventure will have families of all sizes, singing, dancing, learning new skills, having fun, and developing character at their own pace. Experience theater arts training using some of CYT's favorite Disney themes like Aladdin, Mary Poppins, Frozen, The Lion King and more. The CYT Family Camp Handbook will provide a guide for the week, complete with video lessons in singing, dancing, and specialty workshops, printable activities, game instructions, and all the info you will need for a memorable week. One camp fee covers everyone in your household, plus bonus "activities with friends" for others to join in the fun!
North Coast Rep Virtual Summer Theatre Camp
Solana Beach - 858-481-1055
www.northcoastreptheatreschool.org/theatre-classes/summer-camps-2020
Ages 4-19; June-July
Performance-based online theatre camps will inspire your child to learn new skills while creating theatrical fun with new friends. All online camps are offered with reduced hours to allow for better student focus and reduced pricing! A limited number of scholarships are also available for need-based families. Email This email address is being protected from spambots. You need JavaScript enabled to view it. for scholarship application. Camps are dependent upon a minimum enrollment. If camp does not fill this quota a week prior to the start date, camp may be canceled. To register, call the box office at (858) 481-1055 or visit the website.
San Diego Junior Theatre Virtual Summer Camp
Balboa Park - 619-239-1311
www.juniortheatre.com/classes
Multiple ages; June 15-August 28
Virtual Summer Camps are now enrolling at San Diego Junior Theatre! Don't let quarantine prevent you from introducing your child to the magic of theatre. Singing, acting, dancing, and other specialty workshops are all offered via Zoom. Each camp offers innovative ways for young people to participate, create, and collaborate from a computer or tablet. There's something for every age and level of ability.
Scripps Performing Arts Musical Theatre Summer Camp
Scripps Ranch - 858-586-7834
Carmel Valley - 858-509-2624
www.scrippsperformingartsacademy.com
Ages 3.5-16; June 15-August 21
Summer camp at Scripps Performing Arts Academy provides a fun and creative getaway for every student! All camps are just $250 for the week and include all costumes and art materials. Call today for our Early Bird Monthly Special!

LANGUAGE
Bilingual Kids Spanish and Mandarin Summer Camps
Balboa Park (San Diego Chess Club) - 619-366-3098
www.bilingualkids-sd.com
Ages 5-12; June 22-August 17 (Aug.21 for Virtual Camp)
Now enrolling for in-person and Virtual Summer Camp! We have personalized the interactive Virtual Classes and Summer Camps to optimize success in foreign language acquisition, all while having fun. Going from the classroom to the cloud is our way of showing continuous commitment and dedication to your child's success.

PAINTING, DRAWING, CERAMICS
Little Artists
Clairemont/UTC - 858-268-2255
Poway - 858-486-1555
Rancho Bernardo - 858-451-2055
San Carlos - 619-462-1955
Chula Vista - 619-455-3755
www.littleartists.com
Ages 4-18; Ongoing
Offering great programs with convenient classes for all ages. Drawing, painting and cartooning available.

Little Fish Comic Art Camps
College Area/ SDSU/ La Mesa - 619-356-1103
www.lilfish.us/camps
Ages 7+; June-August
Little Fish's camps are specialized, highly-engaging experiences constructed with teens and pre-teens in mind. Each themed summer camp runs a full week, Mon.- Fri., 9 am-3 pm. By the end of camp, your child(ren) will come away with a greater understanding of the comic arts and its creation. Half-day Online Summer Camp sessions also available on a limited basis.

Hot Spot Creative Camp
Del Sur/4S Ranch and Liberty Station - 858-312-1019
www.thehotspotstudio.com
6+; June 15-August 10
Summer Camps are on! Camp will be hosted inside and outside at our new outdoor tables and the kids can play in our grassy area. In addition to daily projects like pottery painting, candle making, mosaics and more, we will play games, blow bubbles, take a tour of the Barracks Art District and look behind the scenes at The Hot Spot studio. Email: This email address is being protected from spambots. You need JavaScript enabled to view it. to sign up today!
PLAY BASED
APEX Parkour Camp
Kearny Mesa - 858-260-3887
www.apex-sd.com/camps
Ages 5+; June 10-August 28
Parkour is a great way for youth to focus their energy into fun and functional movements. Camps include activities like vaulting, front and back flipping, swinging, free-running, obstacle courses, perseverance training, self-discipline, character development, cooperative games and more!

SCHOOLS OFFERING SUMMER PROGRAMS
Virtual Summer Explorers at Gillispie
La Jolla - 858-459-3773
www.gillispie.org/summer
Age 3-Grade 6; June 22 - August 14
We invite students to join us for a summer program filled with exploration and discovery in our new virtual Learning Village! Gillispie School is offering an exciting virtual Early Childhood Camp for students ages 3-4 and a diverse array of online classes for children in Grades K-6. Our virtual Early Childhood Camp is open to all young children ages 3-4 and will feature one-week sessions from June 22 to August 14. Each week will be a themed session with a unique home learning adventure for children and parents. Early Childhood Camp is open to all students, Elementary Summer Explorers Program is only open to Gillispie students at this time. For more information, contact our Summer Explorers Director at This email address is being protected from spambots. You need JavaScript enabled to view it..
SCIENCE, DISCOVERY & STEM

Virtual Summer Camp with Birch Aquarium
La Jolla - 858-543-7336
www.aquarium.ucsd.edu
Ages 4-14; June 22-August 21
Explore the ocean world this summer through Birch Aquarium's NEW virtual camps. All camps are live and taught by two of our expert instructors. Kindergarten-Grade 5 graduates will create crafts, participate in experiments, learn about oceanography, and virtually interact with ocean animals. The 1.5 hour long camps are available for a full week or single days. Register now at aquarium.ucsd.edu.
Engineering For Kids
858-943-6637
Engineeringforkids.com
Children have a natural curiosity that lends itself to science, technology, math, and engineering. Camps at Engineering For Kids inspire children, ages 5-12, to build on their innate desire for answers by exploring engineering concepts in a fun, hands-on way.

Fleet Science Center Summer Camps
Balboa Park - 619-238-1233
www.fleetscience.org/events/summer-camps
Ages 3-13; In person: July 6-August 14 Virtual: June 15-August 14
The Fleet turns curious kids into happy campers! Our science-themed summer camps provide exciting experiments, intriguing investigations and fantastic fun. We have something for all ages, Grades 1-8, with both in-person and virtual camp options.

iD Tech Summer Camps
Multiple Locations - 1-888-709-8324
www.iDTechCamps.com
Ages 7-19; various dates
Virtual Tech Camps are the perfect way to sharpen your STEM skills and bond with new friends, all online from the comfort of home. With the highest quality remote instruction on the planet, you'll unlock your brilliance and create an exciting project. Start learning today, from anywhere in the world.

SPECIALTY
Virtual Model Railroading Summer Camp
Online - 619-696-0199 ext. 1608
www.sdmrm.org
Grades K-8; June 16-July 30
Join us this summer for a virtual version of our popular model train railroad camp! Campers will create a small model railroad layout as they are fully engaged in STEAM learning curriculum. Educators will introduce the various steps in creating a model railroad, as campers paint, plaster, lay track and construct a mini-town, complete with trees, trains and people! Most materials are included in the cost. For San Diego residents, a designated pick-up time for supplies will be provided. For all others, supplies will be mailed to you prior to the start of camp. This email address is being protected from spambots. You need JavaScript enabled to view it.

SPORTS
Poway Gymnastics
Poway - 858-748-1716
www.powaygymnastics.com
Ages 5+; June 22-August 14.
Poway Gymnastics offers organized, fun and informative camps in an air-conditioned gym. Camps are open to all ability levels from beginner to competitive.

TRADITIONAL DAY CAMP EXPERIENCE
Boys & Girls Club of San Dieguito Summer Adventure Camps
North Coastal San Diego - 858-720-2180
Ages 5-15; June 15-August 20 (*Griset Clubhouse June 22 – August 13)
www.bgcSummerCamps.org
Boys & Girls Clubs of San Dieguito will be offering a limited and modified Summer Day Camp at four locations (see website for details). A limited number of spots are available at each site and spots will be assigned on a first-come, first-served basis. Interested families must register for camp online through the Campsite registration system by Thursday before the start of camp. As of right now, there will be no field trips, cooking projects, swimming or activities that bring members into close contact with one another. If this changes, you will be notified in advance. Summer Sports and Specialty Camps may be added as restrictions are lifted.

Girl Scout Camps
Multiple Locations - 619-298-8391
www.sdgirlscouts.org/camp
Grades K-12; July 6-August 14
Girl Scouts San Diego is reimagining in-person summer camp to offer programming during the COVID-19 pandemic. Registration for NEW summer programs is open now.
Rock Academy Camp
San Diego - 619-764-5200
www.rockacademy.org/camp
Ages 5-14; June 1 - August 7
Summer adventure awaits at Rock Academy Camps. We have it all: sports, science, cooking, art and adventure options. Your child will deepen friendships and create new ones, having a blast as they continue learning and growing outside of the school year.

________

Updated June 2020
________