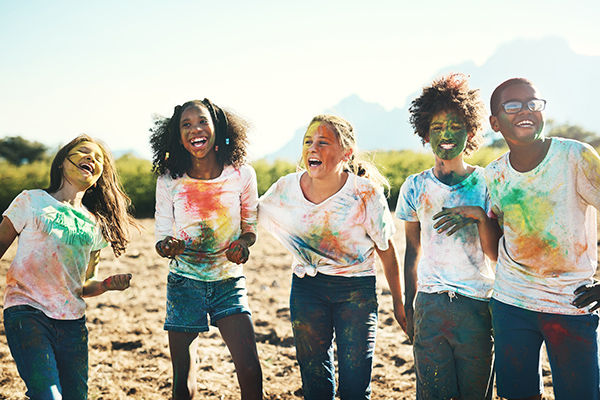 It's time to Fire Up for Camp season! Browse through your San Diego Summer Camps and Programs Guide to find awesome experiences where kids will learn new skills and make lifelong memories. Do you have an artist, scientist or future veterinarian in the family? Now's the time to plan an epic summer camp adventure.
Summer Camps 2023
ACADEMIC FOCUS
Summer at LePort Montessori
Del Mar - 858-207-6474
www.leport.com/go/summer
Elementary students; June 12-August 11
Ignite your elementary child's interests with project-based learning camps at LePort. Learner-centric topics provide the springboard for critical thinking, meaningful collaboration, and deep engagement. We offer flexible one-week camp sessions, opportunities for students to make new friends, and plenty of fun.
STEM Center USA Summer Camp at UC San Diego
University City - 800-433-6060
www.ussportscamps.com/academics/stem-camps/stem-camp-uc-san-diego
Ages 8-14; July 17-August 4
STEM Center USA is growing excited learners! Education with technology is broken up into outdoor field games or campus fun. Take a class in Robotics, Minecraft, Roblox, Coding and more.
MBMA Summer Camp: The Wonderful World of the Animal Kingdom
University City - 858-457-5895
www.mbmacademy.com
K-Grade 6; June 26-August 11
This summer, join us on our wild animal adventure as we dive into studying the wonderful world of the animal kingdom. From the jungles of the Amazon to the deep blue ocean, MBMA students will study the complexity and beauty of birds, reptiles, mammals, fish and insects.

ANIMAL ENCOUNTERS
Birch Aquarium Summer Camps
La Jolla - 858-534-7336
www.aquarium.ucsd.edu
Ages 4-13; June 26-August 18
From the beach to the aquarium, our camps merge scientific exploration with hands-on fun. Registration begins March 7. Visit website for details.
Critter Camp at Helen Woodward
Rancho Santa Fe - 858-756-4117
www.animalcenter.org/education
Ages 4-13; June 5-August 25
Enjoy hands-on animal interactions, crafts, themed games and more! Camp themes alternate each week so each camp day is sure to bring something new!
DRAMA/THEATER/DANCE
Summer Theatre Camps at North Coast Rep
Solana Beach - 858-481-1055
www.northcoastreptheatreschool.org
Ages 4-19; June 19-August 4
The Theatre School @ North Coast Rep offers exciting performance camps that will create theatrical fun with new friends. Choose silly ensemble camps for ages 4-8, fun production camps for ages 8-12, and teen performance camps for ages 12-19. To register, call 858-481-1055, visit: www.NorthCoastRepTheatreSchool.org, or email This email address is being protected from spambots. You need JavaScript enabled to view it. with questions.
San Diego Junior Theatre Summer Camps
Balboa Park - 619-239-1311
www.juniortheatre.com
Ages 4-18; June 12-August 18
Come play with us in Balboa Park this summer! San Diego Junior Theatre offers weekly camps throughout the summer months that involve acting, singing and dancing as well as intensives and conservatory camps. There is something for children of all ages and levels of experience.
Scripps Performing Arts Academy
Scripps Ranch - 858-586-7834
Carmel Valley - 858-509-2624
www.scrippsballet.com/academy/summer-camps
Ages 4-17; June 5- August 18
Join us for a new summer season with weekly dance and musical theater themes. Campers ages 4-17 learn choreography while creating a performance utilizing original scripts inspired by a variety of popular childhood themes, including "Matilda," "Annie," "The Little Mermaid" "Encanto" and more. Campers may also choose from a Summer Dance Program. Each week culminates with a live presentation, creating summer memories to last a lifetime. Use the ad on page 9 in San Diego Family Magazine's March issue to receive a registration discount. Offer expires March 31.

PAINTING, DRAWING, CERAMICS

Little Fish Comic Art Camps
College Area/ La Mesa - 619-356-1103
www.lilfish.us
Ages 7-17; Spring: March 27-31; Summer: Multiple dates
Little Fish's camps are specialized, highly engaging experiences designed specifically for teens and pre-teens. Both Spring Break and Summer camps are now open for registration. Sign up now for reduced early registration.

Hot Spot Creative Kids Camp
Liberty Station - 619-223-1339
www.thehotspotstudio.com
6+; June 13-August 16
Kids get creative and have tons of fun at The Hot Spot! Monday: Mosaics, Tuesday: Pottery Painting, Wed: Candle Making, Thursday: Succulent Gardens & Slime, Friday: Guided Canvas. Kids will make crafts, play games, and even get a quick tour of the Navy Barracks to see artist galleries, the public market and more. We provide a snack and bottle of water but encourage you to pack a lunch as well. See the Kids Camp tab on our website for more info. Space is limited. Reserve online at www.thehotspotstudio.com.
SPECIALITY
Fleet Science Center
www.fleetscience.org/events/spring-camps
Spring: Grades 1-6; March 27-31 Summer: TK-Grade 8; Multiple Dates
Join Science Spring Camps at the Fleet, where new adventures await each day. Campers enjoy a variety of fun and educational science activities. STEM summer camps provide exciting experiments, intriguing investigations and fantastic fun. We have something for all ages, from TK through eighth grade. **Fleet camps fill up quickly and may be sold out due to high demand. Check website above for current availability.
San Diego Model Railroad Summer Camp
Balboa Park - 619-320-6242
www.sdmrm.org/summer-camps
Ages 6-13; June-August
Our ever-popular model railroad camp introduces beginner modelers to the basics of creating a mock model railroad. Older campers will create a working model railroad. Campers paint, plaster, lay track and construct a mini-town, complete with buildings, trees, trains and people! All SDMRM camps are immersive, hands-on, and led by enthusiastic education professionals.

TRADITIONAL DAY CAMP EXPERIENCE
Boys & Girls Clubs of Greater San Diego
Multiple Locations - 858-866-0591
www.sdyouth.org
Ages 5-13; Dates vary by location
The Boys & Girls Clubs of Greater San Diego summer camp program provides kids ages 5 to 13 with safe and fun summer experiences that give them the confidence to learn, grow, and make new friends. Our program emphasizes academic success, healthy lifestyles, and character development. Each week, there is a new theme—from pirates to Animal Planet—which allows campers to dress up and get creative!
Champions Champ Camp
Multiple Locations - 1-800-246-2154
www.discoverchampions.com/summersd
Ages 5-12; June 19-August 23
Join Champ Camp for two weeks or all summer long! Just pick the days or weeks that work for you, and we'll handle the rest. We'll include STEM experiments, field trips, interactive sports, water play, group activities, friendship and more! Our research-backed curriculum delivers hands-on experiences. When you drop your camper off, you know they're with people (and in environments) you already know and trust. By the fall, your child will be more confident, with new skills and new friends. We hope you'll join us this summer!
Discovery Isle
San Marcos and Oceanside - 877-659-6198
www.discoveryisle.com
Ages 5-12; Dates vary by location
Our camp offers many options to keep your child excited and engaged this summer. Campers will enjoy field trips, sports and games, exciting STEM projects, arts, crafts, music, dance and drama. They'll grow more independent, develop social skills and continue to learn—all while having fun and making new friends.
Girl Scout Summer Camps
Multiple Locations - 619-298-8391
www.sdgirlscouts.org/camp
Day Camp: Grades K-12; Resident Camp: Grades 2-12; Dates vary
Discover new interests, adventure outdoors, and challenge yourself in a supportive environment at Winacka, Whispering Oaks and Day Camp. Financial aid available. Registration opens March 1.
Summer at The Rhoades School
Encinitas - 760-436-1102
www.rhoadesschool.com
Age 2.5-Grade 8; Multiple dates
We've designed the perfect camp for your child, complete with all the fun, enriching activities they love, and the important safety measures and flexible hours you expect. And with many options to choose from, campers will have endless, AWESOME experiences to keep them engaged and excited all summer long.
OVERNIGHT CAMPS
**YMCA Overnight Camps
Multiple locations - 858-514-4411
www.ymcasd.org/camps
Ages 7-17; June 18-August 18
The overnight camp experience you can count on to give your kids the fun they want and the growing experiences they need. Three fantastic properties in San Diego County, one in the mountains for summer adventures, one exclusively for horseback riding near Julian CA and one on the Pacific Ocean.

________

Updated February 2023
________
Find more local camp programs in our Digital Camp Guide!