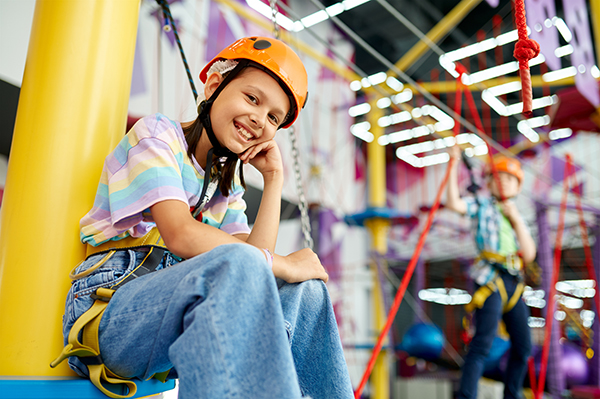 One thing most parents agree on is that kids have missed out on important growth opportunities over the past several years. With the most acute stage of the pandemic behind us, the time has come to fill in some of those gaps. One way to accomplish this is to send your kids to summer camp.
Some of the social-emotional benefits of summer camp include regaining a sense of social connectedness, trying new activities, improving self-confidence, discovering better communication skills, and making new friends. At many camps, kids also experience a boost in physical health. Below, we take a deep dive into the reasons why summer camp is more essential than ever.
Social Connectedness
When social isolation was initially recommended to slow the spread of COVID-19, most of us didn't understand how deeply this behavior would impact today's youth.
"Over the last couple of years, we have noticed that children tend to have a harder time interacting and relating socially to others, engaging in abstract thinking, and coping with stress," says Robyn Higgins, education and tours manager at San Diego Zoo Wildlife Alliance. "We have seen this manifest in a variety of ways during camp as children have begun to relearn and practice some of these skills. For instance, children may have a harder time adapting when a planned activity changes, or it may take them longer to connect with other campers."
At summer camp, children are able to regain a sense of interconnectedness with their surrounding communities as they practice face-to-face communication skills, meet new people, develop friendships, and bond over common interests and activities.
Growth Mindset
When it comes to post-pandemic kids, the inability to experience life with a growth mindset is another area of concern. Children who possess a growth mindset understand that skills and abilities can be improved with sufficient time and effort. Those lacking this approach often lack the self-confidence required to move past life's inevitable failures and tackle new challenges. Summer camp can help kids expand their mindset.
"At camp, we see the power in meeting and working with new friends," says Elle Muse, recreation supervisor of Seaside Day Camps in Encinitas. "Whether it is that small bit of competition or encouragement from those around you, these interactions help children get out of their own heads and work through new experiences to create self-confidence."

Want to learn more about growth mindset? Read our article, "How and Why to Develop Growth Mindset in Kids."
Opportunities to Try New Things
"Opportunities to try new things is one of the most valuable benefits of summer camp and has the greatest impact on children who are returning to camp after the pandemic," says Muse. She explains that camp inherently creates a new environment and experience, placing children outside their comfort zone.
Depending on which camp you choose, new opportunities may involve physical activities like hiking, rock climbing, archery or horseback riding; alternatively, kids may be exposed to more cerebral activities such as using unfamiliar materials for art projects, experimenting with STEM concepts and learning new campfire songs.
To be clear, placing kids outside of their comfort zone is rarely a bad thing when it's in a safe environment. Kids can develop new skills, discover new passions, enjoy independence and adventure, and experience boosts in self-confidence and self-esteem.
Independence
For any parents out there with helicopter tendencies, the pandemic may have sharpened those well-intentioned (but often harmful) instincts to swoop in and over-manage their child's life. If this sounds familiar, it's not too late to correct it. Rest assured that summer camp can provide a safe and separate space for kids to learn how to think independently, make their own decisions and learn from their mistakes.
"Summer camp encourages children to engage in discovery, exploration and problem-solving, ultimately supporting their holistic growth and development as they navigate the world," says Higgins.
To further foster your child's independence, be sure to allow their participation when choosing summer camp programs.
Physical Activity
With kids spending more time than ever indoors and on screens, it's no surprise that there is a childhood obesity epidemic. According to the CDC, obesity now affects about one in five kids—and things aren't heading in the right direction.
Summer camp can help kids achieve or maintain a healthy weight, along with developing greater physical stamina and endurance, through fun activities like hiking, swimming and outdoor games. If your child plays (or wants to play) year-round sports, programs focused on building sport-specific skills may be a particularly good fit.
Keep in mind that not only can camp boost physical fitness, it also leads to improvements in mental health and well-being. As Muse so aptly observes, "Camp is the place where building new friendships and learning emotional intelligence is disguised by fun."
To find a summer camp near you, visit www.sandiegofamily.com/resources/summer-camps-and-programs.
Lisa Pawlak is an award-winning contributing writer living in Encinitas with her family.
____________