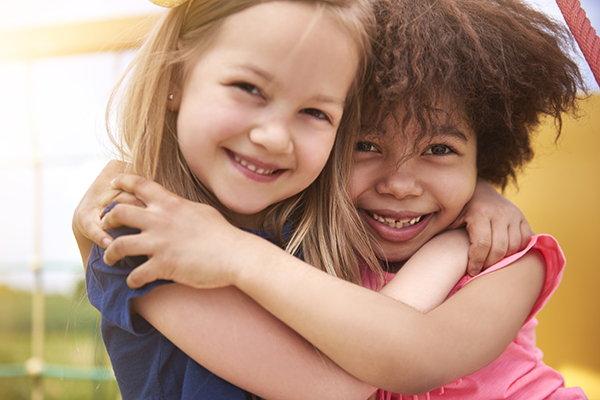 There's so much to love about summer camp: fun traditions, new friendships, the great outdoors, art, athletics and much more. Even the littlest campers can expect a positive experience. According to Ashley Melton, a seasoned camp counselor and teaching credential student at SDSU, young children adapt quite well to day camp.

"Camp is one of the best things you can do for your preschooler," Melton says. "You are providing a structured schedule, new adults to learn from and new environments to explore. Those are all big wins in the 3-5 age range."

Here are five signs your preschooler is ready to join the fun at day camp:

1. He enjoys playing with other kids.
It's normal for young toddlers to prefer playing alone, but as they grow into the preschool years, kids start to play cooperatively with one another. You might see them sharing toys or playing make believe together. If your child has made this shift, he's likely to enjoy team-centered activities at camp.

2. He's been cared for in a group setting.
If your child has been to daycare, preschool, Sunday school or even child watch at the gym, camp is likely to be a familiar and positive experience for him. If he is grouped with kids his age, counselors should understand how to make activities fun and developmentally appropriate for them.

If your child has never experienced group care before, camp is a great way to learn that other adults can be excellent caregivers and role models. You have to start somewhere—it might as well be somewhere fun.

3. He tells you he's interested.
It's important to ask preschoolers how they feel. Start a positive conversation about camp. Share your own memories from camp and talk about some of the great things he might do as a camper. Ask if he'd like to attend. If it's a big yes, he's probably ready. If he's nervous about a few things, keep the conversation going. You can decide together whether this is the right year to start.

4. He is comfortable in loud spaces.
Is your kid a champ when attending baseball games? Chances are, he'll do great in a busy, noisy summer camp environment. His ability to remain unruffled when crowds get excited shows he's big enough to handle—and enjoy—an energetic group of kids.

5. You are ready.
If you know your child is ready for camp, be sure to tell him so. Young children need parents to set the tone in new situations. "If you feel confident in those running the camp and their abilities—and if you convey that confidence to your child—he will follow your lead," Melton says. Explain that camp is a safe and fun place to be and that the counselors will take good care of him. Your preschooler will mirror your conviction.

Questions for the camp director:

Is there a half-day camp option?
Will my child be grouped with kids his age?
If my child feels homesick, how will the staff help him cope?
How many children do you expect in his age group?
If an older sibling attends this camp, can they spend time together?
---
Anne Malinoski is a freelance writer and mother of two boys. She spent her college summers as a camp counselor. Go purple team!
Access our Summer Camps and Programs Guide HERE.
Find camps and enrichment programs designed for children with special needs HERE.