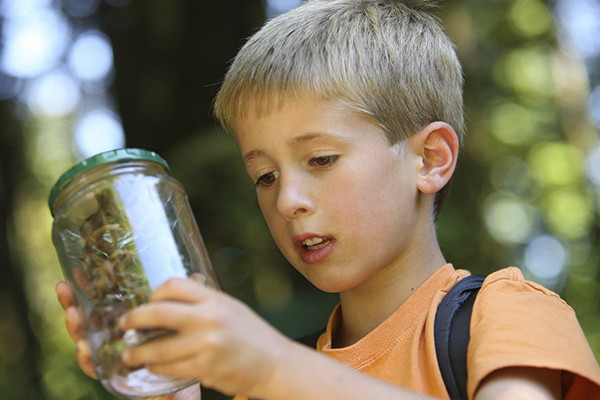 The abundant benefits of summer camp are for everyone, so if you have children with special needs, developmental disabilities, a chronic medical condition, or you're just not sure they'd fit in socially, don't let your worries take over. The camps below offer extra care and support for children with special circumstances. Break out the camp gear and prepare your child for an unforgettable experience!


See our 2022 Spring/Summer Camp listings HERE.
AWARE-Adults with Autism Recreation Experience
Fun, summer day camp for young adults (18+) on the Autism Spectrum allows socialization with peers and community-based activities. Camper or family member must be a current Autism Society of San Diego member.
Ecke YMCA Gymnastics Center
6100 Avenida Encinas
Carlsbad, CA 92011
858-715-0678
Camp Able at Coronado
Provides children and adults with mental and physical disabilities the opportunity to experience aquatic activities such as kayaking, sailing and swimming in the ocean.
619-456-2319
Camp Beyond the Scars Burn Institute
Traditional summer camp for burn-injured children ages 8–17 with professional support for dealing with their unique physical and emotional challenges. Counselors include off-duty firefighters, medical staff and adult burn survivors.
858-541-2277
Camp del Corazon
Three primary programs for children and families living with congenital heart disease: P.A.C.E. (Progressive Adult Congenital Experience) program for ages 18–25, summer camp for ages 7–17, and Happy Heart Festival, an annual educational symposium.
North Hollywood, CA
818-754-0312
Camp Harmon
ACA-accredited camp for individuals 8 to 65 with developmental and/or physical disabilities. Run by Easterseals with a 3:1 camper/counselor ratio, on-site health center, 14 heated cabins, arts & crafts center, accessible swimming pool, putting green, athletic field, gardening areas and animal farm.
Boulder Creek, CA
831-338-3383
Camp Huntington
Residential camp in the Catskill Mountains for ages 6 and up with ADHD, LD, PDD-NOS, ADD and ASD. Offers a unique program of adaptive therapeutic recreation including structured activities, nurturing care, a positive setting, and academic instruction to meet IEP goals. The local area offers many activities for the family.
High Falls, NY
855-707-2267
Camp Ivey
Summer horse camp dedicated to encouraging interaction of disabled and able-bodied children of all ages. Day camp for ages 7–17 with therapeutic horseback riding and horse grooming program.
110 Rancho del Oro Dr.
Oceanside, CA 92057
760-722-4839
Camp Jaycee
Inclusive, ACA-accredited camp for ages 18 mos. to ninth grade features camps for every interest, including traditional, sports, Spanish-immersion, teen, theater and more. Options for satellite locations and virtual camps. Scholarships available.
4126 Executive Dr.
La Jolla, CA 92037
858-362-1132
Camp Let Loose
Week-long summer program for kids with special needs. Paired 1:1 with a teen counselor, campers enjoy yoga, art, music, baking, sports, water fun, face-painting and field trips.
2558 Roosevelt St. #203c
Carlsbad, CA 92008
858-487-4879
Camp Ramah
Jewish children ages 10–17 with special needs, along with peers and siblings, enjoy specialized, therapeutic programming in a supportive camp environment staffed with behavior and family education specialists. Individual counselors for each family.
Ojai, CA
310-476-8571
Camp Oty'Okwa Special Care Camp
Residential camp for ages 6–14 who have been diagnosed with Learning Disabilities, ADD/ ADHD, behavior or mood disorders, Autism or a combination of needs. Campers interact in typical programs, are integrated into routine camp activities, and participate in groups with campers of similar diagnoses.
South Bloomingville, OH
740-385-5279
Camp Paivika
Overnight camp near Big Bear for ages 5–22 with developmental and physical disabilities, such as Autism, ADHD, Cerebral Palsy, Down Syndrome and Epilepsy. Includes horseback riding, fine arts, adaptive sports, swimming, cookouts and campfires and nature hikes.
Cedarpines Park, CA
909-368-7411
Camp Summit
ACA-accredited, weekly residential camps for children and adults with disabilities providing recreational, therapeutic and social activities in an authentic camp setting. Campers are grouped by diagnosis/need and are never turned away due to severity of disability or inability to pay.
Dallas, TX
972-484-8900
Camp Wamp
Wilderness camping experience located in the Sierra Nevada Mountains for ages 8–18 with physical disabilities. Founded by local climbing legend Stephen Wampler.
800-381-6891
Soda Springs, CA
CIP (College Internship Program) Summer Program
Two-week college experience for ages 16–19 with ASD, ADHD and other learning differences. College is not just about academics; it's about fostering connections, learning skills to succeed and having fun.
877-566-9247
City of Chula Vista Day Camps
Students with disabilities are encouraged to attend all day camps. Two-week notice is required to complete an assessment and to assign an aide, if needed.
Deaf and Hard-of-Hearing Family Camp
Provides an opportunity for children who are deaf and hard-of-hearing and their families to come together in a positive environment.
Digital Media Academy Tech Camps
Summer tech camps for ages 9–18. Courses offered: 3D Modeling + Design, Coding + Artificial Intelligence, Film + Photography, Game Design, Music Production, and Robotics + Engineering.
866-526-6854
Dragonfly Forest
Summer camp designed for children with Autism, 22Q, Asthma and medical needs, allows them to safely enjoy camp activities such as swimming, fishing, archery, arts and crafts, ropes courses, boating and nature activities.
Dingmans Ferry, PA
570-828-2329
Easterseals Camp Oakes
Resident camp in the San Bernardino Mountains serves children and adults with disabilities. Activities include crafts, hayrides, talent shows, dances, swimming, canoeing, archery, hiking and a ropes course.
951-264-4855
Big Bear, CA
Flying Horse Farms
ACA-accredited, sleepaway camp for ages 7–15 who can only participate in camps that provide medical support due to diagnoses in cardiology, hematology, oncology, rheumatology, gastrointestinal disorders, pulmonary disorders, rare diseases and facial anomalies. Fully staffed with doctors and nurses 24/7 in a state-of-the-art medical building.
Mt. Gilead, OH
419-751-7077
iFly STEM Camps
Offers all-ability, STEM–based day camp that includes classroom instruction, interactive lab and wind tunnel physics demonstration, indoor skydiving flight training, iFLY flight suit and safety gear, and 1:1 flying with a certified flight instructor.
2385 Camino del Rio N.
SD, 92107
619-432-4359
3178 Vista Way
Vista, CA 92056
760-606-4359
Junior Adaptive Sports Camp
Campers ages 4–18 are introduced to adaptive sports such as wheelchair basketball, tennis, lacrosse, archery, water skiing, sailing and more at Crown Point and Miramar College.
Adaptive Sports and Recreation Association
619-336-1806
Rancho Family YMCA Camps
Exciting, inclusive camps offered to children of all abilities. Assessment provided for areas of camp support. Financial aid available.
9410 Fairgrove Ln., SD, 92129
858-484-8788
Salvation Army Kroc Center Day Camp
Trained Inclusion Coordinator and Day Camp Manager assess each child with special needs (with parent present) three weeks prior to camp to determine if reasonable accommodations can be provided to meet their needs and keep them safe.
6845 University Ave., SD, 92115
610-287-5762
SOAR Adventure Camps
Camps for students with ADHD and learning differences help students increase independence by participating in rock climbing, whitewater rafting, scuba diving and horseback riding.
Balsam, NC
828-456-3435
Surf Camp
The Autism Society in partnership with Aqua Pros Swim School offers surf camp for persons with Autism.
858-715-0678
Upward Bound Camp
Christian-based recreational and educational camp experiences for persons with disabilities, ages 12 and up. Encourages growth outside the individual's usual routine.
Gates, OR
503-897-2447

Looking for more program options for kids with developmental disabilities or unique needs? The Special Needs Resource Foundation of San Diego has tons of helpful information. Here is the Flourishing Families link for recreation resources and programs.
--------------
Updated: March 2022