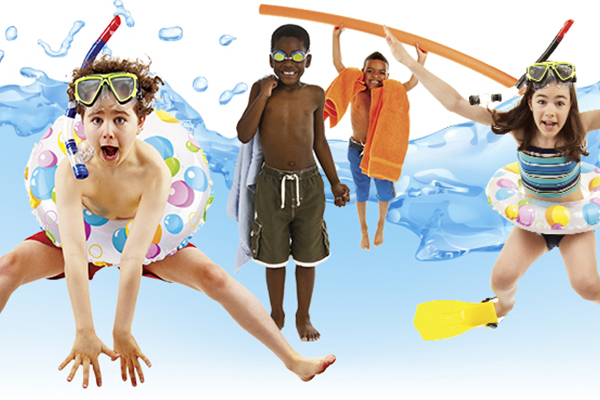 With San Diego's oceanic surroundings and ideal climate, it's no surprise that local summer camps often include aquatics-based recreation. If getting wet is your child's favorite part of summer, you might want to sign him up for a camp experience at one of San Diego's beach, pool or lagoon environments.
Aquatics camps are a perfect way for children to improve swimming skills, learn ocean and beach safety, develop boating experience, and participate in a range of watersports and activities. These camps offer lots of fun, improve overall fitness and provide great opportunities to make new friends.
In the Pool
Whether your little fish dreams of diving off the blocks at the Olympics, wants to improve competitive strokes for swim team or simply loves to spend time at the pool, swimming camps are an excellent summertime option.
"Swim camps offer a unique opportunity that allows young student-athletes to interact with and learn from some of the best coaches and swimmers in the sport," says Daniel Perdew, camp director of UC San Diego Swimming Camps. "They give young aspiring swimmers a firsthand look at what they could reap from their hard work and serve as a motivating tool upon return to their daily routine."
Many local community pools offer day camps; San Diego's university pools also have overnight options.
Swimmers might also enjoy camp at one of the region's waterparks. While they don't all offer daily summer programs, several affiliated camps include waterpark field trips so kids can enjoy exhilarating waterslides, floating in lazy rivers and wave surfing machines.
At the Beach
Can your child identify a riptide? Does he know what to do if stung by a jellyfish? Fortunately for local families, a variety of low-cost Junior Lifeguards (JG) programs are offered each summer through San Diego's city and state beaches, and can provide the answers. Junior Lifeguards receive essential ocean safety education from seasoned professional lifeguards—all in a fun, recreational environment.
"JGs spend many hours learning about ocean awareness, marine life, basic first aid, CPR, sun protection, how to detect skin cancer, lifeguard skills, body surfing, body boarding, surfing, and teamwork through a variety of fun beach games and competition," says Patty Mackle, Junior Lifeguard coordinator for Torrey Pines State Beach.
If your child's main goal is to learn to surf, try a specialized surf camp. There are plenty of day camps to choose from, offered for all ages and abilities, up and down our coastline. These teach surfing basics such as paddling the board, catching waves, standing up and surfing etiquette; more advanced surfers can work to improve technique. Experienced coaches keep kids safe, while also providing instruction on ocean safety.
Local sleepaway surf camps, such as YMCA-operated Camp Surf, include a range of traditional camp activities.

On Watercraft
If your child loves boats, consider a camp that teaches kayaking, canoeing or sailing. Or, high-speed summer thrills can be found with wakeboarding, tubing or waterskiing focused camps.
Other aquatics programs introduce STEM education elements and might involve coastal explorations via kayak or stand-up paddleboard. Older kids and teens can even learn to snorkel or scuba dive to experience the underwater world.
"A marine science camp such as ours gives students the opportunity to develop their love for the ocean or explore the possibility of pursuing marine biology as a field of study in the future," says Amy Bergen Zerofskim, SEACAMP San Diego director.
General watersports camps are also available. A single week might involve surfing, sailing, paddle sports, waterskiing and more. Multi-sport camps can be based at a single location, or involve daily adventure trips to a number of places for variety. While many aquatics camps emphasize a single theme, they often include aspects of others. For instance, a JG program might offer a day at a waterpark; a swim camp might include a field trip to the beach.
"When I think back to the fondest of childhood memories, so many of those revolve around the water," reflects Josh Cantor, CEO of Carlsbad Lagoon's Camp H20 Extreme. "We work very hard to facilitate those lifelong memories."
To find the perfect aquatics camp for your child, check San Diego Family's "Time for Camp" listings at www.sandiegofamily.com/resources/summer-camps-and-programs.
Aquatics Camps for Kids with Special Needs
The nonprofit organization, Surfing Madonna, offers a local surf camp for kids with special needs. Sessions at Moonlight Beach in Encinitas are free to participants and run twice a month from May to September. Campers receive one-on-one surf lessons from professional surf instructors. Visit www.surfingmadonna.org for more information.
An adaptive watersports camp is offered at Mission Bay Aquatic Center. Visit www.mbaquaticcenter.com for details.
Autism Society San Diego holds a specialized surf camp at La Jolla Shores for ages 5 to adult. Learn more at www.autismsocietysandiego.org/surf-camp.html.
Several regional aquatics programs offer inclusive camps that provide aids and/or special equipment to campers with special needs. Check pools, community organizations, and general aquatics centers for listings; inquire in advance to explore the best options for your child.
Lisa Pawlak is an award-winning contributing writer living in Encinitas with her husband and two sons.
Published April 2018
------