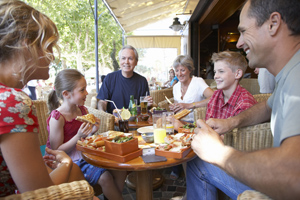 Traveling can be extremely stressful for the 12 million Americans with food allergies and 3 million with celiac disease. In fact, most people with food allergies and sensitivities list traveling and dining out as their biggest concerns. One in 25 Americans (4 percent of the U.S. population) have food allergies. The numbers are higher for children under the age of 3, as 6 percent have been diagnosed with food allergies. In addition to 3 million Americans with celiac disease (gluten intolerance), 18 to 20 million are gluten sensitive.
It's challenging for people with special dietary needs to locate accommodating restaurants in unfamiliar areas, determine whether unknown meals or snacks contain any "allergy triggers" and avoid cross-contamination everywhere they go. Further, people with anaphylaxis and other severe allergic reactions must consider how they'll secure immediate medical help in a new city if they have an allergic reaction. But with the right preparation and strategies, traveling can be more enjoyable and less nerve-wracking.
Psychotherapist Alicia Woodward, LCSW, specializes in the psychological, spiritual and social aspects of celiac disease, food allergies and sensitivities. The editor of Living Without Magazine (www.livingwithout.com), the nation's leading magazine for people with food allergies, Woodward offers this advice for travelers with food allergies:

Do your research. Before your trip, research your destination city's restaurants, grocery stores and farmers' markets. Investigate menus and ingredient lists online. Call to see which establishments can accommodate your special food requirements.

Download relevant apps. There are some great smartphone apps that provide valuable information and peer reviews about how well (or poorly) restaurants accommodate food allergies and sensitivities. These mobile apps are helpful whether you're planning your meals in advance or grabbing something on-the-go.

Bring your own snacks. Always carry a stash of snacks with you so you can safely nibble while you're out exploring.

Book a hotel with a fridge. Bring your own, safe foods to make your own meals or snacks.

Ask questions. Ask your hotel concierge to recommend accommodating restaurants, ask your servers how specific meals are prepared, and ask food-allergic friends where they've comfortably eaten while on the road.

Eat regularly. Eat regular meals and snacks so you never become ravenous, when you may eat something "risky" that you'd never try on a full belly.