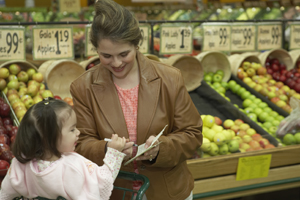 "Learning how to read should not be confined to the classroom," said Amy Jo Dowd, Ph.D., education research advisor for Save the Children. "There are many fun ways that parents, community members and even children can support other children in developing language and literacy skills as part of their daily life."
Save the Children offers 10 steps all parents can take to boost early reading skills among their children.

Ten Tips to Boost Reading and Make Learning to Read Fun
1. Tell a story to a child.
Then discuss the people, places and events in it. Do it more than once if you can, and ask the child to help you retell the story.

2. Promote reading while feeding your family.
Ask your child to name the ingredients, count them, sort them by size, by color, by first sounds and more!

3. Sing a song together.
Songs have rhymes, meter and great words that are important for children to learn.

4. Promote reading while shopping.
Make a shopping list together, and read back from the list as you shop. At the market, ask your child to point to items that start with a particular sound.

5. Tell your child about the steps in your daily work or chores.
Talking about ordinary daily routines—like washing dishes, or making the bed—can introduce new words and be a rich language experience for your child.

6. Read a book to your child.
Help them learn to turn the pages of the book, teach them which is the front and which is the back of the book.

7. Make reading materials.
Create a simple book of five to six pages, with a picture on each page and a few words of text.

8. Read aloud labels on packaged food or items at home.
Ask children to point out words that begin with a certain letter, or ask them to rhyme words in the text.

9. Read and describe signs.
Ask your child: What letters are in it? What color is it?

10. Choose a letter of the day.
In a central place, draw a letter of the day on a piece of paper or in chalk on the wall.


Dowd says, "Even parents with little or no schooling can take steps to improve their child's vocabulary, build their knowledge of letters and numbers and lay a foundation for a lifelong love of reading."

-----------------------
Save the Children is the leading, independent organization that creates lasting change for children in need in the United States and around the world.