You've heard it time and time again, "The first five years of a child's life are the most critical to their development." This idea is not anything new, but recent research shows just how much "play" is necessary for that development and learning to take place.
Not only is play directly linked to social development, it also helps develop cognitive and emotional senses within the first few years of your little one's growth. But what type of play translates into learning? An important form of play is for a child to use his imagination. Pretending to be a favorite super hero, or dressing up like a princess merely means that children are thinking abstractly and expanding their imaginations to more than what is "in the now." It takes curiosity and an open mind to truly develop as an individual being. As a child plays, they exhibit decision-making skills, communication practices and self-motivation. Here's how stretching the imagination helps kids develop:

They learn to solve problems by helping children think through different outcomes to various situations. Role-playing allows children to cope with difficult or new circumstances.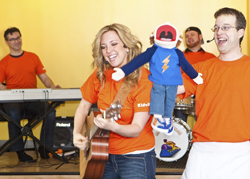 Imagination allows children to practice real life skills. From shopping at a pretend grocery store to assigning roles and dialogue to dolls or puppets, children's play helps them practice and apply new learning and better understand how those skills are used in the real world.

Play encourages a rich vocabulary. Telling and hearing real or made-up stories, reading books and pretend play helps children learn and retain new words.

Imagination helps children grow up to be adults who are creative thinkers. Adults who were imaginative children often become problem solvers and innovators.

-----------------------
Indoor play innovators Alfredo Alvarez and Rup Malhotra are the owners of Kidville, an indoor play center offering classes, camps and open play times, located in Carlsbad (http://www.kidville.com/carlsbad) and Chula Vista (http://www.kidville.com/chulavista).