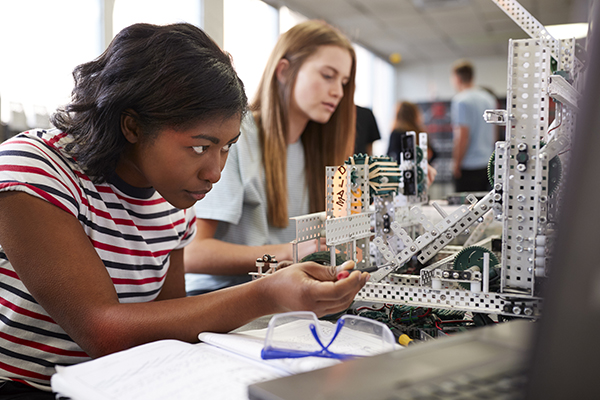 Implementing open-ended STEAM (Science, Technology, Engineering, Art, Math) activities has numerous benefits to future makers, and encouraging students to tinker in a supportive environment promotes exploration, creativity and discovery. Make your home STEAM-friendly by having simple DIY science kits available to engage young innovators in grades K–6. Here are economical STEM kit suggestions, using materials you likely already have. Have fun STEAMing ahead!
DIY Tangram Kits
Supplies: cardboard or cardstock, pencil, scissors
Make your own tangrams with cardboard cut-outs. Make five triangles, one square and one parallelogram. Find instructions at www.tangram-channel.com/crafts-activities/draw-your-own-tangram. Assemble and rearrange the seven pieces in an infinite number of configurations, designs and patterns.
DIY Geoboard Kits
Supplies: wood planks, nails, hammer, rubber bands
*Note: This project requires adult supervision.
Build your own geoboard by hammering nails into a wood plank. Design nails into a specific shape or randomly hammer them throughout. Then, use rubber bands to connect the nails and create geometric shapes, designs, angles and patterns. Make a statement piece to decorate the house or create new patterns on your board daily as a calming activity. Try using one as a musical instrument for younger kids.
3D Cardboard Structures
Supplies: cardboard, box dividers, scissors
Reuse box dividers or add slits to pieces of cardboard to connect the pieces and form 3D structures. Construct bridges, tall structures, houses, carports, sculptures or drawer dividers. The options are endless.
Pipe Cleaner Creations
Supplies: pipe cleaners (aka chenille stems), pencil, colorful beads
Bend pipe cleaners to make bookmarks, jewelry, structures, constellations and more. Wrap them tightly around a pencil to create a coil and decorate with beads, if desired.
DIY Bridge Kits
Supplies: craft sticks, glue
Engineer bridges of varying heights with craft sticks and glue to support various weights. Test the bridge strength once glue has dried. https://tryengineering.org/teacher/popsicle-bridge
More advanced students can learn how to make a self-supporting Leonardo da Vinci bridge by weaving the sticks together (no glue required). Watch how at www.youtube.com/watch?v=8sEa3MXXzw8.
DIY Catapult Kits
Supplies: craft sticks, rubber bands, plastic spoons, cotton balls
Learn about energy, gravity and motion. Stack and connect craft sticks with rubber bands. Attach an upright plastic spoon on top. Watch how at www.youtube.com/watch?v=2QfOu8tzS7s. Have a friendly, family competition—launch cotton balls and battle for the highest or farthest shot.
Makers Box
Supplies: open-ended supplies, such as pipe cleaners, tape, paper towel rolls, string, small boxes, marbles, paper clips, paper, glue, cardboard, scissors, rubber bands, etc.
Keep various supplies on hand to provide building blocks for students to create an artistic collage, marble roll or other creation. Cut, tape and fasten items together to make a self-standing structure. Get inspiration from the world's largest Rube Goldberg machine (it's a Guinness World Record winner!) at www.youtube.com/watch?v=RBOqfLVCDv8.
________
Tracy Real is a parent educator who curates and hosts inspiring space for students to explore and create at an elementary school in South Bay.
________