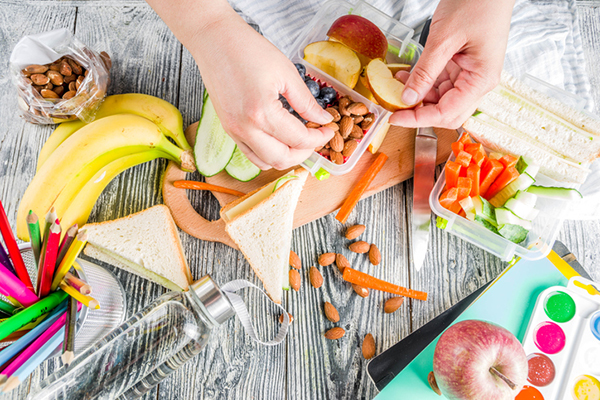 Increased screen time and busy schedules have led to a number of health issues, including decreased physical activity and unhealthy eating habits. Consider using easy STEM activities to help your family adopt a healthier outlook. STEAM (Science, Technology, Engineering, Art and Math) not only educates, but also encourages healthy eating, exercise and life balance. Here are creative ideas to help your family achieve improved health.
Learn about your body.
Science, Technology, Engineering, Math
Show kids how to eat and live well through educational, child-focused videos. TED-Ed shares a plethora of STEAM-related subjects, including health, nutrition, physical fitness and more. Check out short videos such as, "How Your Muscular System Works" or "How Playing Sports Benefits Your Body and Your Brain." https://ed.ted.com
Understand nutrition.
Science, Technology, Math
Learning about nutrition can motivate kids to eat better. The USDA website offers fun games, videos, tips and resources at www.choosemyplate.gov/kids. Go on a pantry or refrigerator scavenger hunt to see how many healthful foods fit into the "My Plate" recommended food groups; then identify what groups are most and least represented.
Read food labels.
Science, Math
The FDA website offers great resources about food labeling and nutrition. Explore nutritional profiles and compare sugar amounts in your favorite foods. Kids will be surprised at how much sugar is in different products, especially presumably healthful treats like pre-bottled smoothies and fruit gummies. Make a number line representing grams of sugar from least to greatest. Educate your family at www.fda.gov/food/food-labeling-nutrition/nutrition-education-resources-materials, then visit your local farmers market or grocery store to buy healthier options (or register for CSA box delivery).
Dedicate time for physical activity.
Technology, Math
According to the CDC (Centers for Disease Control and Prevention), kids 7–17 should get 60 minutes of physical exercise daily because it has a positive impact on mind and body. For kids who are athletes, keep moving! For others, choose activities and schedule a time that works. Chart daily progress through exercise apps. Complete a bar graph to note individual progress for steps or miles per day — compete with family members for longer distances. If you're confined indoors, access exercise videos on YouTube or play games like Wii Sports to get your bodies moving.
Explore the outdoors.
Science, Technology, Art
Exploring the outdoors is supports physical and emotional wellness and sparks all senses. Feeling tree bark, observing bugs, listening to birds, smelling flowers and tasting fresh herbs stimulates the brain and promotes balance in a relaxed atmosphere. These simple activities and observations lead to hours of fun in your backyard, at a local park, or on a walking trail.
Grab water bottles and go exploring with the family (once the stay-at-home order is lifted). Encourage kids to select a trail and use a digital or pocket compass to navigate. Collect nature clippings (that have already fallen on the ground) and create art rubbings or twig sculptures at home. Go to www.sandiegofamily.com/things-to-do/out-about for a list of favorite hiking trails in San Diego.
–––––––––
Tracy Real is a credentialed school counselor who teaches daily STEAM activities to elementary students, encouraging problem solving and creative thinking.
–––––––––