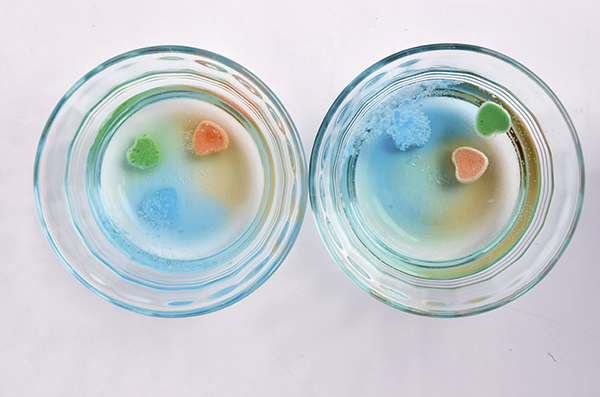 Here's an easy, kid-friendly science project you can do at home!

Time: 1 hour
Skill level: Medium

Your digestive system uses acid. Does that mean that acid dissolves candy?

What you need:
Candy that dissolves easily (conversation hearts, Skittles, Jolly Ranchers, or Nerds)
Small clear bowls
Room-temperature water
Vinegar

What to do:
1. Pour vinegar in one bowl and water in another bowl. (If you have several kinds of candy, you may want to use more bowls.)
2. Put one piece of candy in vinegar and one in water.
3. Check your candy every few minutes. Which dissolves faster?

What's happening:
You might think that since your stomach contains acid, the acetic acid in vinegar will break up or dissolve candy. But acetic acid reacts only with certain kinds of substances—and sugar isn't one of them. In fact, candy might dissolve more slowly in vinegar, since the acetic acid molecules don't dissolve sugar as well as water does.

Although your stomach does contain acid, it plays less of a role in digestion than you might think. Acids don't break up components in your food like carbohydrates (such as sugar) or fats. That work is done by digestive enzymes (although some of those reactions go faster when acid is present).

----------
Find more experiments and science fair ideas in the book, Candy Experiments 2 by Loralee Leavitt/Andrews McMeel Publishing, LLC.
Published: January 2015