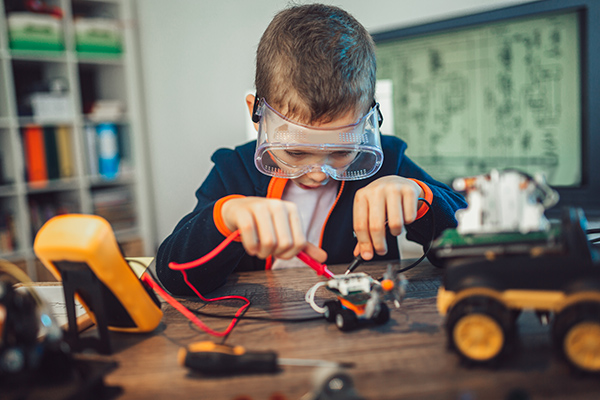 Fun, easy STEM activities are a great way to entertain kids and help them make unique discoveries at home. With a few simple, low-cost supplies and minimal directions, young scientists will be engaged and challenged with these fun ideas.
Science
Float or Sink Game
Gather several small items from around the house or outside, such as balls, toothpicks, small toys, pinecones, rocks and leaves. Make predictions about which items will float and which will sink. Fill a large bowl with water so kids can compare two items at a time and record their findings.
Leaf Rubbing and Creature Making
Have young scientists gather crayons, markers, paper and leaves in various sizes (that are already on the ground). Place leaves under paper and lightly color in the same direction over the surface. Kids will be surprised to see leaf skeletons appear. Make vegetation creatures by drawing facial features and body parts.
Technology
Photos and Videos
Take photos and record a short video (try slow-motion and time-relapse) and have fun editing them in different ways. Consider taking photos of any of the activities listed here and adding them to a science journal.
Engineering
Paper Towel Tunnels
Collect paper clips, marbles and small toy cars and compete to see which items roll fastest through paper towel tubes. Set tubes at different angles to observe varying speeds. As an added challenge, connect tubes to make the tunnels longer.
Gumdrop or Marshmallow Toothpick Engineering
Add a toothpick to the center of gumdrop candies (or mini marshmallows) and connect them to each other to create three-dimensional edible structures that span in all directions.
Paper Airplane Flying
Kids of all ages become young engineers when they make and fly paper airplanes. Alter nose shape, design and add paperclip weights, then compete to see which ones fly the farthest.
Cup Stacking
Using cups to build pyramids, single towers and walls is a fun way to teach kids balance and symmetry. Kids will often be entertained by this activity for more than 15 minutes!
Art
Paper Jewelry
Create wearable art using scissors, string, yarn, glue, and colored recycled papers such as old greeting cards and magazine pages. Make beads by cutting paper into long narrow strips, rolling them tightly and securing with glue. String beads into a unique bracelet or necklace.
Math
Card Games
Card games are a great way for kids to learn addition, subtraction and multiplication. War is a popular game, but there are many other fun, challenging games that can be played with a regular deck of cards. Find great ideas at www.weareteachers.com/math-card-games.
________

Tracy Real is a credentialed school counselor who teaches daily STEAM activities to local elementary students.
________