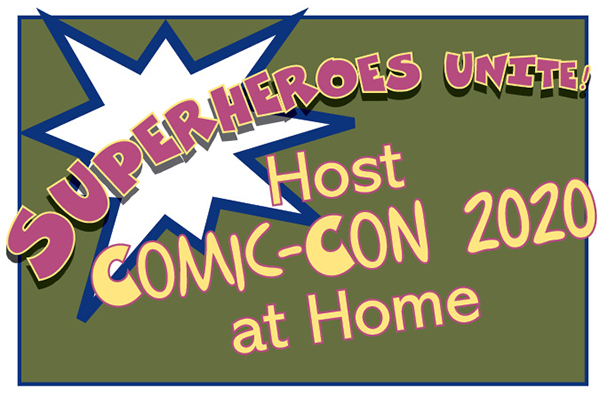 Keep the Comic-Con 2020 spirit alive this summer with your own celebration at home. We have everything families need to create the magic and excitement of Comic-Con in your backyard or living room. Take a look at this round-up of events, crafts and activities and start planning your family's epic Comic-Con 2020 celebration.
EVENTS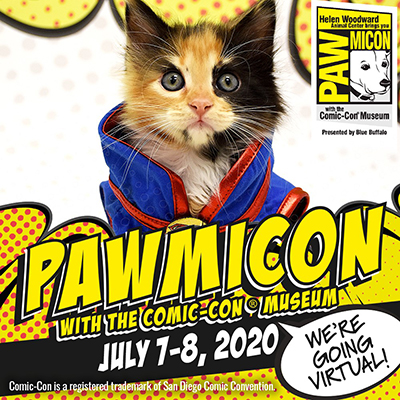 Helen Woodward's Virtual PAWmicon
Thanks to Helen Woodward Animal Center, people (and their furry sidekicks) can enjoy the spirit of Comic-Con from the comfort of the couch. Registration for Virtual PAWmicon 2020 provides access to pet cosplay contests, panel discussions and interviews, trivia, vendor shopping, augmented and web virtual reality experiences and more. Panel discussions, interviews, trivia and other livestreamed events take place July 7–8. www.animalcenter.org/events/pawmicon
Comic-Con @Home
For the first time in its 50-year history, Comic-Con International is going virtual, making it accessible for FREE to anyone with a computer. Plans for the online event (July 22-26) include an "exhibit hall" offering promotions, limited-edition products; comic-related panels and presentations, gaming and even a masquerade. Find updates on Comic-Con's official blog: www.comic-con.org/toucan.
Comic-Con Museum@Home & Fleet Science Center
Comic-Con Museum@Home is your one-stop-shop for pop culture content, exclusive videos, and new video content created exclusively for the Museum@Home program. Families won't want to miss Pop-Culture Science, a new program in collaboration with the Fleet Science Center that explores the science behind your favorite TV shows, comic books and toys, fandoms and more. Find all the fun at www.comic-con.org/museumathome/2020/comic-con-museumhome.
San Diego Symphony
San Diego Symphony musicians present a new video series based on the picture book Zap! Boom! Pow! Superheroes of Music by Lucy A. Warner. Viewers of all ages will be captivated by original content from this musician-produced project. Videos are posted on Wednesdays through July on San Diego Symphony's Facebook page @sandiegosymphony.
ACTIVITIES & CRAFT PROJECTS
Draw Your Own Comic Book
Little Fish Comic Book Studio offers online comic art classes, camps and programs for kids of all ages. Visit their website to sign up today. www.lilfish.us/classes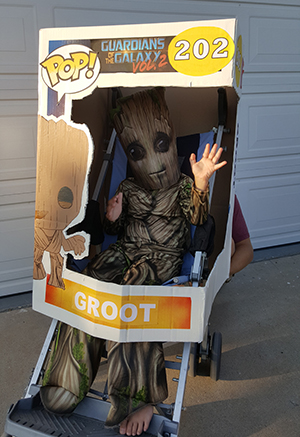 Host a Comic-Con Costume Contest
Bring your favorite characters to life and host a family-friendly costume contest. Need inspiration? We have a fabulous DIY Funko POP! costume (designed for wheelchairs, but can be modified for anyone to use). Choose your favorite Funko POP! character and get started. Don't forget to include your pets in the dress-up fun! www.sandiegofamily.com/things-to-do/seasonal-happenings/funko-pop-halloween-costume
DIY Superhero Photo Booth and Backdrop
We know that photo opps are half the fun of Comic-Con, so make your own superhero photobooth (complete with themed photo props), don your costumes, and snap away. Check out San Diego Family's Superhero Pinterest Board for inspiration: www.pinterest.com/sandiegofamily.
Create a Superhero-Themed Obstacle Course
Who doesn't love an old-fashioned obstacle course? San Diego artist Emily Dolton created an amazing superhero-themed course with sidewalk chalk and toys to inspire families to make their own. Use outdoor toys you have around the house or check out our Summer Toy Review for more fun. Be sure to include superheroes in your theme. Tip: Draw a course on your driveway or on the sidewalk in front of your house to encourage neighbors to participate. Watch our video below for inspiration and more tips.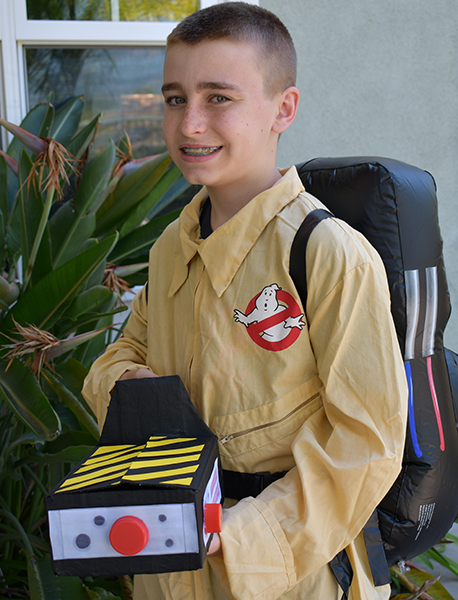 Make "Ghostbusters Afterlife" Ghost Traps
With next year's premiere of "Ghostbusters: Afterlife" (March 2021) why not have a little Ghostbusters fun with homemade ghost traps? This recyclable project requires toilet paper tubes and shipping boxes (most families probably have plenty of both). With our free printable control panels and some fun paper-mache, kids will be ready to grab a sibling or parent and hunt some ghosts. Find instructions at www.sandiegofamily.com/for-the-kids/crafts-for-kids.
Nominate a San Diego Superhero
The 2020 theme of the San Diego County Fair (Heroes Unite) lives on through San Diego County's local superheroes—ordinary people who take extraordinary measures to make our community a better place. Do you know an adult, student or child who goes out of their way to help others? Nominate a Community Hero today at www.sdfair.com/contests/community-heroes. The person you nominate may be honored at the 2021 fair!
__________
Adrienne Sigeti is the editorial assistant at San Diego Family Magazine. She will miss attending the "badge-less" in-person Comic-Con events this summer but can't wait to see what's in store for next year.
__________
Watch our video for inspiration to make your own Superhero-Themed Chalk/Obstacle Course.
–––––––––––