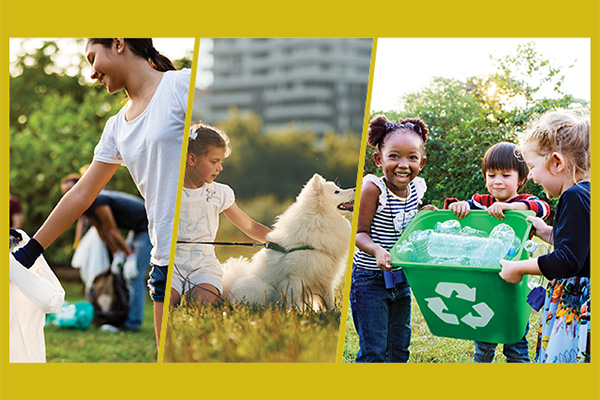 November and December are great months to teach children the value and importance of caring for others; even better, do good deeds as a family regularly throughout the year. Here are 20 practical suggestions to support your neighborhood, especially community members who have difficulty caring for themselves. While these ideas are for kids and teens, children should never volunteer without a parent's help and permission.
Donate clothing and food to San Diego Rescue Mission downtown or Interfaith Community Services in Escondido to help teach children the value of giving to people less fortunate than themselves.


Help senior citizens learn to use technology, such as how to search the internet, choose privacy settings, send emails and navigate smartphones, so they can better communicate with family and friends.


Bring in a neighbor's garbage cans, recycle bin or newspaper.


Help coach or run practice for a sports team of younger kids.


Contact your local hospital to find out the best ways to support pediatric patients, a wonderful gesture during the holidays when their peers may be out having fun.


Fill your local Little Free Library with gently used books. Find one near you at www.littlefreelibrary.org/map.


Assist older adults by carrying and unloading groceries or running errands around town.


Ask your local library or elementary school if they need tutors or homework help for younger kids in reading, writing or basic math.


Volunteer for (or organize) a clean-up day at a park. Check the I Love a Clean San Diego site for events and tips. www.cleansd.org/volunteer


Help out at a charity shop or thrift store that gives proceeds to nonprofit organizations. These shops rely on volunteers to sort, stock and organize donations (and more).


Organize a game, activity or special visit to residents at a nursing home or assisted living facility. They often get fewer visits from family and friends than people realize.


Help "rescue" fruit from orchards and homes where it would otherwise go to waste. Learn more at Produce Good: www.producegood.org/volunteer.


Host an AniMeals Pet Food Drive for Helen Woodward Animal Center. www.animalcenter.org/get-involved/volunteer


Organize a movie screening, game night or a group activity that encourages bonding with your community or neighborhood.


Donate chapter books, textbooks or test prep manuals to local schools.


Walk dogs for neighbors who are unable to take their pets out for daily exercise.


Assist a community garden with planting, weeding, watering or helping with upkeep and maintenance.


Volunteer at a soup kitchen or food bank. Many people do this at Thanksgiving or during the holidays, but support is needed year-round.


Read books, magazines or newspapers to people who are visually impaired.


Help elderly neighbors with yardwork such as raking leaves, weeding, watering or mowing grass.


Have a lemonade, apple cider or hot chocolate stand and donate the proceeds to your favorite local charity.


Tanni Haas, Ph.D. is a college professor and freelance writer.
Find more ways to support the San Diego community in Cherie Gough's article "Unique Ways to Volunteer with Kids: Help Feed Your Neighbors!"
____________