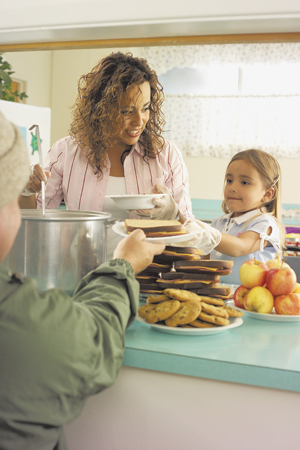 When Spring Valley resident Jenn Hurdsman's family helped out at Sweetwater Summit Regional Park recently, they pulled weeds and helped install No Parking signs.
Jenn says, "As we left the park, the kids were anxious to take a picture by 'their' sign." At 8, 6, and 3, the Hurdsman kids had already discovered the thrill of being involved.
Nationwide, more than 26 percent of the population volunteered last year. Despite the busyness of life with kids, the majority of volunteers were those with children under the age of 18. If you want to spend quality time as a family and give back to your community, family volunteering might be right for you.
Merrilee Boyack is a Poway attorney, councilwoman and the author of "52 Weeks of Fun Family Service." Volunteering has been an integral part of their family of four boys. While PTA events were her start, she especially remembers working in 2003 during the wildfires. Because this wasn't the first time they had done community service, she says, "I knew I could count on my entire family to work hard in this crisis and they did."
Two sons worked to protect homes from fire when firemen were busy elsewhere, her husband was in charge of communication and the younger two boys went to the evacuation center with her.
There are hundreds of opportunities for volunteering in the San Diego area. While some things, like the Humane Society, are only available for older teens, many organizations are perfect for families with children of all ages. How do you know where to start?
Boyack suggests, "Let the kids lead! Ask what is important to them. If it's animals, start there. If it's parks, start there. Doesn't matter what you do or where you start. Just start."
There are three things to consider when getting your feet wet with family volunteering: time, talents and temperament.

Time
You need to figure out how much time you are able to commit to a project. A great place to start is with a onetime event, like the Rock 'n' Roll San Diego Marathon and Half Marathon charity run. Craigslist.com offers a section on community volunteers with requests for help.
Many organizations will let you do a trial run so you can decide if they are a good fit for your family. Before agreeing to a weekly stint serving meals at Bread of Life in Oceanside, see if you can come one night. Some places, like the UCSD hospitals, want a six-month commitment from volunteers. See if you can shadow someone working the "Light One Little Candle" cart, providing reading materials to help cancer patients bond with their children.

Talents

What does your family like to do? If you love to spend time outdoors, consider adopting a beach, golf course or park through the City of San Diego Parks and Recreation Department, or join the Surfrider Foundation twice a month for two-hour beach cleanups.
If your kids are handy or interested in construction, Habitat for Humanity might be a good fit. You have to be 16 to work on a construction site, but everyone can build playhouses that are sold at fundraisers.
Think about favorite school subjects and you'll probably find a volunteer opportunity that will fit; if you have a reader in your house, Books First would love you to host a book drive. Math whiz? Organize donations for Compassionate Ministries or work with fundraising for virtually any group out there.

Temperament
Community service is a great thing, helping to teach children (and adults) compassion and tolerance. But you know your children best. Some are more sensitive than others, whether to poverty or suffering. Most kids will need to be prepared to go into a new situation where they will be helping people who are different from them. Young children might be upset working at Feeding America, worrying about if they will always have enough food. This is an opportunity to talk about how your family has been blessed, as well as reasons why others need help.
You also know if your children do best out of doors where they can run around, or if something more intimate will be most comfortable. The Hurdsmans loved working at a park where they already enjoyed going as a family. Their kids are very active, so digging and pulling weeds worked perfectly for them.

How Do I Get Started?
You know you want to get out there, do some good, get your family thinking about others more than themselves. Now what?
A great place to get ideas is Volunteer Match.org. Look through the website as a family, reading about different organizations and their focus. PBS Kids has a downloadable packet, "Zoom Into Action: Family Guide to Volunteering" that is great to look at together. If nothing feels right, set up an opportunity alert at Volunteer Match. They will email you when something comes up that aligns with the interests you have selected.

Building Family Togetherness
Boyack reminds us, "Ask what you want to teach your children. Do you want to teach them to love others, to be patient, hard working, creative, compassionate? Or do you want to foster the greed that is associated with too much TV, too much of too many things?
If you want to build family togetherness and raise children who love other people and the world around them, starting a pattern of community service while they are young is a great idea.
-----------------
Eliana Osborn is a freelance writer.