This past summer, Anne-Marie Penkala's 13-year-old daughter underwent two scoliosis-related surgeries and spent eight days in Rady Children's Hospital. During that time, Penkala and her family found comfort in the Ronald McDonald House Charities of San Diego. The Ronald McDonald House is one of a handful of facilities in San Diego that serves families in times of medical crisis by offering them a place to stay, a warm meal and support and encouragement. Here's a look at what they do—and how you can help them.
---
How To Help:
If you're interested in giving time or money, here are some ways to get involved:
Ronald McDonald House Read more about Ronald McDonald House >>
858-467-4750; rmhcsd.org
There are administrative and operational volunteer opportunities at the house. Additionally, groups can host and serve meals to families; children are welcome to help. Financial donations are accepted online. The Gifts from the Heart holiday toy drive for the families begins in mid-November and is hosted by CBS-8 (information at cbs8.com), and you can buy a ticket in the annual Dream House Raffle in January (sdraffle.com).

Fisher House Read more about Fisher Houses >>
619-532-8751; med.navy.mil/sites/nmcsd/patients/pages/services/fisherhouse.aspx
Because Fisher House is affiliated with the Federal government, it can't solicit monetary or in-kind donations—fundraising is done by third-party contributors. They rely heavily on word-of-mouth to bring in donations. Contact Kristin Palmer for more information.

Bannister Family House Read more about Bannister Family House >>
619-543-7977; health.ucsd.edu/patients/bannister/Pages/default.aspx
Bannister has its own nonprofit status and gets about 10 percent of its budget from UCSD; it must raise an additional $300,000 each year. Volunteers must go through UCSD's volunteer program; call Denise Capozzi for details. Groups interested in sponsoring a meal for families can work with Capozzi directly. She also needs silent auction items and sponsorships for the annual golf tournament fundraiser in April 2014, as well as supplies such as floor lamps, a vacuum cleaner, dental floss, toothbrushes, toothpaste, laundry detergent and grocery store gift cards.
---
Ronald McDonald House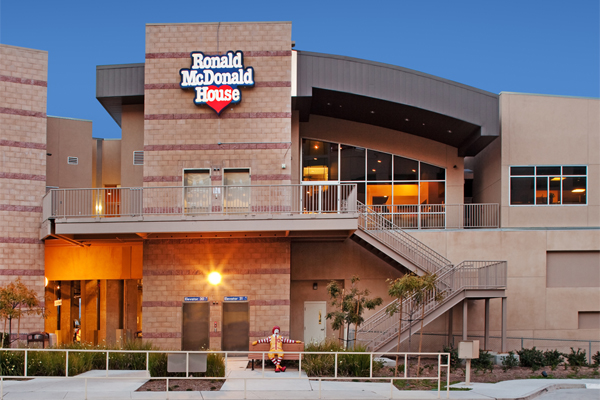 Penkala was familiar with how Ronald McDonald House helps families—she's also a volunteer there, working the front desk, answering phones and helping with any other jobs that need to be done. During her daughter's surgeries, the San Diego resident took advantage of a feature that is unique among the 329 Ronald McDonald Homes worldwide: Because the house is situated just steps away from Rady, it offers a day-use Family Care Center in addition to lodging. Anyone with a family member in the hospital can pop over to the Ronald McDonald House and get a meal, take a shower, use the computers or work out, among other options.
"It's really nice because in the hospital there's never a down time; it doesn't matter if it's 3 in the morning or 4 in the afternoon, you are caring for your child 24/7," Penkala says. "It's so nice and convenient to be able to walk across the street and come here. For us, the meals were the biggest benefit."
The Ronald McDonald House in San Diego—founded in 1990 and relocated to its current 47-bedroom building in 2009—serves about 1,500 families each year, says Charles "Chuck" Day, president and CEO of Ronald McDonald House Charities of San Diego. Operating at 96 percent occupancy over the past five years, the facility offers "respite and a sanctuary" for families, Day says.
"The first mom I met when I came here was about 19 years old from the Escondido area. She had just delivered twins, and there were complications," says Day, who's held the job for about three years. "What she said to me was, 'You are my source of nutrition and care, and I'm theirs. You allow me to be by the bed of my children and you take care of me.'"
Helping the staff care for families are the volunteers—about 500 come in each month to serve meals, clean rooms, or complete other tasks. One of them is Penkala's daughter. "After she had her surgeries she was laid up for about six weeks," Penkala says. "One of first things she did when she could move around was volunteer in the lunch line."


---
Fisher Houses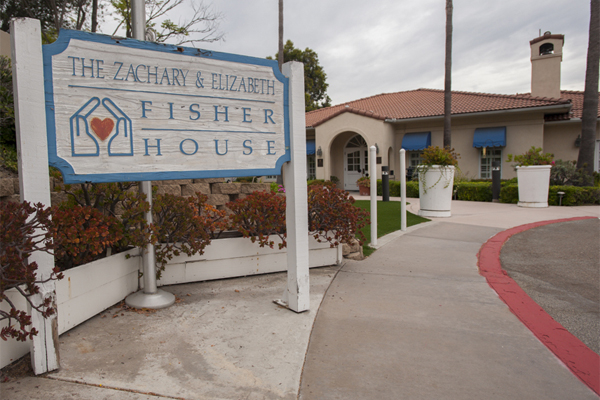 These two facilities assist families with patients at Naval Medical Center San Diego and are part of the Fisher House Foundation's network at military and Veterans Affairs medical centers nationwide.
"Anything you have at your house, that's what we have," says manager Kristin Palmer of the Fisher Houses, which can each accommodate nine families, or up to 54 people. The houses, within walking distance of the hospital, have wi-fi, fully stocked kitchens and a playground, plus private rooms for the families. More than 1,000 families have been provided with 10,000-plus nights of free lodging during the past two years, and the houses operate consistently at 87 percent occupancy, Palmer says.
Palmer adds that they see a variety of families because the medical center serves both active duty military and retirees. The medical issues range from premature births to post-traumatic stress disorder to combat wounds. While the bedrooms offer privacy for families, Fisher House, like the other facilities, also has strategically designated gathering spots.
"They may come here and say they want to be alone, but the kitchen and living spaces are communal on purpose—it promotes interaction and they can meet people in similar situations and have support. For some people, their son or daughter might be the first person in their family to join the military and there are so many rules and paperwork, and they have no idea what it all means," Palmer says. "They can meet people who have more experience in the military who can help them. It's not just a place to stay, it's a community of support."
---
Bannister Family House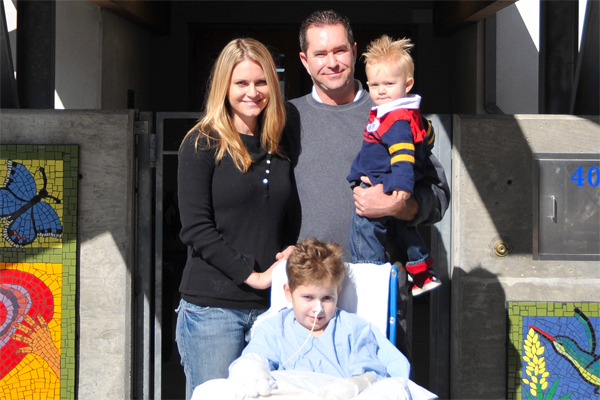 There's often a waiting list for one of the 12 rooms in this Hillcrest apartment-style complex because it serves all five hospitals in the UC San Diego health system. (There are also two apartments in La Jolla for exclusive use of families at Moores Cancer Center.) Resident families pay a below-market fee, usually 30–40 dollars a night, to stay at the main house, which opened in 1994 thanks to a donation from benefactor Ralph Bannister.
A "small but mighty team," led by director Denise Capozzi, keeps things running—taking care of day-to-day tasks, fundraising and providing encouragement to guests. "Sometimes they just need someone to talk to and lean on, or just a smile that says, 'I was thinking about you today,'" Capozzi says.
More than 4,000 families have stayed at the house, which has a balcony outside every room so guests can spend a peaceful moment taking in the views overlooking Fashion Valley. Visitors come from all over the world because of UCSD's many medical specialties—cardio, transplant and trauma, to name a few—and while the stories of each family at Bannister may be different, "the connections made here are amazing," Capozzi says.
"It's a house of love," she says. "When you walk into the house you get that feeling. We need more houses like this, to be honest … our tagline is: 'A haven of hope and comfort.'"

----------
Anastacia Grenda is a freelance writer who lives with her family in Encinitas.
Published: November 2013