This trio of San Diego teens demonstrates passion and vision in a variety of ways—from inspiring kids with special needs through ice hockey, to heightening awareness for individuals with disabilities, and giving new hands (literally) to those in need of a helping one. Using compassion, education and technology, each of them strives to make a meaningful difference in the lives of others, ultimately improving the future of our community.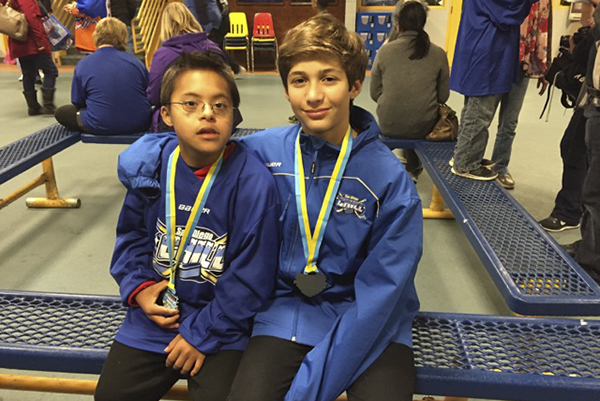 Isaiah Granet • San Diego Chill
When Isaiah Granet started the San Diego Chill two years ago, he was 13 years old. A Carmel Valley resident and competitive hockey player, Isaiah originally launched the organization as a community service project for his bar mitzvah. Very quickly, it became a personal passion.
"We help kids with developmental delays or special needs play ice hockey," Isaiah explains. These days, almost 30 kids, 7–12 years old, glide onto the ice at UTC every Saturday. The lessons are offered free of charge to all participants.
Volunteer coaches, 90 percent of whom are teenagers, work with the kids one-to-one. "Our program is really unique since it is focused on kids and coached by teens," Isaiah says. "We take care of the kids and we want them to be at their happiest."
Along with learning to play ice hockey, participants develop a range of other life skills, including making friends, showing respect, listening attentively and working together as a team. Volunteers act as mentors to the younger kids and some strong bonds have formed. "We are building a community. They've all made friends and look forward to coming here," Isaiah says.
Bonds form between the participants' parents and volunteers, too. As the parents observe their child play a sport that they never imagined possible, it gets pretty emotional ice-side. "And when volunteers see a parent cry when working with their kid—this is life-changing," Isaiah shares.
These teen volunteers are really learning the impact they can have on the community. "I've learned that it is better to give than to take," says Isaiah. "I've learned what a difference one person can make. It really is possible to change your community if you put the time and effort into it."
Isaiah has received generous community support along the way. Paul Hastings LLC law firm donated pro bono hours to establish San Diego Chill's non-profit status, and UTC ice skating rink owner Joe Polonsky provided free ice time for an entire year. USA Hockey donated essential equipment and many of Isaiah's hockey teammates volunteer as coaches. "If everyone hadn't been so generous, this never would have happened," Isaiah says.
More teen and adult volunteer coaches are essential to growing the program. Volunteers must be registered with USA Hockey and be able to ice skate proficiently. Monetary donations towards hockey gear, ice time and upcoming travel expenses are also welcome. The San Diego Chill is a member of the American Special Hockey Association (ASHA) and plans to attend an ASHA tournament in Ohio in February. Find more information at www.sandiegochill.org.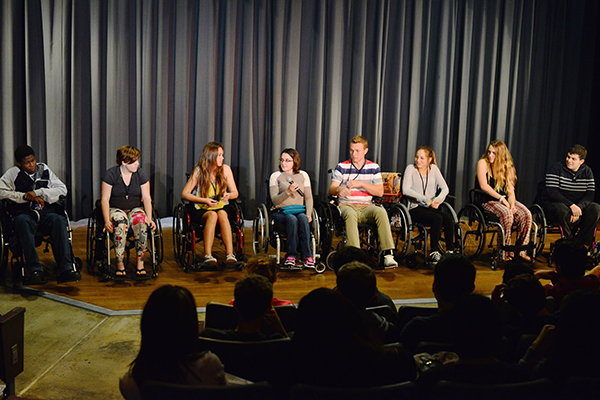 Valerie Crisci • Wheelchair Challenge
Valerie Crisci, 12th grade brainchild behind the "Wheelchair Challenge," attends Point Loma High School using a wheelchair. For the third consecutive year, she is inviting able-bodied classmates to use a wheelchair at school for an entire day, raising student awareness of some of the difficulties associated with being wheelchair-bound.
Valerie describes a number of personal experiences as motivating factors behind creating the event, "I made the Wheelchair Challenge happen because my peers were taking up the handicap stall in the bathroom when all the other stalls were open; because there are ramps that lead to stairs; and because people jump over me during passing period. [One time]I got stuck in an elevator and missed a whole class; that is just unacceptable. I want my classmates to get a glimpse at what it's like to use a wheelchair and experience some of these issues first hand. I want them to walk away with a little more understanding about accessibility, empathy and compassion."
Valerie believes that most participants of the challenge are generally more considerate as a result. However, she feels that more kids need to participate in order to truly heighten awareness and instigate change. To make this happen, she needs additional wheelchair donations for the event at Point Loma High.
With the continued help of local sponsors, her school and the community, Valerie hopes to grow the event not only within her own high school, but to all 17 high schools in the San Diego Unified School District—and beyond her high school years.
Along with planning the third annual Wheelchair Challenge, Valerie is also celebrating the 25th anniversary of the Americans with Disabilities Act (ADA) by working with the school district to implement education in history classes on the civil rights movement for individuals with disabilities.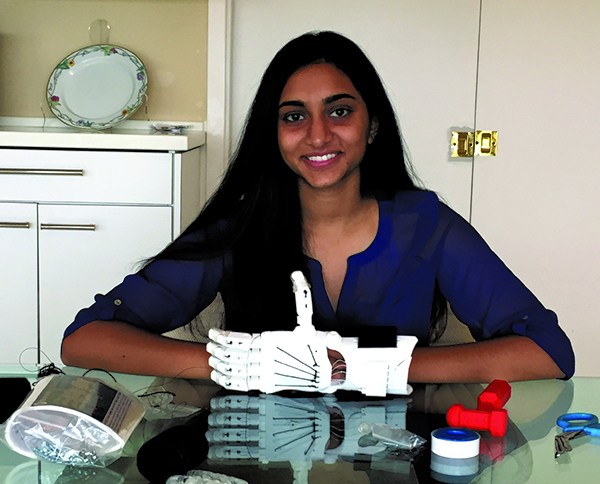 Meghana Reddy • Limbs with Love
Meghana Reddy, a junior at Francis Parker School, is president and founder of Limbs with Love. This non-profit organization provides prosthetic hands, free of charge, to kids and adults around the world. These prosthetic limbs are relatively inexpensive to produce with the aid of 3D printer technology.
Meghana explains her initial inspiration, "During a family trip to India, I had the opportunity to visit an orphanage in a remote village. I was moved by the sight of two children who were missing limbs. I wanted to help them, and found commercially available prosthetic devices to be very expensive. Through some research found out that 3D printing significantly lowered the cost. I thought many people could benefit from this technology, and started Limbs with Love."
Since then, Limbs with Love has gifted dozens of individuals with new limbs, both locally and in India. The organization partners with other related organizations, internationally, to receive requests and take relevant measurements needed to customize prosthetic design and fit.
"The organization is mainly run by high school students who design and make the prosthetics," Meghana says. She works with several peers from other local high schools, a knowledgeable board of advisers and the biggest supporters of all, her parents, who help with fundraising and transportation.
Reddy explains how incredibly rewarding her work can be, "There are no words to describe my feelings when a hand is given to the recipient. So far, the recipients are all very happy and are left speechless sometimes. When I provided a prosthetic hand to a college student, he said, 'This is going to change my life forever.' He told me he used to hide his partial hand in his coat pocket, and with the newly acquired prosthetic hand, he proudly shows it off."
Meghana aspires to educate and inspire other students to get involved in this technological revolution and pursue careers in the STEM fields. Although unsure of what she'd like to do in her own future, she says, "I am very interested in both science and social work, and hope to continue to pursue both through Limbs with Love." Read more at www.limbswithlove.org.
---

Lisa Pawlak is a local mom and regular contributor to San Diego Family.
Published November 2015