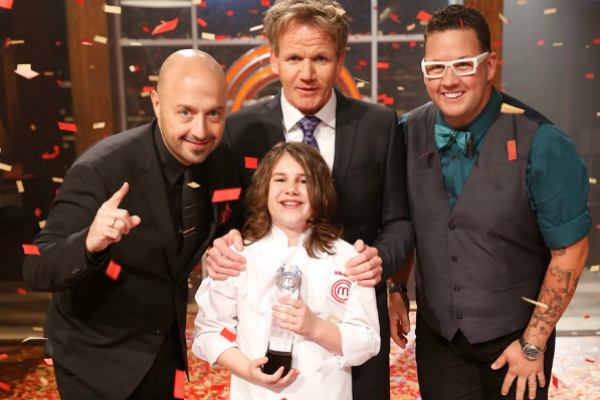 If you're not familiar with the reality television show "MasterChef," then you are missing out on mouth-watering dishes, intense cooking challenges and high stakes competition. Now take that concept and imagine kids tackling the same culinary challenges under the same pressure (in "MasterChef Junior"). That's exactly what 13-year-old San Diegan Nathan Odom did. And (spoiler alert) he won the entire Season 3 competition!

Nathan crafted dozens of dishes including raspberry tarts, herb-crusted lamb chops, pureed asparagus, fennel salad and so much more. Nathan's difficult-to-make macarons earned him his first top three placement in the "mystery box challenge" during episode 5. Viewers hear the three judges whispering that if Nathan can actually pull off a good macaron, he'd come out on top.

"I heard about macarons from some sort of TV show when I was 8 or 9," says Nathan. "The first 20 times [attempting to make them] were not great. From there it slowly progressed over the span of three or four years."

Three or four years? That's right. Nathan's patience for learning his art is impressive and speaking with this poised young man is inspiring. He was introduced to the finer points of cooking in elementary school with local chef Ricardo Heredia during a culinary cooking program at a local restaurant. Nathan submitted an essay to be considered for the program because he didn't have many interests at the time and thought he might enjoy it.

"We started off simply," Nathan explains of the program. "We learned about cheese. Then chocolate…" The lessons increased in difficulty, including fresh pasta, and after the program Nathan continued to refine his skills often watching online videos. "I learned as much as I could," he says.

Nathan's hard work prepared him for the "MasterChef Junior" auditions where potential contestants had to prove themselves worthy of the show. It helped that the environment was so positive. Viewers can see young contestants cheering for each other and even pausing in their own preparations to help out a friend during timed challenges. "I know that all the other contestants were just amazing people," Nathan says. "It's really an awesome experience to have so many supportive friends."

The unrelenting pressure continued through all eight episodes, but Nathan kept his cool. He describes the steadiness he maintained while cooking on camera under the critical eyes of the judges. "I just have a feeling that I need to be even more relaxed than I really am."

That calm, along with his knack for all things culinary, led Nathan to take home the six-figure prize money. While some teens may dream about using that kind of money for frivolous big-ticket items, Nathan plans to fund his traveling dreams to soak up world cuisine. Japan and France are at the top of his list. He will also be purchasing a heat lamp for sugar poling. Don't worry, I didn't know what sugar poling was either, so I asked the Junior Master. "It's a decorating kind of thing," he says.

His love of cooking is contagious, but I still wonder if those of us lacking skill and patience could ever measure up. "Find something you really enjoy eating or making," Nathan begins. "Since it won't really feel like work if you're enjoying it.

"I like cooking sweets more than I like cooking savory," Nathan says. He also has a strong connection to Japanese food. "I went to a little Japanese market to shop and I found myself fascinated by all of the food," he says. "I think it's an amazing and great culture.

"I do visit food trucks in San Diego," Nathan adds, noting his love of fish taco trucks. "Of course, there's no way I wouldn't still love Mexican food as one of my favorites." Nathan makes a mental note to add Mexico to his foodie travel list and the conversation switches to locally grown food. He explains his theory that the reason some organic food is more expensive is that they are not grown in larger quantities. He advocates for more people purchasing organic foods, so prices can drop. "I find that eating locally grown food is important, and supporting local businesses and farms," Nathan says. "It definitely makes for better quality ingredients."

After all of the Master Junior Chef excitement, Nathan has settled into thinking about what might come after high school. "I'm going to try and learn as much as I can about baking," he says. "Maybe take an apprenticeship and a job under someone."

Nathan thinks starting simple is also the best advice for other young people. One of the first dishes he perfected was scrambled eggs. "They weren't great, but they weren't terrible; they were edible," he says.

That just about describes my current skill level, so perhaps there's hope for me yet. Thank you, Nathan.

----------
Laura Pardo writes from the neighborhood of South Park and would very much like to be more like Nathan Odom.
Published: May 2015