San Diego is lucky to have Food Network Star, Chef Marcela living in our own backyard.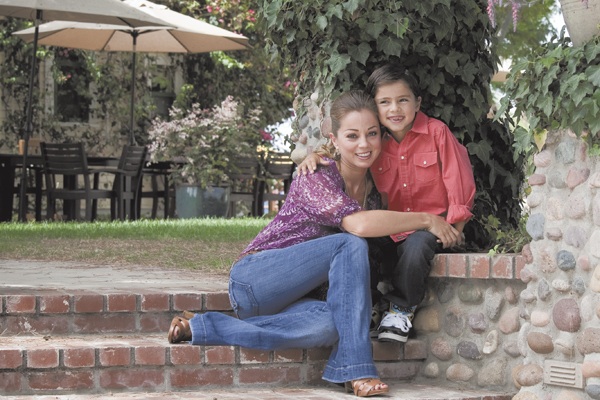 If you've watched episodes of the Food Network show "Mexican Made Easy," then you're used to surprises from its host, Marcela Valladolid. Her weekly meal suggestions and cooking tips are healthy, delicious and often dished out with an unexpected twist.
Chef Marcela finds inspiration to create recipes that bring her love of traditional Mexican cuisine into homes across the country.
"I gather ideas from everywhere," says the chef. "When I'm walking around farmers markets in San Diego, I look for what's in season and colorful. I think about what would I like to eat." She pages through old cookbooks her mother and grandfather saved with the goal to pass down her family's treasured traditions.
"I adapt those recipes for my viewers," she says. "I want to make cooking authentic Mexican cuisine approachable and easier for families on this side of the border. My recipes deliver freshness and flavor without forcing home cooks to track down hard-to-find ingredients or spend hours at the stove."
Valladolid moved to San Diego County with her son, Fausto, who doubles as her sous chef. Fausto loves working alongside mom in the kitchen.
"That's one of the reasons he has become a very open-minded eater," she says.
Get Chef Marcela's Recipe for Game Hens in Apricot Tequila and California Chile!
Raised to be passionate about food, Marcela jumped straight into a culinary life with her first job working at her aunt Marcela's cooking school in Baja California, Mexico. She realized quickly that she wanted to pursue her growing love for food full time and enrolled in the Los Angeles Culinary Institute.
Marcela continued her education at the Ritz Escoffier Cooking School in Paris and trained as a classic French pastry chef. Returning home to Tijuana to manage a catering company, Valladolid continued collecting recipes and applying her knowledge and talents to enhance her family's cooking legacy. She parlayed her classical training and expertise to become a food editor at Bon Appétit magazine.
"That's when I realized that information on authentic Mexican cooking wasn't as accessible as it should be," she recalls, referring to the perception that Mexican food was little more than overstuffed burritos or other misguided dishes masked by heavy, liquid cheese. "I wanted to prove to the world that—in fact—there is no yellow cheese in real Mexican cooking and it can be done with major flavors and little fuss in your home kitchen."
It wasn't long before Marcela landed her own TV cooking show "Relatos con Sabor" (Flavor Stories) on Discovery en Español and was selected to compete on "The Apprentice: Martha Stewart." Marcela's first cookbook, "Fresh Mexico: 100 Simple Recipes for True Mexican Flavor," became the number one cookbook on Amazon.com. Soon after her book release, the Food Network offered her a spot in their lineup. "Mexican Made Easy" debuted early in 2010 and a second cookbook named after the show followed in 2011 as a portal into authentic Mexican cuisine.
Get Chef Marcela's Recipe for Easy Carrot Cake ~ Yum!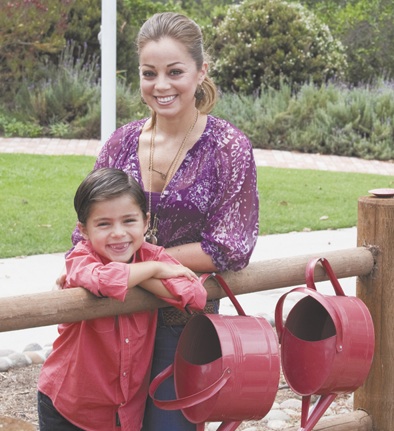 Cooking with Kids
Marcela's passion to educate children about the culinary arts began early in her professional career. One of her many passions is volunteering at Olivewood Gardens and Learning Center, a seven-acre nonprofit farm in National City.
"I've always worked with kids, hoping to engage them in healthy eating," she says. "When I discovered Olivewood Gardens, I knew I wanted to volunteer to teach cooking classes."
Valladolid first heard of Olivewood while making the rounds of the county's farmers markets. "One of the vendors mentioned how they work with underprivileged kids teaching them about healthy eating," she recalls. "Many children think food comes from a box, not from the ground. At Olivewood, kids are taught 'from-seed-to-table' fundamentals. They're shown how to grow organic food from scratch. Nothing they learn to prepare is made from processed foods," she says.
"When I stopped by the gardens, I felt the energy of this most beautiful place. It was amazing to watch kids harvesting the vegetables and then going into the kitchen and cooking them. So whenever I am available, I volunteer to help with their mission of educating students and families about nutrition and the benefit of growing your own food."
Olivewood Gardens
2525 N Ave., National City
619-434-4260 OlivewoodGardens.org
Visit this community garden and learning center and discover how to cook using local organic produce, composting and how to plant, maintain and harvest a garden—all in a beautiful urban setting!
Promoting Healthy Eaters
Marcela knows how difficult it can be to get children to eat healthy food.
"Luckily, I'm blessed with a son who is willing to try anything—once," she jokes. "Moms ask me all the time: 'How can I get my child to make better food choices?' I tell them to make their children part of the food-making process. If your son pulls a carrot out of the ground, he's at least going to want to try it," she suggests. "Let him experience all the steps of food preparation. Take him to the supermarket and pick out a few veggies. Tell him to choose different colors, so his choices look like the colors of a rainbow. Take what he picked home and let him help you turn it into a stir fry."

Claire Yezbak Fadden, an award-winning freelance writer and columnist, lives in Chula Vista.



Meet Marcela Valladolid
Born in: Tijuana, BC, Mexico
Lives in: Chula Vista
Oldest, youngest, middle child: Youngest of three.
What did you want to be when you grew up? An architect.
First Job: Teacher's assistant in her Aunt Marcela's cooking school.
Dream job: To host a travel program that showcases the true beauty of Mexico—the people, the lifestyle, the tradition, the culture, the fun.
Ingredients she always has on hand: canned chipotle chiles in adobo sauce, fresh jalapeño or serrano chile peppers, pinto beans, shredded Monterey jack, Oaxaca cheese.
Favorite seasoning: Mediterranean herbs like rosemary (she grows her own), garlic and olives.
Best farmers market: Little Italy Mercado held on Saturdays.
Advice on entertaining: This is not the time to try a new recipe. Stick to the stuff you know so you can spend time with friends. Use recipes that are easy, can be made ahead of time and are served at room temperature.
Chocolate or vanilla: Vanilla.
Hobby/pastime: Yoga and travel.
Guilty pleasure: Shoe shopping.
Life motto: Live every day as if it's going to be your last.
Published: November 2012
-----