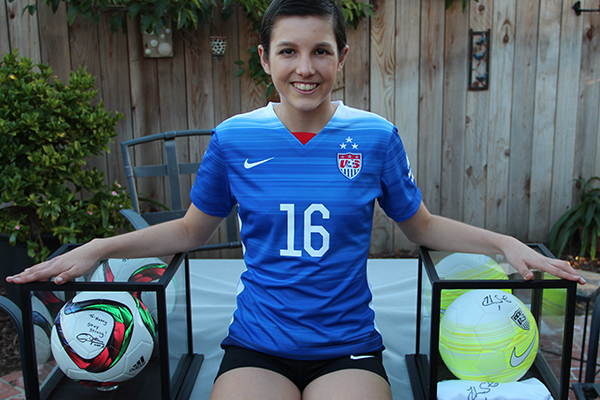 For 14-year old cancer survivor and San Diego resident Kasey Harvey, losing was simply not an option. As a competitive soccer goalkeeper, known for fearlessly hurtling her body in front of oncoming challenges, perhaps Kasey was uniquely prepared to go head-to-head with her toughest opponent yet. After battling with a winning combination of bravery, positivity and resilience, she managed to stop cancer in mid-air.

"Anyone who says winning doesn't matter has obviously never had cancer, because winning my fight with cancer is absolutely the most empowering and life changing thing that I've ever experienced," Kasey says. "I feel as though I can take on any obstacle that dares to cross paths with me. I am stronger than I would have been if I hadn't had to go through something as difficult as fighting cancer."

Kasey was in seventh grade when she developed an unusual "cold." After experiencing symptoms such as facial swelling, watering eyes and pain—none of which responded to antibiotics—Kasey soon found herself at Rady Children's Hospital, undergoing a series of tests and scans.

When one of her doctors called with the shocking news that Kasey had cancer, the Harvey family was cheering on Kasey's soccer team at a tournament. She wasn't playing, since she was still feeling sick. "The doctor told me several times on the phone what sort of cancer she had, but that call was basically a blur," says Rodney Harvey, Kasey's dad. "All I really heard was 'cancer' and 'it's treatable' so that was a positive start."

Nevertheless, those were tough words to hear, especially for Kasey. She recalls, "When I was first told I had cancer, it felt as though the whole world around me had stopped, and I was left standing there alone and afraid. I didn't know if I was going to live or if I was going to die."

Kasey was diagnosed with Alveolar Rhabdomyosarcoma of the left maxillary sinus, a childhood cancer in soft tissue, connective tissue or bone. She began treatment five days later, which involved 42 weeks of chemotherapy, alongside proton radiation for a portion of that time. The chemo required hospital stays every three weeks for up to four nights each time. In the weeks between inpatient chemotherapy, Kasey did outpatient treatments.

"Seeing Kasey beaten down was tough," says Rodney. "The facial swelling, hair loss and pain she dealt with were heartbreaking, but also part of the mental game. On some level you had to ignore those issues and realize that she was in a fight for her life and winning was all that mattered."

During this time, Kasey was unable to attend school, play soccer or spend time with friends. It was essential that she avoid infection, due to her weakened immune system. Yet despite this necessary isolation, Kasey and her family found strong support from the surrounding communities, and Kasey communicated with her friends electronically. She successfully completed her treatments and has been in remission since October 2015. There is no doubt that the experience has changed Kasey and her family forever.

"One day she was a 13-year-old girl with the usual issues and problems and the next she was literally in a fight for her life," Rodney says. "Kasey is now a very focused individual who knows what she wants out of life. The usual teenage girl problems don't really exist in her world, which is both good and bad. She grew up into a woman overnight and in many ways that is sad, but it's another side effect of having battled cancer at her age."

Kasey adds, "Before I was diagnosed with cancer, my view on life was completely different than it is now. I took everyday for granted and I just assumed that I would live a long, smooth and happy life. But once I was diagnosed, the meaning of the phrase 'life is short' really hit me hard."

Recently, Kasey challenged herself by accepting the position of Ace Hardware Foundation's 2016 All-Star Ambassador. As the face of the foundation's national fundraising efforts for Children's Miracle Network Hospitals, she has the opportunity to improve the quality of childhood medical treatment on a national level.

"I hope that my battle with cancer will inspire kids who are fighting not only cancer, but any disease—you can do it, no matter how much the world around you says you can't," Kasey says. "I want other kids to look at me and think that there can be happiness after cancer, and the battle can be won."

Along with her inspirational new role, Kasey has also returned to the soccer field and is finishing up eighth grade. Future aspirations include attending Harvard and becoming a cardiovascular surgeon. With continued good health, it seems clear that this goal-driven teen is on a breakaway to score success and fulfillment in life.
---

Lisa Pawlak is a contributing writer, Encinitas resident and mom of two boys.
Published May 2016