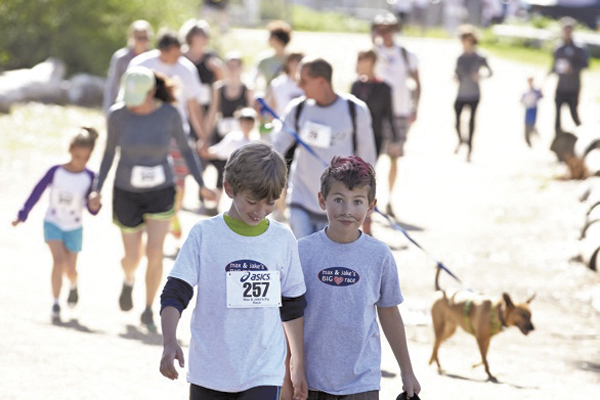 Max Hammerstrom and Jake Cook have much in common. Both young boys lived in the same North Park neighborhood and their moms, Jerilyn Hammerstrom and Paula Cook, were good friends. Both are happy boys with a wide variety of interests. And both were diagnosed with heart conditions early in life and received care at Rady Children's Heart Institute.
Both Max and Jake also have mothers who wanted to express their gratitude for the care the boys received at the institute. So Hammerstrom and Cook created Max and Jake's Big Race, with the seventh annual 5K and 1-mile trail run/walk taking place in February.
"They were phenomenal from the beginning," Hammerstrom says of the institute, where Max, now 13, underwent open-heart surgery to repair a hole when he was 14 months old. "About six years after Max's surgery [the Cooks] went through the same scenario. After the kids had a clean bill of health, even though they still go back for follow ups, we said let's do something to give back and help others because we were so fortunate."
Drawing on their experience in graphic design and event planning, respectively, Cook and Hammerstrom founded the race as a fundraiser for the heart institute.
"It's a day of fun for the family," says Hammerstrom, who serves as event chair. (The Cooks moved to Los Angeles, but Hammerstrom says they still plan to participate in this year's race.) "We have a 100-yard dash for kids and the heart kids come out and run for free. We have an expo area with face painting and games for kids. Friends of our older daughter are in high school bands and they play and the kids dance. We have vendors and opportunity drawings, and we give out T-shirts and goodie bags." She adds that the "gorgeous" all-dirt course runs through the Morley Field Trails and is easy for both kids and adults to run or walk.
Last year more than 500 people turned out for Max and Jake's Big Race, and Hammerstrom is hoping for more this year. Already, the race has raised more than $350,000 for Rady's Heart Institute. The money has helped purchase much-needed equipment such as an echocardiogram machine, a magnetic resonance imaging machine and a fetal exam table, and provided support for cardiology patient visits and the heart transplant program, says Dawn Ivy, community development officer for the Rady Children's Hospital Foundation.
"We are so thankful for their support," Ivy says.
The event has been transforming for the Hammerstrom family as well.
"We are so fortunate to be in a scenario where our kids learn to give back to the community and do something great for someone," says Hammerstrom. "How lucky we are."
---
Max and Jake's Big Race
In February
Morley Field Trails Gateway
2221 Morley Field Drive, Balboa Park
For more information about this year's event, e-mail This email address is being protected from spambots. You need JavaScript enabled to view it. or visit maxandjakesbigrace.org.
---

--------------
Anastacia Grenda is a freelance writer who lives with her family in Encinitas.
Published: February 2014