Pregnancy and labor raise many questions for parents-to-be. While friends and family members may be great resources, they might not have the full picture of available birth support options. This is where a doula can make a difference.
What is a Doula?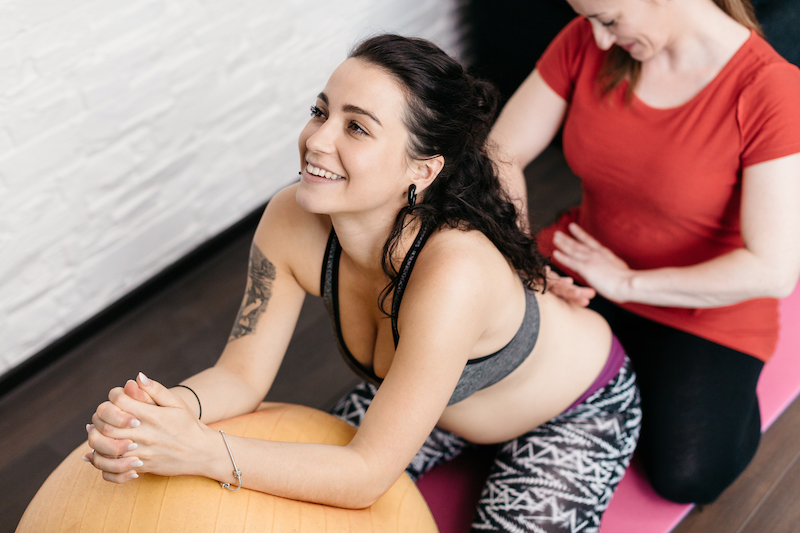 According to the leading doula certification association, DONA International, doulas are trained professionals who provide continuous physical, emotional and informational support to expectant parents before, during and shortly after childbirth. They help parents research and understand their personal preferences for birth to achieve the most satisfying experience possible. A doula also serves as a guide for unexpected aspects of the journey to becoming a parent.
Despite common misconception, doulas are not only for people who intend to have medication-free births. A doula's main purpose is to make sure the laboring person and her partner are heard and supported. Whether the parents want a birth free of pain medication, or plan to get an epidural the moment they step foot in the hospital, a doula advocates for the parents' wishes.
There are two main types of doulas: labor and postpartum.
Labor Doula
A labor doula understands the different stages of birth, and acts as a trusted advisor for the pregnant person navigating often unfamiliar territory of medical terms and tests. Labor doulas help clients consider options such as what kinds of routine tests and procedures parents of newborns are offered and what alternatives they could ask about instead. These types of doulas will also know alternative pain management methods, from recently popular Hypnobirthing to tools like rebozos. If you're wondering what those are and if they're right for you, having a doula might be beneficial.
When parents birth in a hospital setting, a doula is often the only member of the birth team who remains constant from pregnancy through birth. They don't typically do shift changes like nurses and doctors.
Some hospitals allow doulas to remain with their clients as emotional support if a Cesarean section is needed or scheduled (check to see what your hospital's policy is).
Postpartum Doula
Postpartum doulas typically go to the family's home to support parents through the initial transition of having a new baby. They provide information about basic newborn care, emotional and physical recovery from birth, infant southing and feeding and mother-baby bonding.
Are Doulas Effective?
In 2018 the Journal of Reproductive Health and Medicine published a systematic review of 47 peer reviewed studies on the effects of having a doula present at birth. The findings show that when doulas are present, interventions (such as administering Pitocin, epidurals and even C-sections) decrease. They also show that positive outcomes for mothers and babies (such as successful breastfeeding and shorter labor times) tend to increase when doulas are involved. Mothers also tend to report being much happier with their experience when supported by a doula.
"Research shows that moms, dads and babies have an easier time with this transition if a good support team is in place," says local birth and postpartum doula, Candace Hallak.
How to Find a Doula in San Diego
Where can expectant parents find doulas? Try San Diego Birth Network or enter your zip code on the DONA International website to find a nearby doula certified through DONA. The key to a successful partnership with a doula during pregnancy and birth is the initial interview.
Questions to Ask When Choosing a Doula
What are your experiences with birth, personally and/or as a doula?
How can you help my partner be involved in the process?
How many prenatal meetings will we have and what will they cover?
Do you help me create a birth plan?
What are your thoughts on breastfeeding (or not)?
How do you handle clients requesting pain medication during labor?
Do you provide childbirth education for us?
Will you meet us at our home or at the hospital/birth center?
What is your back-up plan if you are suddenly unavailable?
Do you ever "trade-out" with another doula if labor goes beyond a certain number of hours? If so, can we meet that person before birth?
How long after the birth will you stay with us at the hospital/birth center?
Is a Doula Covered by Insurance?
Check with your insurance company to see if they will cover part or all of a doula's fees. Some companies do, as a doula's presence often reduces the number of costly interventions that insurance companies would have to cover. If doula services are not covered by insurance, volunteer doulas are available to parents who deliver through UC San Diego Health. While parents don't have the opportunity to build a relationship with a volunteer doula beforehand, the doula remains with the mother throughout the entire process, just as a privately hired doula would.
Allyson Kennett is a freelance writer and self-described 'birth nerd' living in the South Bay area of San Diego with her husband and three children. She loves coffee, craft beer and being an amateur doula supporting friends through the amazing journey of pregnancy and birth.