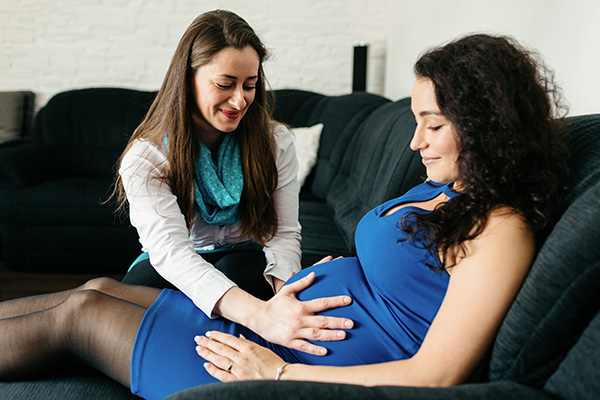 What to know and questions to ask
When my mom was pregnant with me, there was a series of steps she followed for care—she visited an OBGYN until labor, then checked into our local hospital to deliver. Today, there are a plethora of options for birthing and pregnancy support. Most people have heard the term "midwife" and may know someone who saw one for care, but what exactly does a midwife do and how do you choose one?
Midwives are reproductive healthcare providers licensed by the State of California. While each classification of midwife will have a unique approach to birth, they all follow the Midwives Model of Care. In this model, providers spend at least 30–45 minutes with patients (even during routine checkups) to educate parents-to-be and build trust.
"The pregnant person is the director of her own care. Mother-directed care is the cornerstone of community midwifery," says Kayti Buehler, a licensed community midwife serving families in San Diego since 2013. Patients are encouraged to research, ask questions and be a participant in making prenatal and labor decisions.
Certified Nurse Midwives
A Certified Nurse Midwife (CNM) has attended nursing school and taken additional training to specialize in caring for pregnant individuals. Like all midwives, a CNM focuses on educating the expectant mother, empowering her to research and participate in all aspects of her care and decision making. CNMs often practice at hospitals. San Diego's Kaiser Permanente, UC San Diego Health, Balboa Naval Medical Center and some Scripps locations have midwives on staff.
If you're intrigued by the midwifery model of care, but nervous about birth without pain medication, out-of-hospital births or have a pregnancy with complications, hospital-based CNMs might be a good option for your family. Hospital birth centers combine the Midwives Model of Care with the clinical and technological support of the hospital. Midwives provide prenatal care, support during labor and continue through postpartum care. It's important to note that since most hospitals are large networks, it is unlikely you will meet your birth team before delivery day.
Community Midwives
A community midwife, also known as a Licensed Midwife (LM) or Certified Professional Midwife (CPM), typically attends a school for midwifery and is required to learn about out-of-hospital birth settings. Nursing or other medical backgrounds are not a prerequisite. Community midwives often have smaller caseloads in practices with fewer providers, which leaves more time to build relationships with each family.
"Midwifery is a whole family approach, as opposed to a pregnant-person-only approach," says Buehler. "We want to incorporate partners, make them feel supported and completely integrated." Partners and other children in the family are encouraged to attend prenatal appointments.
One of the sweetest memories I have of my second pregnancy is my one-year-old using the Doppler (with the midwife's help) to find her brother's heartbeat during a checkup.
According to Buehler, what makes midwifery unique from other forms of prenatal care is time. "In prenatal care we provide 30–60 min. appointments, encompassing complete and individualized care, both medical and emotional," Buehler says. "We spend lots of time guiding, talking about spiritual, emotional and physical discomforts, and how people can find solutions for pregnancy related issues. Even when everything is fine clinically, there is a lot of need for support." It is common (in community midwifery practices) for parents-to-be to meet all the midwives on staff and know the people attending the birth very well.
If you are interested in working with a community midwife or learning more about out-of-hospital birth, a great place to start is the San Diego midwife directory: www.seemidwives.com.
How to Choose a Community Midwife
When searching for a community midwife, it is a good idea to interview more than one. As midwives place emphasis on relationships and trust building, it is important the person you choose meshes well with you and your support system. Questions to ask:
How many births have you attended as the primary midwife?
How many clients do you take per month?
What do you do if two families are in labor at the same time?
What do you consider "high-risk"?
What conditions would make you consider transferring care (to a medical setting) during pregnancy?
Are there any induction methods you are comfortable using and when might you suggest them?
What is the most common reason your clients transfer to the hospital?
Have you supported a birth in my nearest hospital before?
Are there any local hospitals you are not comfortable transferring to, and if so, why?
Most birth centers and home birth practices require expectant mothers to be pregnant with only one baby, be under age 40 and have very few health risks. These guidelines are required by the State of California in order to remain licensed, but it's important to note that "health risks" may be defined and addressed differently by practice.
What about Doulas?
You might be wondering where doulas fit into midwifery framework. Doulas are dedicated support people for mothers throughout pregnancy and birth, but they are very different from midwives. While doulas have knowledge of pregnancy, birth and routine interventions, they are not medical personnel or healthcare providers. For more information about what doulas do and how to choose one, read our article "Doulas 101: How doulas make a difference in childbirth" at www.sandiegofamily.com/parenting/pregnancy/what-is-a-doula.
Allyson Kennett is a freelance writer who lives in the South Bay with her husband and three kids. All three of her children were delivered by midwives. She loves supporting her friends through pregnancy and birth.
_____________