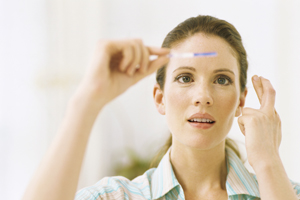 Secondary infertility—the inability to conceive after 6-12 months of frequent, unprotected intercourse by a couple who already have a child—accounts for half of all infertility cases in the United States, according to RESOLVE: The National Infertility Association. The struggle to have a child the second time around is just as difficult for those who haven't yet conceived a child, but many of these women fail to seek treatment for their infertility.
For many, it is an unexpected source of stress and bewilderment. These difficulties can be compounded by the daily rigors of family life, the financial burden or guilt of seeking treatment when one already has a child, as well as reduced support from friends and family who don't recognize or acknowledge the pain of secondary infertility. Fortunately, effective treatments are available once the diagnosis and causes are defined. Here are a few points to keep in mind:

Secondary infertility is a real disorder and can be caused by the same abnormalities contributing to infertility in childless couples. These causes include hormonal imbalance (such as a new thyroid disorder), ovulation defects (arising from new weight gain or ovarian ageing), fallopian tube blockage, uterine scarring, and sperm defects. Consulting a specialist (reproductive endocrinologist for women, urologist for men) is the first step to defining the issue.

Fertility rates drop as women get older due to reductions in the number and quality of a woman's eggs. Therefore, while it is statistically "normal" for women to experience lower pregnancy rates with each successive year, this also means that she will experience lower pregnancy rates regardless of treatment as she ages. Women who are 35 and older should seek the advice of a healthcare professional if she has not conceived after 6 months. Younger women with regular menses and no risk factors should seek help after a year of trying.

Infertility is a "bipartisan" issue. This means that it takes two, the egg and sperm source, to conceive. Approximately 40-50 percent of infertility involves both parties, so both partners should be tested when secondary infertility arises.

Don't ignore the clues! Fertility is based on the foundation of regular menstrual or ovulatory cycles, normal pelvic anatomy and highly functional sperm. It is not necessary or advisable to wait 6-12 months before seeking help if one already suspects that there is an issue. Consult your doctor earlier if you experience irregular menses, bleeding between cycles, pelvic pain or prior pelvic surgery, erectile and ejaculatory dysfunction, or signs of hormone dysfunction (severe fatigue, hot flashes, night sweats, unintended weight loss or gain).

Fortunately, many/most couples with secondary infertility can achieve their next baby after proper diagnosis and treatment. Don't be afraid to ask for the help your family needs.


-----------
Wendy Y. Chang, M.D., F.A.C.O.G. is a skilled and experienced specialist in reproductive endocrinology, with a special focus on the hormonal basis of women's infertility. A board-certified reproductive endocrinologist and obstetrician/gynecologist, Dr. Chang serves as Assistant Clinical Professor of Obstetrics, Gynecology and Reproductive Medicine at the UCLA Geffen School of Medicine and the USC Keck School of Medicine. She is from the Southern California Reproductive Center.


Published: Nov 2013