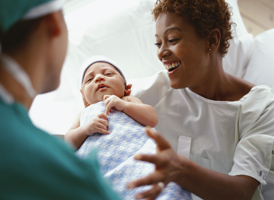 So, you're sold on hiring a doula. You've done your research and you know that studies show doulas reduce time spent in labor and the need for pain medication and complications. Doulas cut the rate of postpartum depression and boost baby-mom bonding. Your friends rave about using doula services.
Through word-of-mouth, ads and recommendations, you've found two or three doulas to interview. What should you ask them? Here are 10 open-ended questions you'll want to have on your list:

How do you view childbirth?
Ask for your doula's philosophy on labor and birth, suggests Rachel Gurevitch, author of The Doula Advantage: Your Complete Guide to Having an Empowered and Positive Birth with the Help of a Professional Childbirth Assistant.
"You may not agree with everything your doula thinks, but you can usually hear in her voice whether she will be open and accepting of your needs, or if she might be the type to push her own agenda," Gurevitch says.

What do you think of medication during birth?
"It's about finding a doula who is realistic and open," Gurevitch says. "You want a doula who will be there to empower you, no matter what happens."
That's how mom Sara Easterly felt. Easterly says that it was important that her doula supported both medicated and non-medicated births. "Just in case I couldn't handle the pain, I didn't want to feel pressured one way or the other."

Why are you a doula?
Ask why your doula decided on her career, and you'll understand her personality and approach. Listen to your gut, suggests Laura Sanderson, a childbirth educator and doula.
"Finding the right doula for you is about personality as much as it is about training and common understanding," she says. "You want your doula to be someone you will feel comfortable around. Some people just don't get along, and that's OK. You don't have to explain to a doula you interviewed why they were not the right person."

How many births have you attended?
Ask how long your doula has been practicing —years or months? But don't write off the newbies.
"A brand-new doula can also be a great support for you, if she's had good training," Gurevitch says.
Ask for referrals in all cases.

Are you available around my due date?
Check on your doula's availability in the weeks leading up to and after your due date, because it's a rare baby who arrives on schedule. What happens if she's out of town? Most doulas have a back-up on call, but you might want to meet and interview the back-up doula also.
"You want to know that even if your doula is for whatever reason unavailable, such as for a family emergency, there will be someone there to support you," Gurevitch says.


Do you offer any special services?
Some doulas may provide massage, photography, aromatherapy or other unique offers—such as writing out your birth story—for no extra charge.

What's your fee?
Your doula's services may be reimbursable under your health-care plan; she might offer a payment plan or sliding-scale fees.
"Don't end up without a doula only because you think you can't afford one," Gurevitch says. "If the doulas you speak to really are out of your price range, and you're serious about getting a doula, then let your doula know."
Always ask about circumstances that might lead to a refund.

What type of pre-labor and post-labor support do you provide?
Easterly met with her doula twice before and twice after birth.
"She conducted a labor simulation exercise and lent us videos from her library that really helped me get psyched up and mentally prepared for the big game," Easterly says.
Post-pregnancy, many doulas can help you settle into breastfeeding and baby care.

When will you arrive?
Some doulas will stay with you from labor's first at-home pangs, while others prefer to wait until you've arrived at the hospital or birth center. Each individual doula will approach the arrival question differently, and your comfort with labor might differ, depending upon whether this is your first or second child.
"First-time moms have no idea how their body will respond to labor," Sanderson says. "A great part about being a doula is providing that information during labor when it's needed. We're like walking labor encyclopedias."

Which hospitals and birth centers have you worked in?
You might also ask whether she's worked with your midwife or physician before. If you're going to a hospital, you'll often get the on-call doctor, so a doula who knows her way through the hospital's halls is always a plus.
To make your final decision, listen to the doula's answers and the small, quiet voice inside yourself. Pick the doula that supports your rational requirements and your emotional needs.


-------------------------
Freelance writer Lora Shinn had a doula at her second child's birth, and wishes she'd had one at her first child's birth, too.