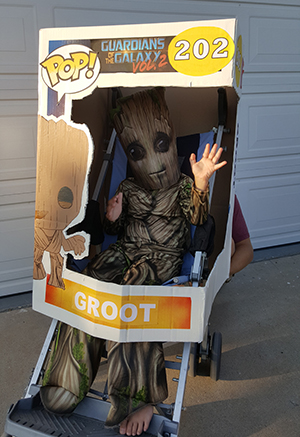 Looking for an adaptive Halloween costume to accommodate a stroller or wheelchair? Have fun designing and making a Funko POP! costume. Use everyday clothing to create a POP! character that fits your child's style (or reuse last year's costume). Or, for more fun, "POP! Yourself" (make a customized avatar), which can then be used as inspiration for a costume design. Find out how at www.funko.com/pop-yourself.
Supplies
Extra-large packing or appliance box
Masking or painter's tape
Box cutter
Paintbrushes
Pint of white paint with primer
Tube acrylics
Rubber cement
Computer and color printer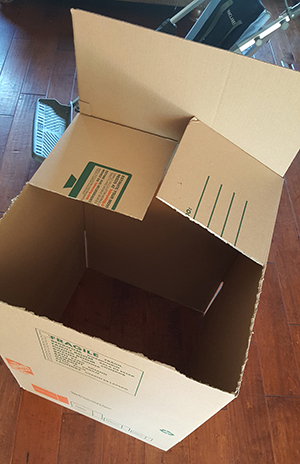 1. Find a box that fits your child and mobility device.
We used an extra large Home Depot packing box. Fold the top flaps down as if you are going to close the box and use a box cutter to remove a full top flap and half of each of the side flaps (see photo). Hot glue the remaining full flap to the remaining halves to create half of a box top. Stroller handles will be able to protrude from the open half. Leave the bottom of the box open and tape together each corner to reinforce.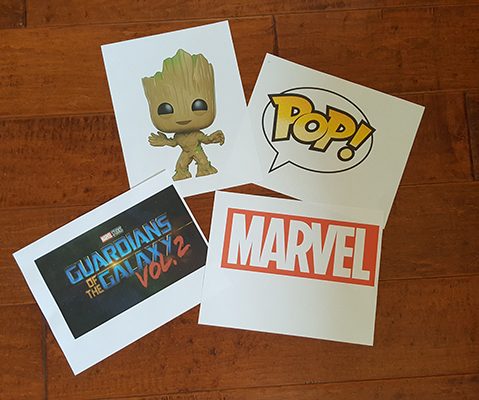 2. Choose a character and print logos.
• Select a POP! character and search for a photo online (to use as reference).
• Enlarge and print three copies of the Funko POP! logo.
• Find the movie or theme logo that goes with your character and print three as close to a 4" x 8" rectangle as possible.
• In a simple Word document, create a POP! number using an oval template—follow the color scheme of your character. Print three.
• Print two enlarged (8.5" x 11") images of your POP! character.
• Create two nameplates, one with a white background and one matching your color scheme. Use a simple, block-style font in all caps.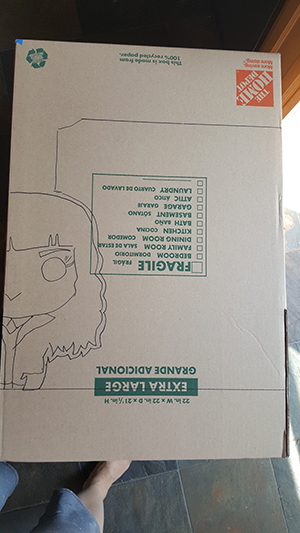 3. Draw a design and cut the box.
Using an opaque projector or basic drawing skills, draw your large POP! portrait and measure the window for the front, extending around the right side. Cut out the window. Tape up rough edges with masking tape.
4. Paint the entire box white, using latex paint.
Spray paint does not work on porous cardboard, so use a pint of white latex paint to paint the interior and exterior of the box. We recommend getting a tester pint of Swiss Coffee Behr Premium Paint Plus Primer because it has great coverage. It will take two coats.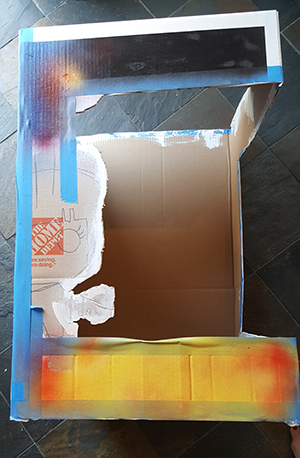 5. Paint background colors on the front and left sides.
Use painter's tape to cover areas you want to leave white. Mask out rectangles on the front of the box (the left side, top and bottom) creating a 2" white border around each rectangle. Be sure to leave at least a 1" border of white around the drawing of your POP! character. Using spray paint or blended acrylics, recreate the background colors on your Pop box. Remove the tape.
6. Paint the POP! portrait and add logos.
Create your POP! portrait with tube or bottled acrylic paint. When dry, glue the logos and printed characters on with rubber cement (causes the least amount of rippling). Reference the photo for correct placement.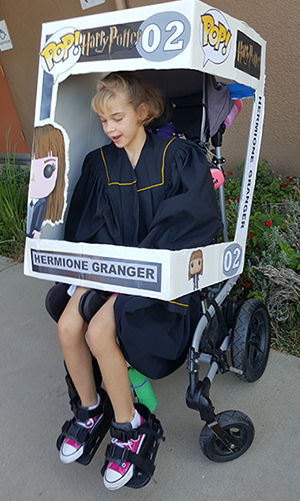 7. Use Velcro, wire or duct tape to fasten the box to your mobility device.
Dress your child as their POP! Character. Attach the box to your stroller or wheelchair and fasten securely.
---
Local mom and artist Emily Dolton recreated these costumes after seeing a similar one downtown San Diego during Comic-Con.
Published October 2017