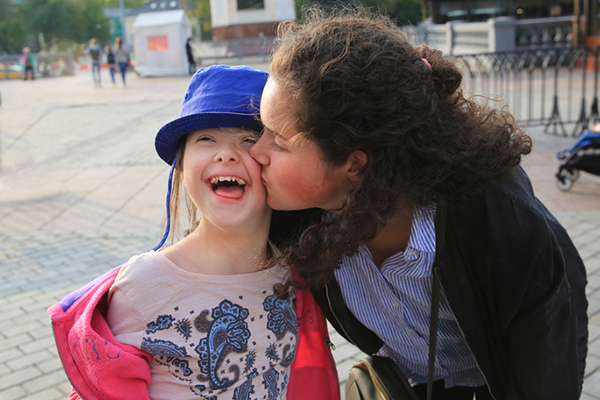 Gionna Paulin, 14, is like many teen girls—she likes volleyball, track and field, pop star Nick Jonas and walking her dog, Rocco. However, unlike her peers, she also knows what it means to be "the other one." Her 4-year-old brother, Joey, has a rare and terminal mitochondrial disease, which has left him unable to walk, talk, sit, stand or swallow. Much of Gionna's parents' time is spent caring for Joey, and she says she sometimes feels forgotten.
According to the Sibling Support Project (www.siblingsupport.org), there are more than 6 million Americans with special physical, developmental or mental health concerns. Most of them have typically developing siblings. The organization works to boost peer support and information for brothers and sisters of those with special needs, and to increase awareness of sibling issues.
Don Meyer, director of Sibling Support, says, "These brothers and sisters will be in the lives of family members with special needs longer than almost anyone. If they are provided with support and information, they can help their siblings live dignified lives from childhood to their senior years."

Learning to Speak Up
Gionna's mom, Roseanna Paulin, says, "I have missed school functions, play dates and just one-on-one time with Gionna because of the constant care Joey requires."
She says that lack of time has sometimes caused Gionna to become frustrated and say things like, "In this family you have to be sick to get attention."
Debbie Howard, R.N., and coordinator of Children's Hospital's hematology and oncology clinic, says those feelings are normal. "We encourage siblings of kids [in our unit] to just tell their parents that they need more time from them," she says. "It's ok to say you need special time. We want to prevent the kids from acting out by making sure they can express openly when they feel left out."
Gionna, who dresses and feeds Joey, and prepares his medications every morning, says she has learned to speak up more often. "I just keep telling my parents what I need. I tell them when I need a break, and they will let me go to a friend's house or go have time to myself."
Meyer says the bottom line is, "Siblings have a right to their own life and a right to who they are."

Balancing Act
What can parents do to keep these lines of communication open, to prevent their healthy child from becoming frustrated and shutting the family out?
Howard says balancing the needs of both children is important. "If you put too much attention on the child with extra needs, the healthy child will become resentful, even to the point of having physical symptoms that mimic those of the special needs child."
Roseanna says one of the best things to do is to listen. "It sounds simple but when you have feedings, meds, going to the doctor for illnesses, it's easy to let the healthy child get lost in the shuffle. They may be self-sufficient, but they still need attention."
She says she tries to spend time with Gionna on the weekends, when dad Larry or Roseanna's parents can care for Joey. "We might get our nails done or we just go for a walk. When I have time with her, I try to make the most of it."
Howard offers some other tips. "Set aside time each day or at least each week for the healthy child. Even 10 minutes a day will work; it's not so much about quantity as quality.
"Many of the kids we see say, 'I wish Mommy or Daddy would color a picture with me.' It's the simple things you forget when you're so into caring for a special needs child."
Sibling Support's Meyer says parents need to educate themselves about siblings' issues. "Brothers and sisters share many of the concerns that parents of children with special needs experience, including isolation, a need for information, guilt, concerns about the future and care-giving demands," he says.
"Brothers and sisters also face issues that are uniquely theirs, including resentment, peer issues, embarrassment, and pressure to achieve."

"That's My Brother"
Like Meyer mentioned, siblings of those with special needs can sometimes feel resentment or embarrassment about their situation. Relationships with schoolmates can sometimes be difficult, and many teens vacillate from being uncomfortable to being protective when their siblings are around.
"I get embarrassed sometimes when kids at school say, 'Who's the kid in the wheelchair?' " Gionna says. "I just say, 'That's my brother.' "
However, she says most of the time her friends are supportive, coming over for big birthday bashes, pumpkin-carving parties and Christmas caroling gatherings that Roseanna plans as a way to make Gionna feel special.
But it's not always easy. "Sometimes it bothers me when friends come over and they go play with Joey, because they're supposed to be here to see me," Gionna says. "But I never say anything to them because I'd feel guilty."
Meyer says it's a good idea for siblings to meet other children on a similar path so they don't feel so isolated. "Our 'Sibshops' bring brothers and sisters together in a recreational context and gets them talking about their siblings and their feelings so they know they are not alone."

Keeping It in Perspective
For Gionna, the hardest part is that Joey is not a "normal" kid she can play with, she says. Many of her friends have brothers Joey's age who are now in school, and that makes it especially tough, her mom says.
"We just remind her that Joey was put here for a reason and we just have to consider ourselves blessed that God chose us to care for him," Roseanna says.
Gionna adds, "I have a new perspective on people and how to focus on the person. I appreciate my family more and take things for granted less."
That makes it much easier to enjoy whatever time she has left with her little brother.

Books
How to Talk So Your Kids Will Listen and Listen So Your Kids Will Talk, by Adele Faber.
Living with a Brother or Sister with Special Needs, by Donald Meyer and Patricia Vadasy.
Being the Other One: Growing Up with a Brother or Sister Who has Special Needs, by Kate Strohm.

Sound Check Mama
Tiffani Hill-Patterson blogs about her family's experience with deafness and cochlear implants at SoundCheckMama.com.

Give Them the Attention They Need
– Spend a few minutes each day checking in.
– Make birthdays and holidays extra special.
– Listen to your child's frustrations.
– Give them a break from caregiving.
– Help them find peers in a similar situation.

-----------------------
Tiffani Hill-Patterson writes about parenting, health and fitness.
Access tons of resources for families with special needs: Special Needs Resource Foundation of San Diego.