When you speak with Randy Schimka, Engineer at SDG&E and father of two boys with Autism, you immediately know two things: he is a committed dad; and he really, really enjoys electronics. Randy is the proud proprietor of the Belardo Lights at 5306 Belardo Drive in Tierrasanta. Sporting lighted family portraits, amazing animatronics and synchronized music blasting across the airwaves, this amazing single house display is truly a sight to behold.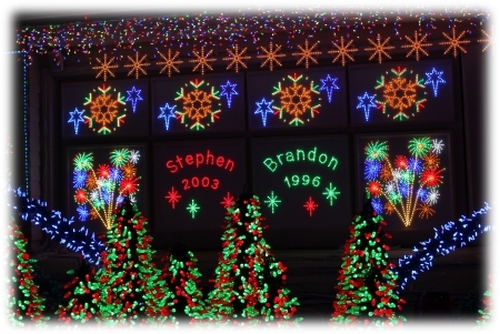 Randy's Technicolor odyssey began more than 10 years ago. Randy and his wife were struggling with the behaviors exhibited by their oldest son Brandon. Brandon's Autism caused cognitive challenges and a therapist suggested the Schimkas try some family activities that might draw out interests and opportunities for fun with their son. One of her suggestions was to visit neighborhood holiday light displays; and Brandon was instantly hooked. Randy, a longtime electronics hobbyist hit upon the idea to create their own display. Brother Stephen also helps out in the garage from time to time; but it is Brandon who caught the bug.

One of the truly unique parts of this display is the synchronized music. In the beginning, visitors believed Randy paired with a local radio station, but originally he filed for his own open channel. He purchased a low power transmitter, and started his own station, 89.7 in his garage. These days, music from FM 106.1 accompanies their beautiful light display.

Over the years, Randy and Brandon have added new pieces, tweaked old ideas and honed their skills. Favorites have included animatronic dancing elves and a complicated animatronic Snowman that moves his head and shakes his booty with the music (it took eight months to make).

Randy is truly an inspirational dad. Reading through comments left behind in their visitor logbook and on his website www.belardolights.com, you can see how many families of children with special needs he and Brandon have touched. In addition to the mechanical moving wonders, there is also an inspirational Christmas tree that blinks a message of hope: Cure Autism NOW. We couldn't agree more!

Find the Belardo Lights and other holiday neighborhood light displays in the December issue of San Diego Family Magazine or online at San Diego's Best Map of Christmas Lights.
Written by Emily Dolton