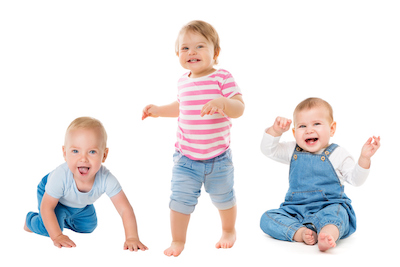 Toddler Products! Check out these products designed especially for the growing curiosity and independence of toddlers.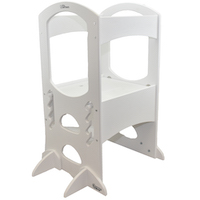 The Learning Tower by Little Partners
$199.99; Amazon.com
Designed to provide a secure environment to stimulate a child's imagination and allow it to blossom. By raising a child up to counter height, it nurtures a child's innate desire to be independent and to participate alongside his or her parents and siblings, whether it's to help out with nightly dinner preparations, bake special holiday recipes, or get crafty. Ages 18 months - 6 years.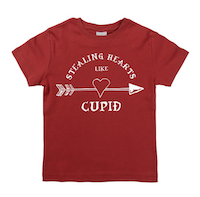 CUPID Toddler Shirt
$20; SpunkyStork.com
This Stealing Hearts like Cupid toddler shirt (or baby bodysuit) make the cutest unisex statement for Valentine's Day.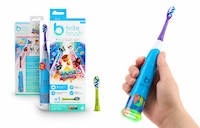 BriteBrush
$19.96; BriteBrush.com
The smart toothbrush that lets kids have a blast while brushing. Its smart sensors and live feedback help teach them proper brushing techniques, and its games and rewards ensure they learn by having fun. Kids can brush their teeth right out of the box, with no apps required, by using songs, games and live coaching to encourage proper brushing techniques and finally making it fun to brush right.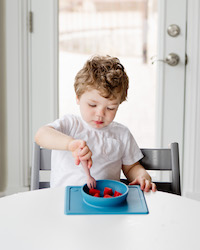 ezpz's Mini Utensils
$15.99; https://ezpzfun.com/products/mini-utensils
Designed to help toddlers learn how to eat with a spoon (scooping) and fork (piercing). The narrow spoon bowl and fork prong safely fit into your toddler's mouth, decreasing the risk of gagging and choking. The non-slip grip and short, fat round handle are made for small toddler hands and make grasping more successful.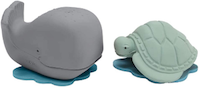 HEVEA Ocean Bath Toys
$28; Amazon.com
More than 90% of all bath toys are made from plastic and with holes, which is likely to turn into filthy and unsafe bath toys. But we have the perfect alternatives which are completely plastic-free, non toxic and biodegradable made from natural rubber - and which can both scoop and splash too, making bath time even more safe and fun.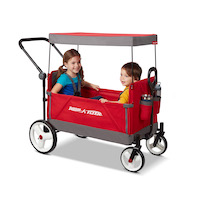 Radio Flyer Convertible Stroller Wagon
$159.99; RadioFlyer.com
Combines the adventure of a wagon and the convenience of a stroller in one premium vehicle. It fully converts from a stroller to a wagon thanks to a unique design that allows the optimal steering configuration for each mode: our Never Fall wagon pull handle in the front and a fold-away stroller handlebar on the back. Keep little ones as young as 12 months safe and comfortable with two 5-point safety harnesses and rear brake. Thoughtfully designed parent features like cup holders and adjustable height handles make this the ideal vehicle for your whole family. The side zips down for stationary bench seating.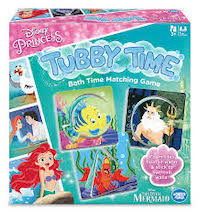 Disney The Little Mermaid Tubby Time Bath Time Matching Game
$14.99; Ravensburger.com
Make bath time playful with Tubby Time, a shape-matching storytelling game with fun puzzle play. Ten floating foam picture tiles, each made of an outer frame and inner shape, stick to bath walls and tubs. Fit the shapes into their frames and rearrange the tiles to tell the classic tale of The Little Mermaid.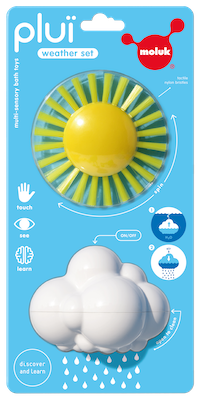 Moluk Plui Weather Set
$17.99; Amazon.com
Sunny and Cloudy are sensory toys made to tickle your imagination and senses. They also come handy as gentle little brushes for first cleaning tasks. Sunny and Cloudy shine as versatile accessories in role and pretend play and reveal new sides and play possibilities.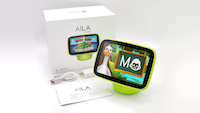 Animal Island Learning Adventure (AILA) Sit & Play
$199; AnimalIsland.us
The first AI-driven multimedia system for parents to support cognitive development, early literacy, numeracy education, social skills and emotional growth during a child's critical first three years. AILA Sit & Play is a hands-free and worry-free device preloaded with an exclusive early preschool curriculum and unique AI software that customizes the learning experience for each child to meet important milestone. For ages 12-36 months.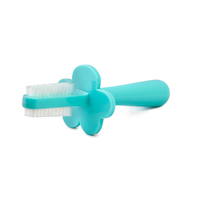 Double Sided Toothbrush
$12.50; Grabease.com
Tapered brush head reaches the most teeth at once, ensuring no teeth are missed. The choke protection barrier allows your little one to practice brushing safely. Encourage good dental hygiene from the moment that first tooth comes in with the included silicone baby finger toothbrush.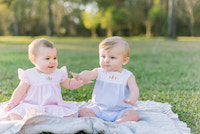 Feltman Brothers Easter Bunny Dress and Coverall
$49.75-$57.75; FeltmanBrothers.com
The beautiful, lightweight Fly Sleeve dress features delicate bunny and flower embroidery and cute sleeves, all in a lovely soft pink shade. Matching ruffled panties are included. The Sleeveless Shortall is a lovely light and airy choice in soft blue and features bunny and carrot embroidery sure to be admired by all. The easy to maintain cotton/poly blend fabric will stand the test of time, so that the piece can be cherished for generations to come.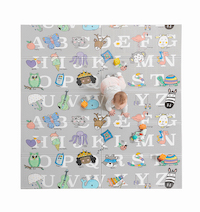 Regalo My Play Mat
$49.99; Regalo-baby.com
A lightweight, foldable, play mat ideal for home, time spent outdoors, and when traveling. Ideal in protecting those little hands and feet by covering hard surfaces or to create a play space – it folds up in seconds to be tucked away for later use. This playmat is reversible featuring adorable alphabet characters on one side and gray chevron pattern on the opposite side.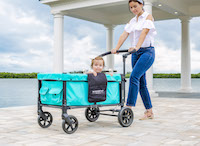 Wonderfold Folding Wagon
$259; WonderfoldWagon.com
Can hold up to 2 passengers and is easy to fold/unfold. 1-step brake system with slidable/removable canopy and 5 point safety harness. Adjustable push handle and extra pockets on all sides of the body. Ages 6 months+.

Sea Turtle 3D Hoodie
$39.99; DoodlePants.com
Fun, unique, and whimsical designs for both casual everyday wear and imaginative play. Now kids can dress up any time of day. All hoodies have matching bottoms (and many have matching tops as well.) Check out these complementary items to outfit your little one for all passions, seasons, and occasions.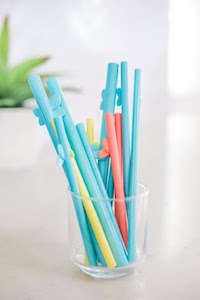 WonderSip Reusable Plastic Straw
$11.99 for a 2-pack; WonderSip.com
WonderSip straws are highly versatile, rugged and most importantly recyclable. They not only resist the action of many chemical solvents, they're dishwasher safe, BPA free, leak proof and FDA approved. The straw is easy to clean and will prevent bacteria buildup. Use it to sip your favorite beverage, and then open it to clean in the sink or dishwasher, no cleaning brush needed. There's over six colors and styles to choose from -- including neon and glow-in-the-dark. The straw is recyclable, eco-friendly and comes in sustainable packaging.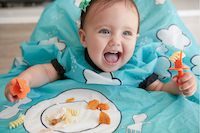 Ergonomic Utensils
$14.50; Grabease.com
There utensils are designed to safely nurture independence in little ones ready to meet their self-feeding developmental milestone.The patented fork and spoon sets were the first utensils designed with babies' independence in mind, and they come highly recommended by Occupational Therapists. The ergonomic handle fits comfortably in babies' natural hand grasp, making the hand-to-mouth motion easier. Using this set will also help strengthen their fingers while encouraging proper pencil grasp development (this will come in handy later!).
Strollerbuddy Drink Holder
$14.99; Dream-Baby.com
Allows you to hit the street or boardwalk with your baby and your drink all within arm's reach. It is designed to fit most baby bottles, water bottles, and other cool drinks safely and securely, so no matter what keeps you or your baby happy and refreshed it's always at hand. Now you can keep your drink upright where you can see it and where it won't leak on your diaper bag.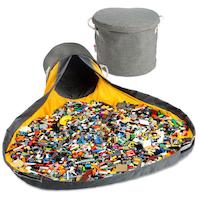 SlideAway! Storage
$64.95; CreativeQT.com
This toy basket doubles as a play area for sorting toys and a storage container to keep toys hidden while they aren't in use. Pour toys like building bricks, doll accessories and cars right onto the playmat where they stay corralled in a play area with a surrounding lip. When the kids are done playing, a quick pull of the built-in handles will "slide away" the toys right back into the attached basket making clean up a breeze.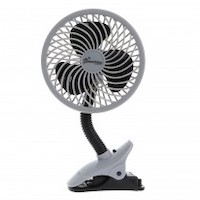 EZY-Fit Deluxe Clip-On Fan
$14.99; Dream-Baby.com
Perfect for strolls on the boardwalk, at the beach, or a day in the park. This fan helps keep your child from getting fussy in their stroller by providing them with cool and constant airflow. The guard will protect little fingers, eliminating the possibility of boo-boos and maximizing that beautiful breeze. With the flexible neck you can easily adjust the fan to point in almost any position and get the breeze right where you want it. You can clip the fan to tabletops, cribs, and playpens.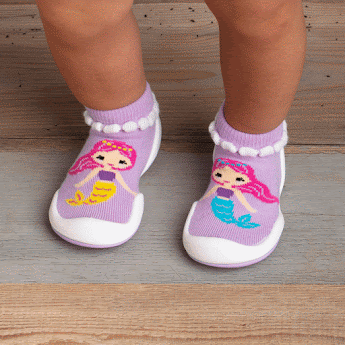 Komuello Baby Shoes
$32-$34; KomuelioUSA.com
The first fusion of baby footwear combining socks with a supportive rubber sole. Made with eco-friendly TPE rubber, the type of material used in teething products. The cotton top wraps around the foot just like a sock and stays just as secured until they're ready to come off. The "sock" top transforms into a rubber sole that's safe for indoor and outdoor activity. Sizes range from babies and toddlers 6 months to 2-year-olds.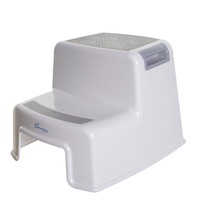 Dreambaby® 2-Up Step Stool
$14.99; Dream-baby.com
Gives children that extra sense of independence, allowing them to access hard-to-reach areas. The non-slip base and sure grip top provide added safety, making it perfect for nearly any location and floor surface. Recommended for children between the ages of 2-5.
Music & Lights 3-in-1 Discovery Seat & Booster
$44.99; Infantino.com
Parents and babies will fall in love with this multifunctional booster seat that grows with baby by transforming into an interactive play space and snack seat. Entertain your baby for hours with a light up musical piano and six engaging activities that support sensory and fine motor skill development. When it's time to eat, simply slide the toy pods apart to reveal a snack tray and cup holder. 4 months to 4 years old.
Miniware First Bites Set
$22; Miniware.com
Designed with both parents and child's needs in mind, this starter set offers new self-feeders a natural way to build proper skills. Extra room and easy-scoop angles give Minis space to maneuver with little fingers or utensils, encouraging self-feeding.
Toddlermonitor
$89.99; ToddlerMonitor.com
It hangs stylishly on any door knob and notifies you via your cell phone when your babe walks out the door. A motion detector cleverly disguised inside the toddlermonitor™ senses motion and sends a notification via Bluetooth to your phone. You choose the tone and volume you want to receive it, just like the alarm on your phone. This must-have for any parent is great for at home and can easily be switched from one door to the next!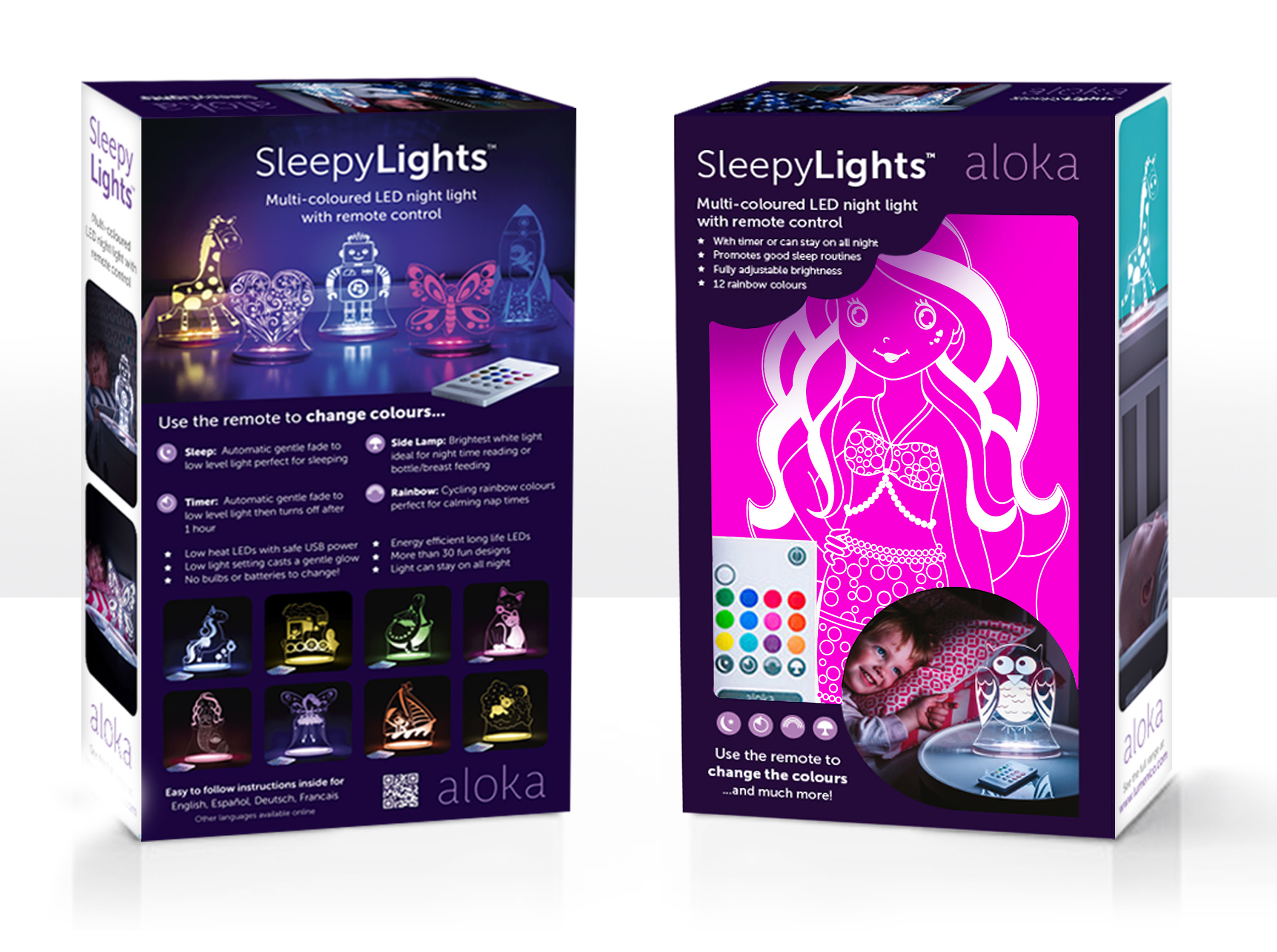 Sleepy Lights
$29.99; Lumenico.com
This multi-colored LED nightlight (12 colors in all!) is the perfect low-level light for sleeping. Comes with a remote control for children to create their own bedtime routine and can stay on all night. It makes a great travel night-light too. Choose from Dinosaur, Mermaid, My Little Pony, Robot and many other styles.

THE PUG Booster Chair
$49.99; ThePortableHighChair.com
The Pug booster is perfect for travel, outdoors, camping, grandma's house and small spaces. It makes life easier and more convenient for the busy family.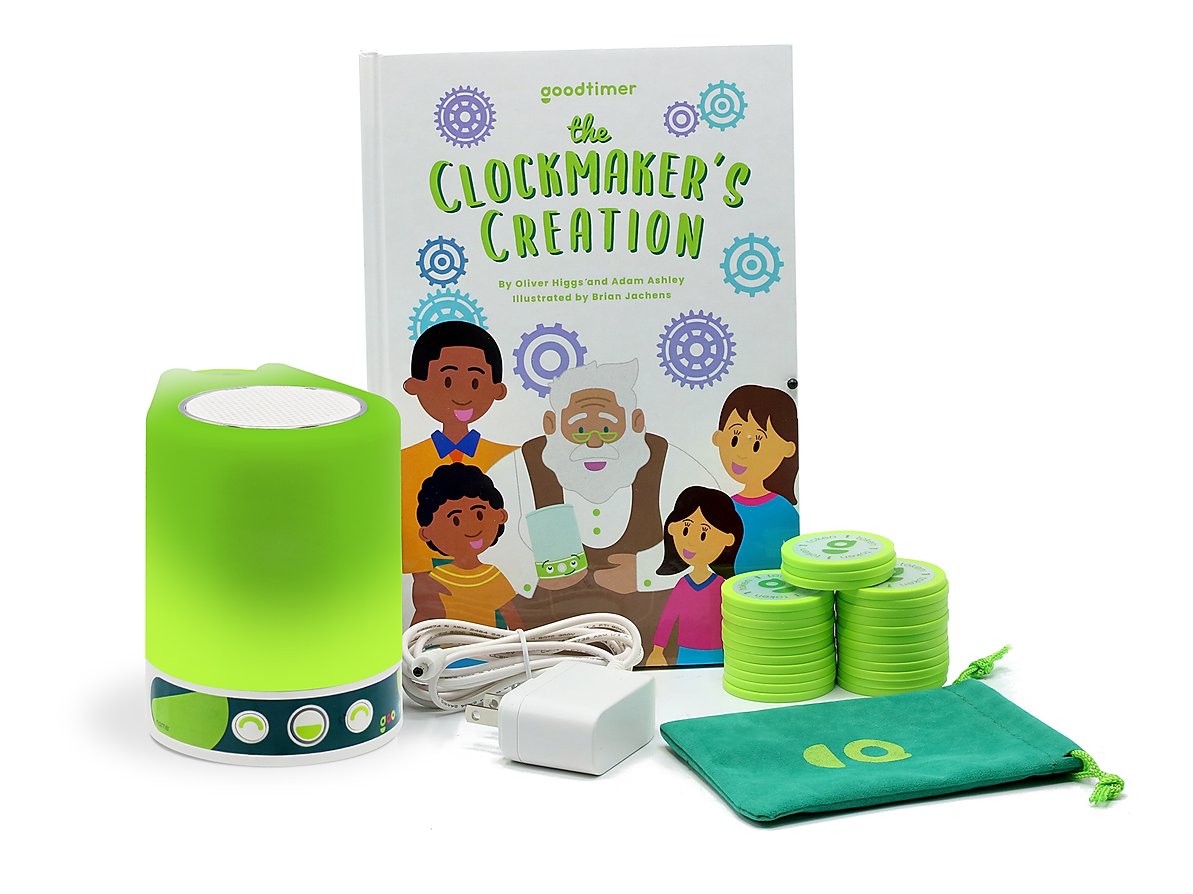 Goodtimer
$149.95; gogoodtimer.com
Goodtimer encourages children ages 3 to 10 to form good habits using positivity, tangible incentives and family participation. It was developed to motivate children to form good habits by encouraging them to consistently make good choices in a way that is opposite to timeouts that punish unwanted behaviors. First, a family establishes their house rules. Then, when children make good choices by following the house rules, they begin earning Good Time by turning the device right-side up. When enough Good Time has been earned, the device dispenses physical tokens children can collect and save to exchange for incentives decided by their family.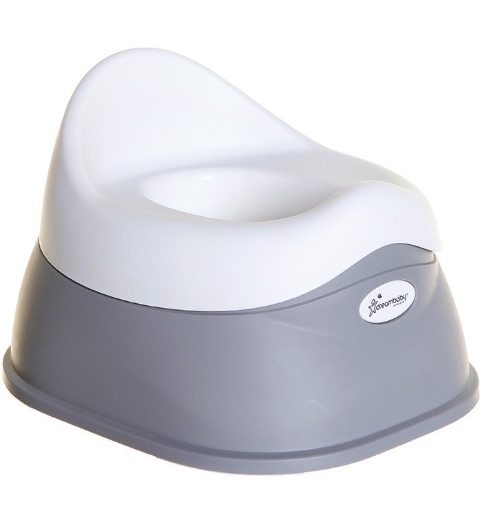 Dreambaby® EZY Potty with Removable Bowl
$12.99; Dream-baby.com
Helps take the stress (and mess) out of potty training your little ones. The contoured backrest provides added support and comfort while the removable bowl allows for quick and easy cleaning. Made out of nonporous material, it will surely last until it isn't needed anymore. Recommended for 18 months to 3 years old.
Kissin Toes Shoes
$35; KissinToes.com
Kissin Toes shoes have been created with children and parents in mind. The grey Muslin material is soft and easy to slip on while the adorable fox characters line up for a "Kissin" toes effect that will surely help children grasp which shoes go on their right and left feet. Children ages 1-6.
Miniware Sip & Snack Set
$32; Miniware.com
The special 90° angle makes scooping easy for both utensils and little fingers, encouraging self-feeding. The beautiful modern design and calming colors keep the focus on food and eating while the detachable suction foot keeps the bowl firmly in place.
Updated: July 2020