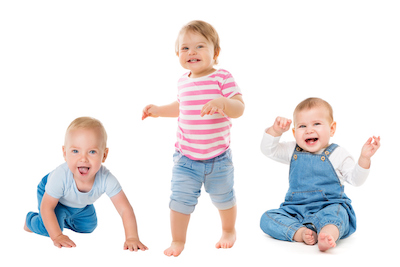 Toddler Products! Check out these products designed especially for the growing curiosity and independence of toddlers.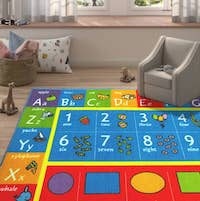 Kids ABC Numbers Shapes Classroom Area Rug
$34.99; https://kccub.com/
This colorful educational alphabet children's rug is perfect to teach your toddler the ABCs in the most fun and interactive way along with the most common words, shapes and numbers. More than just educational rugs, these learning rugs are designed to look attractive, making it easy for you to incorporate into the decor of your home, bedrooms, and play rooms. And, because they're made from 100% polypropylene with a non-skid rubber backing, you can be confident that they'll withstand regular playtime - year after year.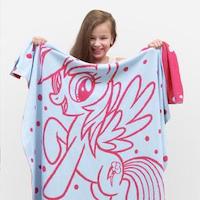 Morning Bird Throw:My Little Pony
$39; Morningbird.com
Rainbow Dash is flying high on this pastel, cozy and calming throw. With fun dot accents, this throw is the perfect addition to any My Little Pony themed bedroom.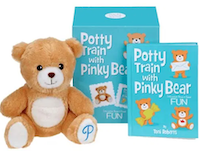 Potty Train with Pinky Bear
$49.99; Pinkybear.com
The award-winning book and stuffed bear combo that you can turn to as soon as your toddler gets ready to say goodbye to diapers. The book is written with a toddler's attention span in mind - few words and lots of colorful illustrations. The sturdy hardcover makes it durable for the journey to big kid underwear. The book speaks directly to the child who is rewarded with a surprise for each attempt at the parent's discretion and a visit from Pinky Bear.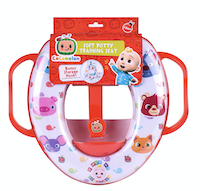 CoComelon Soft Potty-Training Seat
$22.99; Amazon.com
This cushioned potty seat is inspired by the popular nursery rhymes from the educational YouTube series, CoComelon. JJ and the gang will cheer on your child with "I Can Do Anything" motivation. Designed with signature graphics, soft padding and built in handles this potty seat is the perfect tool to help your toddler learn how to use the adult toilet. Parents will love the bonus storage hook that will keep the seat off the floor.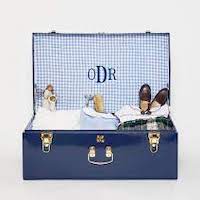 Petite Keep: Personalized trunk
Starts at $254; https://www.petitekeep.com/
Store special mementos in beautifully hand crafted custom keepsake trunks by Petite Keep. They make the perfect gift for a new baby, milestone birthdays and other major life events. Each is customizable with a choice of box color, embroidered initials, name or monogram in a choice of fonts, as well as a choice of interior lining options.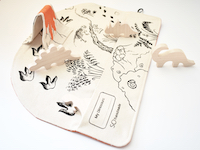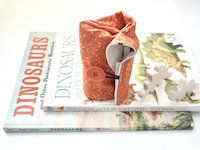 Dinosaur Play Mat
$36; www.sohandmade.com
This handmade and organic play mat is perfect to carry around or for long journeys to keep you little one entertained and happy. It comes with four wooden dinosaurs and rolls up into a small package to fit into any bag. It has a hand appliqued volcano made from felt. Perfect for families who want to nurture their kids imaginations and creativity away from screens.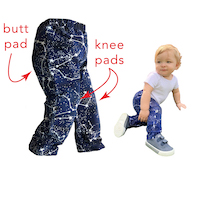 Sandra Aris Pants
$39; www.sandraaris.com
Sandra Aris pants are a stylish, innovative clothing created to instill confidence and curiosity in kids. Using the same 3D padded technology found in motocross, motorbike and ski apparel, children can run, crawl and play without getting hurt. The lightweight, machine washable clothes absorb the shock from falls without material fatigue to last through years of wobbly steps with sizes from 6 months up to 3 years.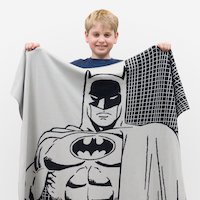 Batman Knit Throw
$60; MorningBird.com
Featuring their favorite hero from the DC Universe – Batman – this knit throw is made of soft cotton that will keep them warm as they snooze.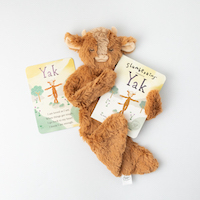 Slumberkins Yak
$44 (includes creature and book bundle); Slumberkins.com
Slumberkins Yak focuses on helping little ones with self-acceptance, perfectionism, perseverance and self-worth. Yak's story and affirmation teach little ones they are enough to be loved and accepted just as they are. Yak addresses the self-critic in all of us and helps us understand that if we accept ourselves just as we are now - even though it isn't perfect - we can find the freedom to love ourselves.
Alphapals
$195; AlphaPals.com
An Alphapals set is both an at-home toy and learning tool founded to help early learning challenges, and encourage children to play and learn. The set is a fun, interactive and hands-on approach helping families experience the fun side of learning. Each set is equipped with 26 plush letters that conveniently slip away into a comfy bean bag.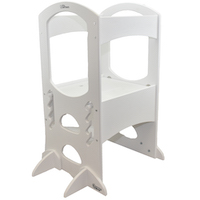 The Learning Tower by Little Partners
$199.99; Amazon.com
Designed to provide a secure environment to stimulate a child's imagination and allow it to blossom. By raising a child up to counter height, it nurtures a child's innate desire to be independent and to participate alongside his or her parents and siblings, whether it's to help out with nightly dinner preparations, bake special holiday recipes, or get crafty. Ages 18 months - 6 years.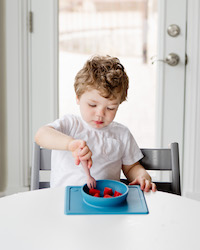 ezpz's Mini Utensils
$15.99; https://ezpzfun.com/products/mini-utensils
Designed to help toddlers learn how to eat with a spoon (scooping) and fork (piercing). The narrow spoon bowl and fork prong safely fit into your toddler's mouth, decreasing the risk of gagging and choking. The non-slip grip and short, fat round handle are made for small toddler hands and make grasping more successful.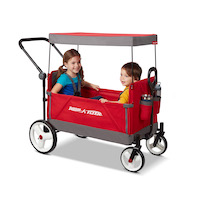 Radio Flyer Convertible Stroller Wagon
$159.99; RadioFlyer.com
Combines the adventure of a wagon and the convenience of a stroller in one premium vehicle. It fully converts from a stroller to a wagon thanks to a unique design that allows the optimal steering configuration for each mode: our Never Fall wagon pull handle in the front and a fold-away stroller handlebar on the back. Keep little ones as young as 12 months safe and comfortable with two 5-point safety harnesses and rear brake. Thoughtfully designed parent features like cup holders and adjustable height handles make this the ideal vehicle for your whole family. The side zips down for stationary bench seating.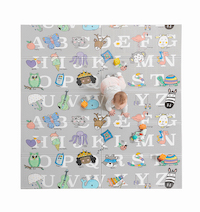 Regalo My Play Mat
$49.99; Regalo-baby.com
A lightweight, foldable, play mat ideal for home, time spent outdoors, and when traveling. Ideal in protecting those little hands and feet by covering hard surfaces or to create a play space – it folds up in seconds to be tucked away for later use. This playmat is reversible featuring adorable alphabet characters on one side and gray chevron pattern on the opposite side.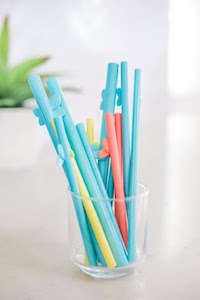 WonderSip Reusable Plastic Straw
$11.99 for a 2-pack; WonderSip.com
WonderSip straws are highly versatile, rugged and most importantly recyclable. They not only resist the action of many chemical solvents, they're dishwasher safe, BPA free, leak proof and FDA approved. The straw is easy to clean and will prevent bacteria buildup. Use it to sip your favorite beverage, and then open it to clean in the sink or dishwasher, no cleaning brush needed. There's over six colors and styles to choose from -- including neon and glow-in-the-dark. The straw is recyclable, eco-friendly and comes in sustainable packaging.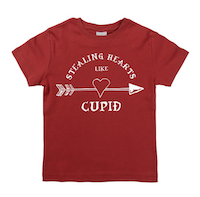 CUPID Toddler Shirt
$20; SpunkyStork.com
This Stealing Hearts like Cupid toddler shirt (or baby bodysuit) make the cutest unisex statement for Valentine's Day.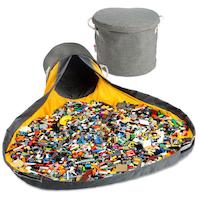 SlideAway! Storage
$64.95; CreativeQT.com
This toy basket doubles as a play area for sorting toys and a storage container to keep toys hidden while they aren't in use. Pour toys like building bricks, doll accessories and cars right onto the playmat where they stay corralled in a play area with a surrounding lip. When the kids are done playing, a quick pull of the built-in handles will "slide away" the toys right back into the attached basket making clean up a breeze.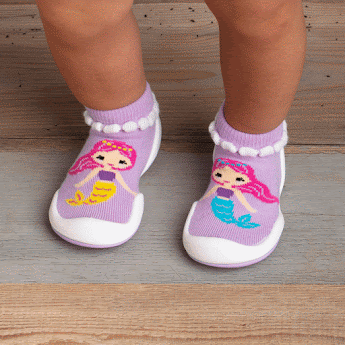 Komuello Baby Shoes
$32-$34; KomuelloUSA.com
The first fusion of baby footwear combining socks with a supportive rubber sole. Made with eco-friendly TPE rubber, the type of material used in teething products. The cotton top wraps around the foot just like a sock and stays just as secured until they're ready to come off. The "sock" top transforms into a rubber sole that's safe for indoor and outdoor activity. Sizes range from babies and toddlers 6 months to 2-year-olds.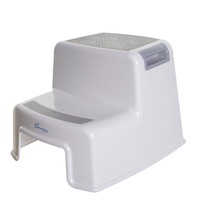 Dreambaby® 2-Up Step Stool
$14.99; Dream-baby.com
Gives children that extra sense of independence, allowing them to access hard-to-reach areas. The non-slip base and sure grip top provide added safety, making it perfect for nearly any location and floor surface. Recommended for children between the ages of 2-5.
Music & Lights 3-in-1 Discovery Seat & Booster
$44.99; Infantino.com
Parents and babies will fall in love with this multifunctional booster seat that grows with baby by transforming into an interactive play space and snack seat. Entertain your baby for hours with a light up musical piano and six engaging activities that support sensory and fine motor skill development. When it's time to eat, simply slide the toy pods apart to reveal a snack tray and cup holder. 4 months to 4 years old.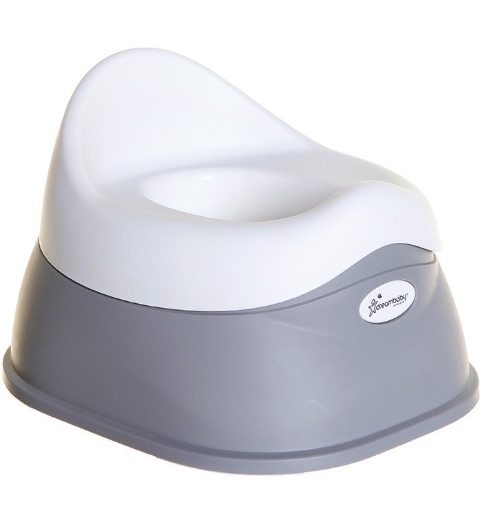 Dreambaby® EZY Potty with Removable Bowl
$12.99; Dream-baby.com
Helps take the stress (and mess) out of potty training your little ones. The contoured backrest provides added support and comfort while the removable bowl allows for quick and easy cleaning. Made out of nonporous material, it will surely last until it isn't needed anymore. Recommended for 18 months to 3 years old.
Miniware Sip & Snack Set
$32; Miniware.com
The special 90° angle makes scooping easy for both utensils and little fingers, encouraging self-feeding. The beautiful modern design and calming colors keep the focus on food and eating while the detachable suction foot keeps the bowl firmly in place.
Updated: September 2021