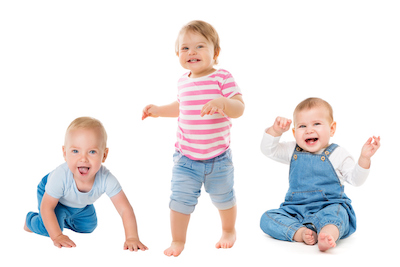 Toddler Products! Check out these products designed especially for the growing curiosity and independence of toddlers.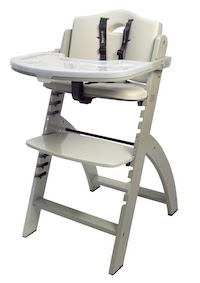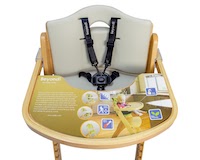 Beyond Junior Y Chair
$219.95; Abiie.com
Featuring EZ-Seat Technology that easily transforms from a high chair to a dining chair in a matter of seconds. The chair's minimalist aesthetic, safety-verified design, and durable, responsibly-cultivated beechwood construction stand out from a host of ordinary plastic alternatives. Fan-favorite features include an adjustable dual restraint system, a dishwasher-safe tray cover that conveniently removes with just one click, and a water-resistant seat cushion for fast, easy post-meal cleanup. Their high chairs have been featured in Forbes and on Ellen DeGeneres and Steve Harvey.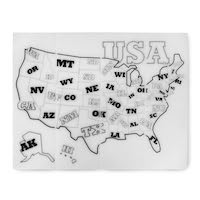 Silimap Folding Silicone Placemat
$14.95; Amazon.com
The silimap is a portable silicone placemat with pre-sectioned panels that fold up easily and compact just like a map. The silimap fits right into any diaper bag and is a perfect placemat for traveling or use at any restaurant table. Great to use at home too. The silimap can be colored on with washable marker, Crayola or pen and easily wipes clean. Easy to use and easy to clean. Just wipe it down.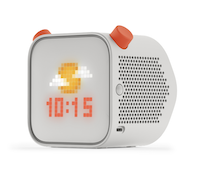 Yoto Player
$99.99; us.yotoplay.com
Yoto Player fills your home with inspiring audio and lets kids lead the way. Kids use physical cards to explore the best audiobooks, music, activities and educational audio. No microphone. No camera. No ads.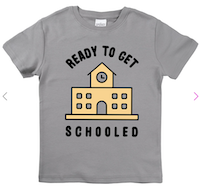 Ready To Get Schooled T-shirt
$22; SpunkyStork.com
Is your little one ready to get schooled? What a perfect shirt for their first day, and even better for a photo op!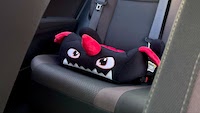 BoosterPal
$59; https://humble-bee.com
The BoosterPal might have the whimsical design for kids but the careful and intentional safety features means parents love it too. Two cute characters (a Unicorn and a Dragon) to fit your child's personality with interactive horn squeeze and wing flaps for maximum entertainment. Enhanced safety design includes ISOFIX latches that hook seat onto the seat below to keep it firmly in place. Convenient release buttons for parents to move car seats between vehicles. Ultra comfy construction so your kids are happy for the whole ride.
Bird Tape Measure
$15.99; HandyFamm.com
UN-BORING tools for kids that promote less screen time, and more Famm time. Handy Famm is a series of fun, character based tools for kids. Their patented bird tape measure design features a soft touch, easy retract tape measure, along with our eye-conic interactive eye level and angle finder.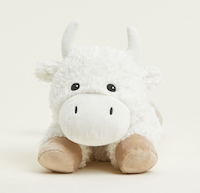 Warmies
$29.99; Warmies.com
A fully heatable aromatherapy stuffed animals and wellness items. All Warmies products contain real dried French lavender and all-natural grain filling to provide the perfect weight and sensory experience. They are also helpful for easing anxiety and help promote better sleep. They are fully microwavable incredibly comfy and safe for all ages. Just heat in the microwave for 60 seconds and enjoy up to an hour of warmth (even longer when they are snuggled under the covers!).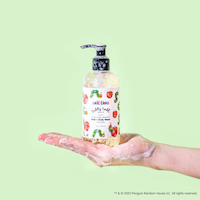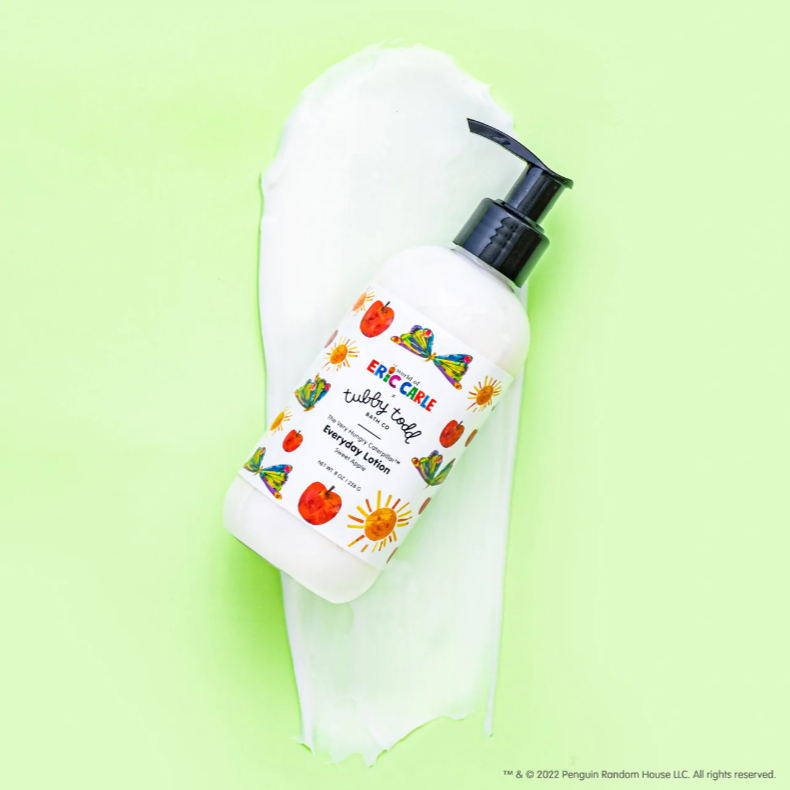 TT x World of Eric Carle Soap - Sweet Apple
$17; TT x World of Eric Carle Soap - Sweet Apple
Features illustrations from one of our all-time favorite children's books, The Very Hungry Caterpillar. Shop two sizes of Hair + Body Wash and Everyday Lotion in our scrumptious Sweet Apple scent to unlock limitless bathtime imagination.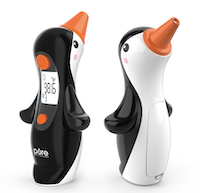 Thermo BUDDY Penguin Ear Thermometer by Pure Enrichment
$39.99; PureEnrichment.com
The unique InstaRead Technology ensures fast and accurate dual scale readings in 1-second, while the child-friendly design helps keep your sick kiddo calm and at ease. With the easy-to-read backlit LCD display and the helpful fever alert detection, simply remove the protective cap to get started. The universal ear tip is comfortable for all ages and can be cleaned with rubbing alcohol between uses before replacing the hygienic probe cover.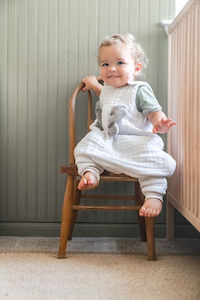 Snuggy Buddy Toddler Sleep Sack - Walker Edition
$68.99; SnuggyBuddy.com
Attached plush butterfly lovey at chest height for baby to self soothe and sleep longer and better. Adjustable snaps on each shoulder. Zippers down each side, so it opens flat, which means easy middle of the night diaper changes and easy to get sleeping baby in or out without waking them. Triple layer pre-washed super soft and breathable muslin, for year round use. Sizes 12 months to 4 years.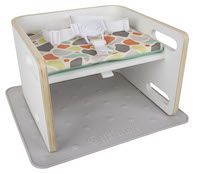 3-in-1 Learning Booster Seat and Step Stool
$99.99; LittlePartners.com
Sleek and sturdy and perfect to bring your child to table-top height with two height positions. This booster will hold your child safely and securely and also has cut-out handholds so that it is easily transportable from room to room. Adjusts to toddler chair and step stool.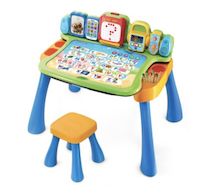 Explore & Write Activity Desk
$64.99; VTechKids.com
This interactive desk features five activity pages filled with engaging content including letters, numbers, music, colors and more. The fold-down writing pad and light-up display encourage kids to practice writing by tracing letters, numbers and shapes with a stylus. The desk transforms into an easel and chalkboard with plenty of storage space for art supplies. Kids can also play with the touchscreen toy phone or listen to more than 20 melodies on the music player.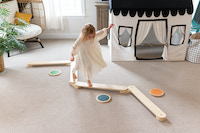 Learn 'N Balance Set
$149.99; LittlePartners.com
Includes an adjustable balance beam and one set of colorful stepping stones. Build spacial awareness and develop balance skills while encouraging independence and self esteem. Learning colors, shapes, and numbers with creative play on the stepping stones. Designed to be easily portable, the balance beam is lightweight and folds for easy storage.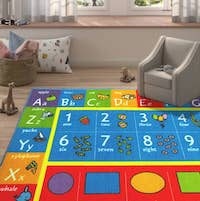 Kids ABC Numbers Shapes Classroom Area Rug
$34.99; https://kccub.com/
This colorful educational alphabet children's rug is perfect to teach your toddler the ABCs in the most fun and interactive way along with the most common words, shapes and numbers. More than just educational rugs, these learning rugs are designed to look attractive, making it easy for you to incorporate into the decor of your home, bedrooms, and play rooms. And, because they're made from 100% polypropylene with a non-skid rubber backing, you can be confident that they'll withstand regular playtime - year after year.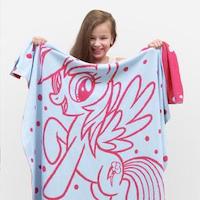 Morning Bird Throw:My Little Pony
$39; Morningbird.com
Rainbow Dash is flying high on this pastel, cozy and calming throw. With fun dot accents, this throw is the perfect addition to any My Little Pony themed bedroom.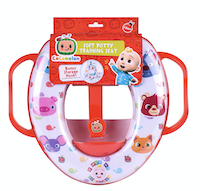 CoComelon Soft Potty-Training Seat
$22.99; Amazon.com
This cushioned potty seat is inspired by the popular nursery rhymes from the educational YouTube series, CoComelon. JJ and the gang will cheer on your child with "I Can Do Anything" motivation. Designed with signature graphics, soft padding and built in handles this potty seat is the perfect tool to help your toddler learn how to use the adult toilet. Parents will love the bonus storage hook that will keep the seat off the floor.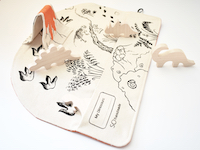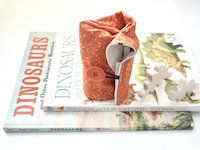 Dinosaur Play Mat
$36; www.sohandmade.com
This handmade and organic play mat is perfect to carry around or for long journeys to keep you little one entertained and happy. It comes with four wooden dinosaurs and rolls up into a small package to fit into any bag. It has a hand appliqued volcano made from felt. Perfect for families who want to nurture their kids imaginations and creativity away from screens.
Alphapals
$195; AlphaPals.com
An Alphapals set is both an at-home toy and learning tool founded to help early learning challenges, and encourage children to play and learn. The set is a fun, interactive and hands-on approach helping families experience the fun side of learning. Each set is equipped with 26 plush letters that conveniently slip away into a comfy bean bag.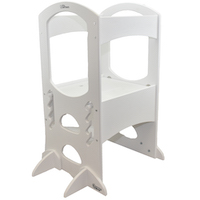 The Learning Tower by Little Partners
$199.99; Amazon.com
Designed to provide a secure environment to stimulate a child's imagination and allow it to blossom. By raising a child up to counter height, it nurtures a child's innate desire to be independent and to participate alongside his or her parents and siblings, whether it's to help out with nightly dinner preparations, bake special holiday recipes, or get crafty. Ages 18 months - 6 years.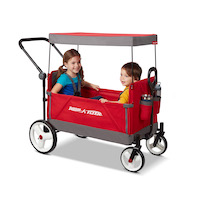 Radio Flyer Convertible Stroller Wagon
$159.99; RadioFlyer.com
Combines the adventure of a wagon and the convenience of a stroller in one premium vehicle. It fully converts from a stroller to a wagon thanks to a unique design that allows the optimal steering configuration for each mode: our Never Fall wagon pull handle in the front and a fold-away stroller handlebar on the back. Keep little ones as young as 12 months safe and comfortable with two 5-point safety harnesses and rear brake. Thoughtfully designed parent features like cup holders and adjustable height handles make this the ideal vehicle for your whole family. The side zips down for stationary bench seating.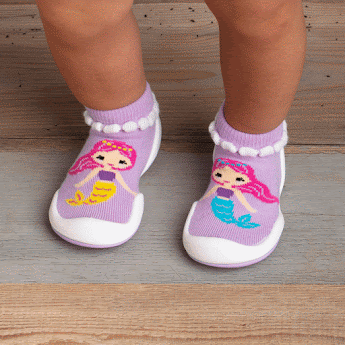 Komuello Baby Shoes
$32-$34; KomuelloUSA.com
The first fusion of baby footwear combining socks with a supportive rubber sole. Made with eco-friendly TPE rubber, the type of material used in teething products. The cotton top wraps around the foot just like a sock and stays just as secured until they're ready to come off. The "sock" top transforms into a rubber sole that's safe for indoor and outdoor activity. Sizes range from babies and toddlers 6 months to 2-year-olds.
Updated: August 2023